Artículos
El Gabal en Roma. Convulsión social e inestabilidad política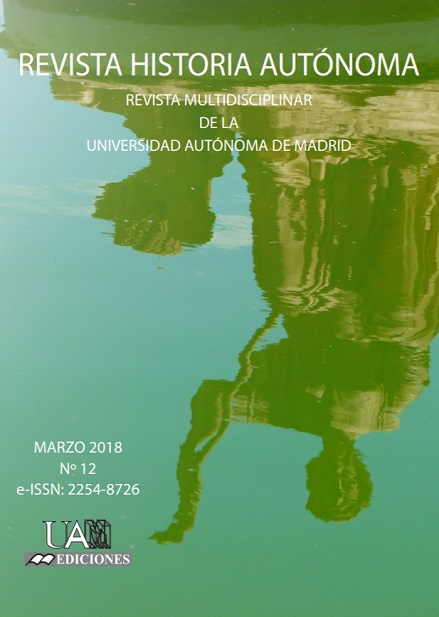 Cómo citar
Sánchez Sánchez, J. I. (2018). El Gabal en Roma. Convulsión social e inestabilidad política. Revista Historia Autónoma, (12), 43–60. https://doi.org/10.15366/rha2018.12.002
Resumen
El presente artículo estudia las repercusiones políticas y sociales motivadas por la introducción del culto del dios solar sirio El Gabal en la ciudad de Roma, por parte del emperador Heliogábalo (218-222). La ubicación de la deidad en la cúspide del panteón religioso, así como el resto de innovaciones acometidas en materia religiosa, fueron cuestiones sumamente controvertidas y se apuntan como una de las causas de la sustitución del emperador por su primo, Alejandro Severo. En las siguientes páginas se ofrece una aproximación a la realidad religiosa del momento, así como un análisis de las reacciones de los diversos sectores de la sociedad ante estas medidas, con la intención de aclarar el impacto que pudieran ocasionar entre el pueblo romano.
Descargas
Los datos de descargas todavía no están disponibles.
Citas
Aguado García, Paloma, "Cristianismo bajo Septimio Severo y Caracalla", en Espacio Tiempo y Forma. Historia Antigua, 13 (2000).
Aguado García, Paloma, Religión y política religiosa del emperador Caracalla, tesis doctoral, Universidad Complutense de Madrid, 1999.
Altheim, Franz, A history of Roman religion, Londres, Methuen, 1938.
Arrizabalaga y Prado, Leonardo y Raúl de la Fuente Marcos, "The site of the Varian Temple of Elagabal in Rome: topographical and astronomical approach to the question", en Studies in language and literature. Language, 47 (2005), pp. 89-124.
Arrizabalaga y Prado, Leonardo, The Emperor Elagabalus: Fact or Fiction? Cambridge, Cambridge University Press, 2010.
Badaracco, Edgardo, Il Culto del Deus Elagabalus dal I al III secolo d. C. attraverso le testimonianze epigrafiche, letterarie e numismatiche, tesis doctoral, Università degli Studi di Sassari, 2017.
Baldus, Hans Roland, "Das «Vorstellungsgemälde» des Heliogabal: ein bislang unbekanntes numismatisches Zeugnis", en Chiron, 19 (1989), pp. 471-476.
Bayet, Jean, La religión romana. Historia política y psicológica. Madrid, Ediciones Cristiandad. 1984.
Beard, Mary et al., Religions of Rome. Vol. 1: A History. Cambridge, Cambridge University Press, 1998.
Butler, Orma Fitch, Studies in the Life of Heliogabalus, Nueva York, McMillan & Co, 1908.
Chausson, François, "Vel Iovi vel Soli: quatre études autour de la Vigna Barberini (191-354)", en Mélanges de l'Ecole française de Rome. Antiquité, vol. 107, 2 (1995), pp. 661-765.
Chenoll Alfaro, Rafael Ramón, "Sol Invictus. Un modelo religioso de integración imperial", en BAETICA, 16 (1994).
Cracco Ruggini, Leilla, "Elagabalo, Costantino ei culti siriaci nella Historia Augusta", en Historiae Augustae Colloquium Parisinum, París, De Boccard, 1991, pp. 123-146.
Delbrueck, Richard, "Uranius of Emesa", en The Numismatic Chronicle and Journal of the Royal Numismatic Society, vol. 8, 1-2, (1948).
Eliade, Mircea, Tratado de Historia de las Religiones (morfología y dialéctica de lo sagrado), Madrid, Ediciones Cristiandad, 1974.
Frazer, James George, La rama dorada, México, Fondo de Cultura Económica, 1944.
Frey, Martin, "Untersuchungen zur Religion und zur Religionspolitik des Kaisers Elagabal", en Historia Einzelschriften, 62 (1989).
González Salinero, Raúl, Las persecuciones contra los cristianos en el Imperio Romano. Una aproximación crítica, Madrid, Signifer, 2005.
Gross, Karl, "Elagabal", en Reallexicon für Antike und Christentum, 4 (1959).
Gualerzi, Saverio, Né uomo, né donna, né dio, né dea: ruolo sessuale e ruolo religioso dell'imperatore Elagabalo, Bolonia, Pàtron, 2005.
Halsberghe, Gaston H., The Cult of Sol Invictus, Leiden, Brill Archive, 1972.
Hay, John Stuart, The Amazing Emperor Heliogabalus, Londres, McMillan & Co, 1911.
Hijmans, Steven E., "The Sun which did not Rise in the East. The Cult of Sol Invictus in the Light of Non-Literary Evidence", en BABESCH. Annual Papers on Mediterranean Archaeology, 71 (1996), pp. 115-150.
Icks, Martjin, "Heliogabalus, a Monster on the Roman Throne: The Literary Construction of a «Bad» Emperor", en Rosen, Ralph M. e Ineke Sluiter (eds.) KAKOS, Badness and Anti-Value in Classical Antiquity, Leiden, Brill, 2008, pp. 477-488.
Kemezis, Adam M., Greek narratives of the Roman Empire under the Severans. Cassius Dio, Philostratus y Herodian, Cambridge, Cambridge University Press, 2014.
Le Glay, Marcel, Grandeza y caída del Imperio Romano, Madrid, Cátedra, 2002.
Lenormant, François, "Sol Elagabalus", en Revue de l'histoire des religions, 3 (1881).
Lloyd-Morgan, Glenys, Nemesis and Bellona: a Preliminary Study of two Neglected Goddesses. The Concept of the Goddess, Londres, Routledge, 2002.
Mader, Gottfried, "History as Carnival, or Method and Madness in the Vita Heliogabali", en Classical Antiquity, vol. 24, 1 (2005), pp. 131-172.
Manders, Erika, Coining images of power: patterns in the representation of Roman emperors on imperial coinage, AD 193-284, Leiden, Brill, 2012.
Martin, Jean-Pierre, "Sol Invictus: des Sévères à la tetrarchie d'après les monnaies", en Cahiers du Centre Gustave Glotz, 11 (2000).
Optendrenk, Theo, Die Religionspolitik des Kaisers Elagabal im Spiegel der Historia Augusta, Bonn, Rudolf Habelt, 1968.
Rantala, Jussi, "Call me not Lord for I am a Lady - Emperor Elagabalus and the Problem of Gender in the History of Cassius Dio", en Language and Scientific Imagination. The 11th International Conference of ISSEI, Helsinki, 2010.
Rodríguez Gervás, Manuel José, "La vida de los emperadores infames Cómodo y Heliogábalo: a propósito de la Historia Augusta", en Alvar Ezquerra, Jaime et al. (eds.), Sexo, muerte y religión en el mundo clásico, Madrid, Ediciones Clásicas, 1994, pp. 193-203.
Rohrbacher, David, The Play of Allusion in the Historia Augusta, Madison, University of Wisconsin Press, 2016.
Salzman, Michel Renee y William Adler (eds.), The Cambridge History of Religions in the Ancient World. Vol. II, Cambridge, Cambridge University Press, 2013.
Sánchez Sánchez, José Ignacio, La introducción del culto de El Gabal en Roma, Madrid-Salamanca, Signifer, 2017.
Santos Yanguas, Narciso, El cristianismo en el marco de la crisis del siglo III en el Imperio Romano, Oviedo, Universidad de Oviedo, 1996.
Scheithauer, Andrea, "Die Regierungszeit des Kaisers Elagabal in der Darstellung von Cassius Dio und Herodian", en Hermes, vol. 118, 3 (1990), pp. 335-356.
Scholtemeijer, Jan, "Historia Augusta: Nomen Antoninorum", en Acta Classica, 19 (1976), pp. 105-113.
Sommer, Michael, "The Challenge of Aniconism: Elagabalus and Roman Historiography", en Mediterraneo Antico. Economie, Societá, Culture, vol. 11, 1-2 (2008).
Sordi, Marta, Los cristianos y el Imperio Romano, Madrid, Encuentro, 1988, pp. 79-93.
Staples, Ariadne, From Good Goddess to Vestal Virgins: Sex and Category in Roman Religion, Londres, Routledge, 1998.
Syme, Ronald, "Toleration and bigotry", en Birley, Anthony R. (ed.), Roman Papers III, Oxford, Claredon Press, 1984.
Thirion, Marcel, Le monnayage d'Elagabal (218-222), Bruselas, J. de Mey, 1968.
Turcan, Robert, "Héliogabale précurseur de Constantin?", en Bulletin de l'Association Guillaume Budé, 47 (1988), pp. 38-52.
Turcan, Robert, "Les dieux de l'Orient dans l'Histoire Auguste", en Journal des Savants, vol. 1, 1 (1993).
Urías Martínez, Rafael, "Transgresión sexual y transgresión religiosa en Heliogábalo", en Alvar Ezquerra, Jaime et al. (eds.), Sexo, muerte y religión en el mundo clásico, Madrid, Ediciones Clásicas, 1994, pp. 205-213.
Villeneuve, Roland, Héliogabale: le César fou, París, Pierre Amiot, 1957.
Von Domaszewski, Alfred, "Die politische Bedeutung der Religion von Emesa", en Von Domaszewski, Alfred, Abhandlungen zur Römischen Religion, Leipzig, Teubner, 1909.
Wissowa, Georg, Religion und kultus der Römer, Munich, CH Beck, 1902.