Artículos
Las ambiciones del Gran Ducado y el contraespionaje veneciano. El fracaso de la Toscana en el ataque de 1607 a Chipre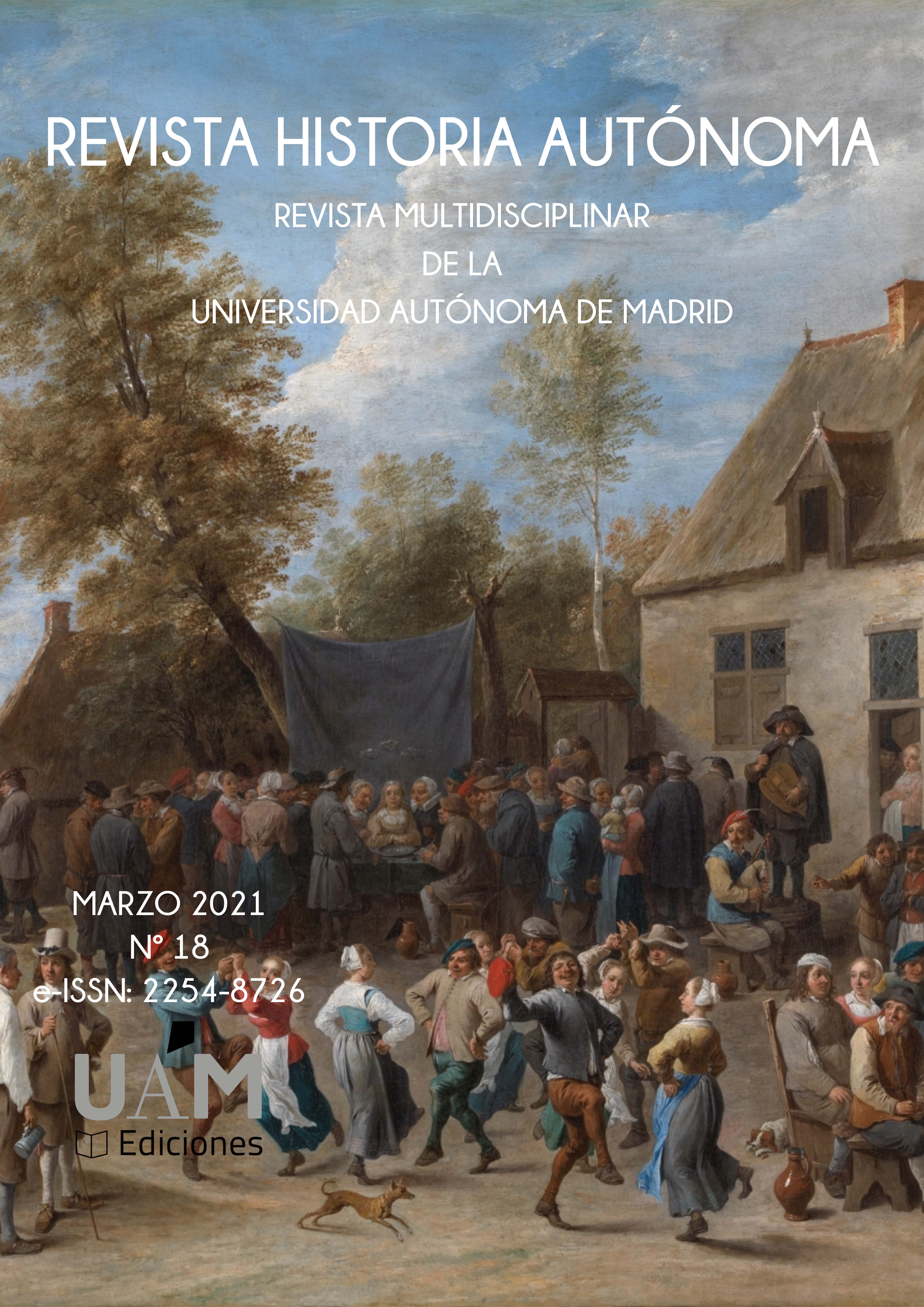 Palabras clave:
Chipre, Gran Ducado de Toscana, noticias y redes, historia moderna, historia del Mediterráneo
Cómo citar
Davide, T. (2021). Las ambiciones del Gran Ducado y el contraespionaje veneciano. El fracaso de la Toscana en el ataque de 1607 a Chipre. Revista Historia Autónoma, (18), 59–74. https://doi.org/10.15366/rha2021.18.003
Derechos de autor 2021 Trentacoste Davide
Esta obra está bajo una licencia internacional Creative Commons Atribución-NoComercial 4.0.
Resumen
En junio de 1607, la flota toscana, compuesta de unos veinte navíos y dos mil doscientos hombres, atacó la fortaleza de Famagusta en Chipre con el objetivo de convertirla en la base para una futura ocupación de la totalidad de la isla, la cual estaba en manos otomanas desde 1570. El ataque fue un completo fracaso: la flota toscana, que había sido dividida en dos partes, no logró reunirse y los habitantes griegos de la isla, que según los servicios de inteligencia toscanos debían de haberse rebelado, no lo hicieron. Además, la guarnición otomana estaba avisada del ataque, lo que diluyó cualquier intento de ataque sorpresa. Dejando de lado los problemas logísticos del encuentro de las flotas, parece evidente que el fracaso de la empresa se debió a un fallo completo de lo que hoy llamaríamos "servicios de inteligencia": la información que obraba en manos de los toscanos resultó no ser enteramente correcta y fueron incapaces de mantener en secreto la operación proyectada. Mientras tanto, los servicios de inteligencia venecianos supieron gestionar la información que poseían de un modo más acertado, tomando ventaja de la situación.
A través del análisis de este caso, al artículo sigue la estrella de los estudios más recientes sobre el intercambio de informaciones en el mundo mediterráneo de la primera Edad Moderna, mostrando, una vez más, la importancia de esas redes. El objetivo de este breve estudio, basado especialmente en documentación de archivo, no es analizar el asalto toscano a la isla, sino identificar los fallos de los servicios de inteligencia toscanos que llevaron al fracaso del ataque.  Por otra parte, a través del análisis de los documentos será también posible añadir algunos elementos al conocimiento del que se dispone sobre la red levantina del Gran Ducado de Toscana.
Descargas
Los datos de descargas todavía no están disponibles.
Citas
Acipinar, Mikail, "Ferdinand I's Eastern Mediterranean Policy and the 1607 Attack of Tuscan Navy on Famagusta", Tarih ?ncelemeleri Dergisi, XXX / 2, (2015), pp. 357-384.
Alonso, Carlos O.S.A., "Embajadores de Persia en la Cortes de Praga, Roma y Valladolid (1600-1601)", in Anthologica Annua 36 (1989), pp. 11-27.
Babinger, Franz, Sherleiana, Berlin, Reichsdruckerei, 1932.
Barker, Sheila, "'Secret and Uncertain': A History of Avvisi at the Court of the Medici Grand Dukes", in Raymond, Joad & Noah Moxham (eds.), News Networks in Early Modern Europe, Boston-Leiden, Brill, 2016, pp. 716-738. https://doi.org/10.1163/9789004277199_032
Barkey, Karen, Bandits and Bureaucrats. The Ottoman Route to State Centralization, Ithaca-London, Cornell University Press, 1996.
Bély, Lucien, Espions et ambassadeurs au temps de Louis XIV, Paris, Fayard, 1990.
Brege, Brian "The advantages of stability: Medici Tuscany's ambitions in the Eastern Mediterranean", in Nicholas Scott, Baker and Maxson Brian Jeffrey (eds.), Florence in the Early Modern World, London-New York, Routledge, 2018, pp. 263-280.
Brege, Brian, "Making a New Prince: Tuscany, the Pasha of Aleppo, and the dream of a New Levant", in Francesco Freddolini & Marco Musillo (eds.), Art, Mobility, and Exchanges in Early Modern Tuscany and Eurasia, New York-London, Routledge, 2020, pp. 19-32.
Caccamo, Domenico, "I doni diplomatici del granduca Ferdinando I", in Caccamo, Domenico (ed.), Roma, Venezia e l'Europa centro-orientale. Ricerche sulla prima età moderna, Milano, Franco Angeli, 2010, pp. 327-351.
Cantagalli, Roberto, "Barbolani, Asdrubale", in Dizionario Biografico degli Italiani, 6, 1964: «http://www.treccani.it/enciclopedia/asdrubale-barbolani_%28Dizionario-Biografico%29/»
Carali, Paolo, Fakhr ad-din 2 II, principe del Libano, e la corte di toscana 1605-1635. Vol. I. Introduzione storica - documenti europei e dcumenti orientali tradotti. 2 Volumes, Roma, Reale Accademia d'Italia, 1938.
Carnicer García, Carlo and Marcos Rivas Javier, Espìas de Felipe II. Los Servicios Secretos del Imperio Español, Madrid, La Esfera de los Libros, 2005.
Davies, David W., Elizabethans Errant, Ithaca, Cornell University Press, 1967.
De Vivo, Filippo, "Paolo Sarpi and the Uses of Information in Seventeenth-Century Venice", in Media History, 11, 1 (2005), pp. 37–51. https://doi.org/10.1080/1368880052000342406
De Vivo, Filippo, Information and Communication in Venice. Rethinking Early Modern Politics, Oxford, Oxford University Press, 2007. https://doi.org/10.1093/acprof:oso/9780199227068.001.0001
De Vivo, Filippo, "Microhistories of Long-Distance Information: Space, Movement and Agency in the Early Modern news", Past and Present, 242, 14 (2019), pp. 179-214. https://doi.org/10.1093/pastj/gtz042
Diaz, Furio, Il Granducato di Toscana. I Medici, Torino, Utet, 1976.
Dursteler, Eric, "Power and Information: The Venetian Postal System in the Mediterranean, 1573-1645", in From Florence to the Mediterranean: Studies in Honor of Anthony Molho, Florence, Olschki, 2009, pp. 601-623.
Dursteler, Eric, "Ottaviano Bon", in Thomas, David & John Chesworth (eds.), Christian-Muslim Relations. A Bibliography History. Volume 9. Western and Southern Europe (1600-1700), Leiden-Boston, Brill, 2017, pp. 666-670.
Faroqhi, Suraiya N., (ed.), The Cambridge History of Turkey. Volume 3. The Later Ottoman Empire, 1603-1839, Cambridge: Cambridge University Press, 2006. https://doi.org/10.1017/CHOL9780521620956
Federici, Federico, "A Servant of Two Masters: The Translator Michel Angelo Corai as a Tuscan Diplomat (1599-1609)", in Federici, Federico M. & Dario Tessicini, (eds.), Translators, Interpreters, and Cultural Negotiators. Mediating and Communicating Power from the Middle Ages to the Modern Era, London, Palgrave Macmillan, 2014. https://doi.org/10.1057/9781137400048_6
Galluzzi, Jacopo Riguccio, Istoria Del Granducato Di Toscana Sotto Il Governo Della Casa Medici. XI Volumes, Firenze, 1781, III.
Gamurrini, Eugenio, Istoria genealogica delle famiglie nobili toscane et umbre, 5 Volumi, Firenze, Stampera di Francesco Onofri, 1668-1685, vol. I, pp. 184-186.
Garnier, Èdith, L'Alliance impie. François Ier et Soliman le Magnifique contre Charles V, Paris, Éditions du Félin, 2008.
Gil Fernández, Luis, El Imperio luso-español y la Persia safavida. Vol. I, 1582-1605, Madrid, Fundacion Universitaria Espanola, 2007.
Griswold, William J., The Great Anatolian Rebellion, 1000-1020/1591-1611, Islamkundliche Untersuchungen, vol. 83, Berlin: Klaus Schwarz Verlag, 1983.
Gu?rkan, Emrah Safa, "The efficay of Ottoman counter-intelligence in the 16th century", in Acta Orientalia Academiae Scientiarum Hung, 65, 1 (2012), pp. 1-38. https://doi.org/10.1556/aorient.65.2012.1.1
Hadjanastasis, Marios, "Corsair Tactics and Lofty Ideals: the 1607 Tuscan Raid on Cyprus", in Walsh, M. (ed), City of Empires: Ottoman and British Famagusta, Cambridge, Cambridge Scholars Publishing, 2015, pp. 22-36.
Hugon, Alain, Au Service de Roi Catholique «Honorable Ambassadeurs» et «Divins Espions»: Répresentation Diplomatique et Service Secret dans les Relations Hispano-Françaises de 1598 à 1635, Madrid, Casa de Velazquez, 2004.
Infelise, Mario, Prima dei giornali. Alle origini della pubblica informazione, Roma-Bari, Laterza 2002.
Infelise, Mario, "Sistemi di comunicazione e informazione manoscritta tra '500 e '700", in Messerli A., Chartier R. (eds), Scripta volant, verba manent. Schriftkulturen in Europa zwischen 1500 und 1900. Les cultures de l'écrit en Europe entre 1500 et 1900, Basel, Schwabe Verlag, 2007, pp. 15-37.
Infelise, Mario, "News networks between Italy and Europe", in Dooley B. (ed.), The Dissemination of News and the Emergence of Contemporaneity in Early Modern Europe, Farnham, Ashgate, 2010, pp. 51-67.
Infelise, Mario, "La circolazione delle notizie nell'Italia moderna", in Luzzatto S. & G. Pedullà (eds.), Atlante della letteratura italiana, Torino, Einaudi, vol. II, 2011, pp. 459-465.
Inghirami, Francesco, Storia della Toscana. Tome XII, Poligrafia Fiesolana dai torchi dell'Autore, 1843.
Iordanou, Ioanna, Venice's Secret Service. Organizing Intelligence in The Renaissance, Oxford, Oxford University Press, 2019. https://doi.org/10.1093/oso/9780198791317.001.0001
Isom-Verhaaren, Christine, Allies with the infidel. The Ottoman and French Alliance in the Sixteenth Century, London, I.B.Taurus, 2013.
Lazzeri, Corrado, "Bourbon del Monte S. Maria", in Enciclopedia Italiana: «http://www.treccani.it/enciclopedia/bourbon-del-monte-s-maria_%28Enciclopedia-Italiana%29/»
Luca, Cristian, "Influssi occidentali sull'atteggiamento politico di alcuni principi dei Paesi Romeni nei secoli XVI e XVII", in Quaderni della Casa Romena di Venezia, 2 (2002), pp. 103-119.
Marchesi, Giorgio Viviano, La galleria dell'onore ove sono descritte le segnalate memorie del Sagr'Ordine Militare di S. Stefano..., Forlì, Per li fratelli Marozzi, 1735.
McLean, Gerald & Nabil Matar, Britain & the Islamic World 1558-1713, Oxford, Oxford University Press, 2011.
Oresko, Robert, "The House of Savoy in search for a Royal Crown in the Seventeenth Century", in Oresko, Robert & Scott Gibbs (eds.), Royal and Republican Sovereignty, Cambridge, 1997, pp. 272-350.
Orsini, Filippo, "L'Ordine di Santo Stefano e l'Umbria", in Gemignani, Marco (ed.), Atti della giornata di studi Perugia scuole di lingue estere dell'esercito 6 settembre 2013, Pisa, CLD Libri, 2014, pp. 11-45.
Özel, Oktay, "The Reign of Violence: The Celalis c. 1550-1700", in Woodhead, Christine (ed.), The Ottoman World, London, Routledge, 2011, pp. 184-202.
Pasdera, Margherita, "Bon, Ottaviano", in Dizionario Biografico degli Italiani, vol. 11, 1969. «http://www.treccani.it/enciclopedia/ottaviano-bon_(Dizionario-Biografico)/»
Petitjean, Johann, L'intelligence des choses: une histoire de l'information entre Italie et Méditerranée (XVIe-XVIIe siècles), Roma, École française de Rome, 2013.
Pontecorvo, Virgilio, "Relazioni tra lo Scià ?Abb?s e i Granduchi di Toscana Ferdinando I e Cosimo II", in Atti della Accademia Nazionale dei Lincei, Serie 8/4 (1949), pp. 157-82.
Poumarède, Géraud, "Justifier l'injustifiable : l'alliance turque au miroir de la chrétienté (XVIe- XVIIe siècles)", in Revue d'histoire diplomatique, (1997), pp. 217-246.
Preto, Paolo, I servizi segreti della Serenissima, Milano, Il Saggiatore, 1994.
Rota, Giorgio, Under two Lions. On the Knowledge of Persia in the Republic of Venice (ca. 1450-1797), Wien, Verlag der Österreichischen Akademie der Wissenschaften, 2009.
Tamborra, Angelo, "Gli stati italiani, l'Europa e il problema turco dopo Lepanto", in Biblioteca dell'Archivio Storico Italiano, XIII, Firenze, Leo S. Olschki Editore, 1961.
Uzielli, Gustavo, Cenni storici sulle imprese marittime e coloniali di Ferdinando I granduca di Toscana, Firenze, Spinelli, 1901.
Varriale, Gennaro, Arrivano li Turchi. Guerra e Spionaggio nel Mediterrneo (1532-1582), Novi Ligure, Città del Silenzio, 2014.
Varriale, Gennaro, "Avvisi del Levante a Firenze. L'informazione sul Turco alla corte di Cosimo I de' Medici", in Caroscio M. & M. Arfaioli (eds.), The Grand Ducal Medici and the Levant, Brepols, 2016, pp. 33-44.
White, Sam, The Climate of Rebellion in the Early Modern Ottoman Empire, Cambridge, Cambridge University Press, 2011. https://doi.org/10.1017/CBO9780511844058
Zagli, Andrea, "Niccolini, Giovanni", Dizionario Biografico degli Italiani, 78, 2013. «http://www.treccani.it/enciclopedia/giovanni-niccolini_(Dizionario-Biografico)/»