Artículos
Colonia América. Notas para un cine postcolonial (en) español / Colonia América. Sketches for a Post-Colonial Cinema (in) Spanish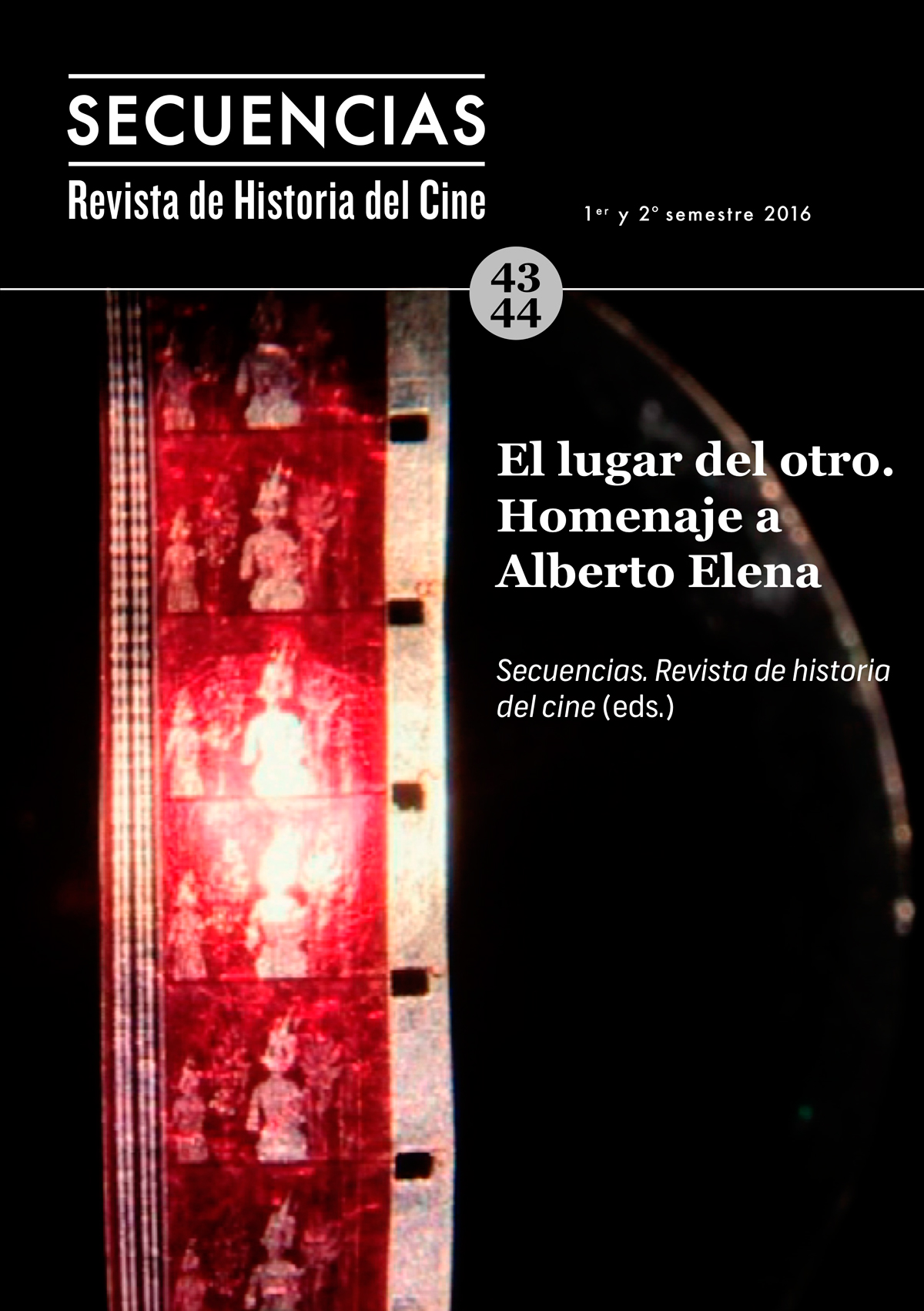 Publicado
febrero 24, 2017
Cómo citar
Guardiola, J. (2017). Colonia América. Notas para un cine postcolonial (en) español / Colonia América. Sketches for a Post-Colonial Cinema (in) Spanish. Secuencias, (43-44). https://doi.org/10.15366/secuencias2016.43-44.009
Resumen
A partir del marco teórico de los estudios y la crítica postcolonial, el texto pretende reunir por primera vez una serie de obras audiovisuales a partir de las que esbozar un primer «archivo fílmico poscolonial español». Para ello, realiza una cartografía de obras recientes producidas por artistas visuales españoles y centradas en el ámbito latinoamericano, susceptibles de calificarse como postcoloniales por su discurso crítico y reflexivo tanto sobre el pasado colonial como sobre el propio dispositivo fílmico. El artículo analiza los dispositivos recurrentes, como el uso del archivo y del cuerpo como acción, en autores como Marcelo Expósito, Paco Cao, Virginia Villaplana, Alvaro Laiz, Iván Candeo, Carlos Motta, Daniela Ortiz & Xosé Quiroga o el colectivo Declinación magnética.
Palabras clave: cine postcolonial en español, ensayo audiovisual, vídeocreación, documental postcolonial, archivo, performatividad.
Abstract:
Based on postcolonial theoretical and critical studies, this text pretends to gather, for the first time, a series of audio-visual works from which to sketch a first 'Spanish postcolonial cinematic archive'. To that end, it draws a cartography of recent works produced by Spanish visual artists that are focussed on the Latin American sphere, which are susceptible of being qualified as postcolonial thanks to its critical and reflexive discourse, both on the colonial past and on the actual film dispositive. The article analyses the recurring dispositives, such as the use of the archive and the body as action, in authors like Marcelo Expósito, Paco Cao, Virginia Villaplana, Alvaro Laiz, Iván Candeo, Carlos Motta, Daniela Ortiz & Xosé Quiroga and the collective Declinación magnética.
Keywords: postcolonial cinema in Spanish, audio-visual essay, video-creation, postcolonial documentary, archive, performativity.
Descargas
Los datos de descargas todavía no están disponibles.
Citas
Armes, Roy,Postcolonial Images. Studies in North African Film (Bloomington, Indiana University Press, 2005).
Bilbeny, Jordi,Brevissima relació de la destrucció de la Historia (Barcelona, Editorial Setciencies, 1998).
Bonet, Eugeni (ed),Desmontaje: Film, vídeo / Apropiación, reciclaje (Valencia, IVAM, 1993).
Declinación Magnética,Hasta que los leones no tengan historiadores…(Madrid, Matadero, 2014).
Demos, T. J., Return to the Postcolony. Specters of Colonialism in Contemporary Art (Berlín, Stenber Press, 2013).
Demos, T. J.y Van Gelder, Hilde (eds.): In and Out off Brussels. Figuring Postcolonial Africa and Europe (Leuven, Leuven University Press, 2012).
Elena, Alberto,La llamada de África. Estudios sobre el cine colonial español (Barcelona, Edicions Bellaterra, 2010).
Guardiola, Juan, «Otras miradas, otras representaciones»,en Manuel Palacio y Santos Zunzunegui (eds.),Historia general del cine(El cine en la era del audiovisual). Vol. XII (Madrid, Cátedra,1995).
Guardiola, Juan,El imaginario colonial. Fotografía en Filipinas durante el periodo español, 1860-1898(Madrid, Ministerio de Cultura / Seacex / Casa Asia, 2006).
Guardiola, Juan, (ed.),India Moderna (Valencia, Ministerio de Cultura / IVAM, 2008).
Guardiola, Juan, «La pista bengalí… Notas sueltas sobre arte e identidad cultural», en Luis Miranda (ed),Las edades de Apu. Estudios sobre la Trilogía de SatyajitRay (Las Palmas, Universidad de Las Palmas de Gran Canaria, 2012).
Olveira, Manuel (ed.),Conferencia performativa. Nuevos formatos, lugares, prácticas y comportamientos artísticos (León y Madrid, Musac / ThisSide Up, 2013).
Paranaguá, Paulo Antonio (ed.),Cine documental en América Latina (Madrid, Cátedra, 2000).
Ponzanesi, Sandra y Waller, Marguerite (ed.),Postcolonial Cinema Studies (Nueva York, Routledge, 2012).
Shohat, Ella y Stam, Robert,Unthinking Eurocentrism. Multiculturalism and the Media (Londres y Nueva York, Routledge, 1994).
Villaplana Ruiz, Virginia, «À une certaine distance imaginaire de Tristes Tropiques. Un cas d'étude: Les expéditions dans les forêts amazoniennes et au Mato Grosso. Itinéraires d'un monde disparu»,en Giovanna Zappetti (ed.),Avenir passe (Rennes, Presses Universitaires de Rennes, 2016).
Weinrichter, Antonio,Metraje encontrado. La apropiación en el cine documental y experimental (Pamplona, Festival Internacional de Cine Documental de Navarra, 2009).