Artículos
Méliés en España, a partir de lo conservado y estudiado / Méliès in Spain, from What Is Preserved and Studied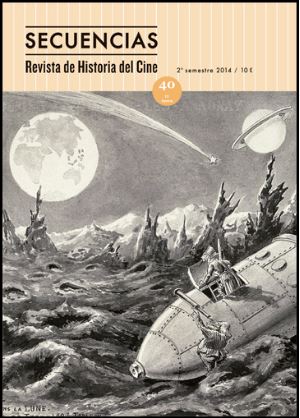 Cómo citar
Soto Vázquez, B. (2016). Méliés en España, a partir de lo conservado y estudiado / Méliès in Spain, from What Is Preserved and Studied. Secuencias, (40). Recuperado a partir de https://revistas.uam.es/secuencias/article/view/5821
Resumen
Estudiar la recepción (distribución y exhibición) de Méliès en España es el punto de partida para elaborar determinadas ideas a partir de dos tipos de fuentes: los materiales identificados como del cineasta francés y conservados en los archivos fílmicos españoles (dónde se encuentran y desde dónde llegan a ser depositados en esos archivos); y los estudios llevados a cabo en el ámbito de la historia local del cine en sus primeros años (lo que estos reflejan sobre dónde y cómo se vio a Méliès). Estos últimos nos permiten trabajar a partir de lo ya elaborado por otros investigadores (archiveros, historiadores, cronistas...) dejando al margen las fuentes primarias, que serían el recurso del cual han partido ellos. El uso de las fuentes secundarias nos lleva a trazar un contexto desde la conexión de datos y no desde el descubrimiento de estos, trabajo del todo necesario para ampliar el marco de estudio desde lo local a lo general.
Palabras clave: cine de los inicios, Méliès, historia de la recepción, archivos cinematográficos, historia del cine en España.
Abstract
Studying the reception (distribution and exhibition) of Méliès in Spain is the starting point for developing some ideas from two types of different sources: the films identified and preserved at the Spanish film archives of this author, where they are and from where and from whom they get in those archives; and the previous research in the local history of cinema in its early years in different Spanish cities, that reflect where and how they screened Méliès. Those sources allow us to build on what other researchers (archivists, historians, chroniclers ...) made before us, leaving out the primary sources. The use of secondary sources leads us to draw a context from the data connection and not from the discovery of these. This work is essential to try to broad our analysis from the local to the general.
Keywords: early cinema, Méliès, film recepcion history, film archives, Spanish film history.
Descargas
Los datos de descargas todavía no están disponibles.