Artículos
La narración de los datos estadísticos como subestimación de la víctima oriental en la geografía nominal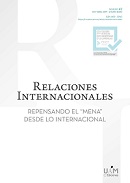 Publicado
30 septiembre 2019
Palabras clave:
Esencialización racial, espacios de excepción, geografía nominal, terrorismo, víctima, Nominal geography
Cómo citar
D'ASCENZIO, A., & GRECO, F. (2019). La narración de los datos estadísticos como subestimación de la víctima oriental en la geografía nominal. Relaciones Internacionales, (42), 21–36. https://doi.org/10.15366/relacionesinternacionales2019.42.002
Resumen
El presente artículo parte de la premisa de que la práctica discursiva sobre la muerte oriental, iniciada por las agencias de saber, puede corresponder a una subestimación narrativa de los territorios y de las personas presentes en un espacio polisémico llamado MENA. La hipótesis investigada, a través de la comparación de diferentes fuentes estadísticas secundarias (2001-2017), muestra que la mayoría de las víctimas del terrorismo no se sitúan en el área geográfica occidental, sino en la región de Oriente Medio y África del Norte. Esta interpretación de los datos estadísticos presupone que el número de las muertes, manipuladas en una clave positivista, participa en el proceso más general de "esencialización racial" del espacio. Por lo tanto, lo que nos proponemos hacer es reflexionar sobre la narración de "datos" que alimenta cierta retórica gubernamental de MENA. Metodológicamente, la comparación de diferentes datos aclara que existe una "subestimación geográfica" relacionada con una "sobrenarración" del evento terrorista, descrito como una amenaza oriental. Esta "sobreexposición" tiene el efecto de subestimar a la víctima local, puesto que la inscripción geográfica del MENA, comprendida como un espacio de terror, arrebata la dignidad de la muerte a las poblaciones orientales.
Descargas
Los datos de descargas todavía no están disponibles.
Citas
AGAMBEN, Giorgio, El uso de los cuerpos. Homo sacer, Pre-Texto, Valencia, 2018 [2014].
AGAMBEN, Giorgio, Homo Sacer, El poder soberano y la nuda vida, Pre-Texto, Valencia, 2006 [1995].
AGAMBEN, Giorgio, Estado de excepción, Adriana Hidalgo editora, Buenos Aires, 2005.
D'ALONZO, Jacopo, "La filosofia politica di Giorgio Agamben. Concetti, metodi e problemi" en «www.filosofia-italiana.net», 2016, p. 5. Ver: http://www.filosofiaitaliana.net/wp content/uploads/2016/06/DAlonzo.pdf.
ALSULTANY, Evelyn, Arabs and Muslims in the media: Race and representation after 9/11 New York, University Press, 2012.
ANDÒ, Sandro, "Terrorismo e fondamentalismo islamico", en Quaderni costituzionali, no.1, 2002, pp. 73-74.
BAUCHARD, Denis, "La politique arabe de l'UE face au projet de Grand Moyen-Orient", en BONIFACE, Pascal, BILLION, Didier, Les Défis du monde arabe. IRIS, PUF, Paris, 2004, p. 155-160.
BILGIN, Pilar, Regional Security in the Middle East: A Critical Perspective, 2004a, London, Routledge.
BILGIN, Pilar, "Whose Middle East? Geopolitical Inventions and Practices of Security", en International Relations, n. 18, 2004b, 17-33.
BILGIN, Pilar, "Inventing Middle East? The Making of Regions through Security Discourses", en Vikor, K. (ed.) The Middle East in Globalizing World, Nordic Society for Middle Eastern Studies, Oslo, 2000.
BLACKWILL, D. Robert, STÜRMER, Michael, Allies Divided: Transatlantic Policies for the Greater Middle
East, MIT Press Cambridge, 1997.
BOLTANSKI, Luc, Distant Suffering: Morality, Media and Politics, Cambridge University Press,
Cambridge,1999.
BUIS, Georges , "Moyen-Orient et Méditerranée orientale", en Politique étrangère, vol. 41, no. 3, 1978, pp. 209-217.
CAPDEPUY, Vincent, "Grande Medio Oriente – Greater Middle East. Il luogo di un momento", en www.ossin.org.
CAPDEPUY, Vincent, "Proche ou Moyen-Orient? Géohistoire de la notion de Middle East", en L'Espace géographique, no. 37, 2008, p. 225-238.
CATO, Hemmingby, BJØRGO, Tore, "Terrorist Target Selection: The Case of Anders Behring Breivik", en Perspectives on Terrorism, vol. 12, no. 6, 2018, pp. 164-76.
CORBETTA, Piergiorgio, Metodologia di tecniche della ricerca sociale, Il Mulino, Bologna, 1999.
CURZON, George Nathaniel, "Subjects of the Day: Being a Selection of Speeches and Writings", en George ABen & Unwin, Londres, 1915, pp. 155-156, en SAID, Edward, 2008, Orientalismo, Debosillo, Barcellona, 2008 [1978], pp. 289-290.
DE HEUSCH, Luc, Le sacrifice dans les religions africaines, Gallimard, Paris, 1986.
DE SAUSSURE, Ferdinand, Curso de Lingüística General, Losada Edición, Buenos Aires, 2008.
ÉQUIPE MIT, "Tourismes", 2. Moments de lieux, Paris-Belin, 2005.
EUROPOL, Public Information, European Union, European Counter Terrorism Centre. Lone actor attacks – Recent developments, 20 Julio 2016.
EUROPOL, Public Information, European Union. Terrorism Situation and Trend Report (TE-SAT), 2016.
FABIETTI, Ugo, "Terrorismo, martirio, sacrificio. Antropologia di una forma di violenza politico-religiosa", en OLTRECORRENTE, no. 13, 2007, pp. 31-53.
FOUCAULT, Michel, Seguridad, territorio, población. Curso en el Collége de France (1977-1978), Editorial Fondo de Cultura Económica, Buenos Aires, 2007.
FOUCAULT, Michel, Las palabras y las cosas. Una arqueología de las ciencias humana, Siglo XXI editores, Argentina, 1988 [1966].
FOUCAULT, Michel, L'Archéologie du savoir, Gallimard, Paris, 1969.
HODGSON, Marshall, The Venture of Islam. Conscience and History in a World Civilization. The Classical Age of Islam, University of Chicago Press, Chicago/Londres, 1974.
HUBERT, Henri, MAUSS, Marcel, "Essai sur la nature et la fonction du sacrifice", en L´Année sociologique, tome II, 1899, pp. 29-138.
JACKSON, Richard, An Argument for Terrorism, en Perspectives on Terrorism, North America, vol. 2, no. 2, 2010, http://www.terrorismanalysts.com/pt/index.php/pot/article/view/27.
JACKSON, Richard, Writing the war on terrorism. Language, politics and counter-terrorism, Manchester University Press, Manchester, 2005.
JACKSON, Richard, et al., Terrorism: A Critical Introduction, Palgrave Macmillan, Nueva York, 2011.
JENKINS, Brian, "International Terrorism: A New Kind of Warfare, a statement submitted to the Subcommittee on Foreign Affairs, House of Representatives, Congress of the United States", Santa Monica, California, June 24, 1974, link: www.rand.org/content/dam/rand/pubs/papers/2008/P5261.pdf.
KAPFERER, Bruce, The Feast of the Sorcerer. Practices of Consciousness and Power, Chicago University Press, Chicago, 1997.
KEARNS, Erin M., et al., "Why do some terrorist attacks receive more media attention than others?", en Justice Quarterly, VOL. 35, NO 7, 2019, PP. 1-38.
KHADER, Bichara, "Grand Moyen-Orient: télé-évangélisme ou fenêtre d'opportunité", en Diplomatie, no. 14, 2005, pp. 74-80.
KOLÅS, Åshild, "How critical is the event? Multicultural Norway after 22 July 2011", en Social Identities, vol. 23 no. 5, 2017, pp. 518-532.
LEFEBVRE, Henri, La producción del espacio, Wiley-Blackwell, Oxford, 1991 [1974].
LYON, David, Surveillance Society, London, Open University Press, 2001.
MAGNUS, Ranstorp, "Lone Wolf Terrorism. The Case of Anders Breivik", en Sicherheit Und Frieden (S F) / Security and Peace, vol. 31, no. 2, 2013, pp. 87-92.
MBEMBE, Achille , "Necropolitics", en Public Culture, vol. 15, no. 1, 2003, pp. 11-40.
MESNARD Frederic, Conscience de la Shoah. Critique des discours et des représentations, Kimé, Paris, 2000.
MOELLER, Susan, Packaging terrorism: Co-opting the news for politics and profit, Oxford, Wiley-Blackwell, 2009.
OBERDORFER, Don, "The Evolution of a Decision", The Washington Post, 24 de enero 1980.
OBERLEITNER, Gerd, "Human Security and Human Rights", en ETC Occasional Paper, no. 8, 2002, pp. 1-30.
PREZELJ, Iztok Challenges, "Relationship between security and human rights in counter-terrorism: a case of introducing body scanners in civil aviation", en International Studies Interdisciplinary Political and Cultural Journal, vol. 17, no. 1, 2015, pp. 145-158.
PREZELJ, Iztok, "Challenges, Conceptualizing and Providing Human Security", en HUMSEC Journal, vol. 1, no. 2, 2008, pp. 6-26.
ROUGIER, Bernard, "Le Grand Moyen-Orient: un moment d'utopie internationale?", en Critique internationale, n° 26, 2005, p. 79-94.
SAID, Edward, Culture and imperialism, Vintage Books, New York, 1994 [1993].
SAID, Edward, Orientalismo, Debosillo, Barcellona, 2008 [1978].
SHARP, Jeremy M., "The Broader Middle East and North Africa Initiative: An Overview", en CRS Report for Congress, Washington, 2005, pp. 1-6.
SIMMEL, Georg, "Sociología: Estudio sobre lasformas", en Revista de Occidente, Madrid, 1924, [1908].
WOHLSTETTER, Albert, "Les Etats-Unis et la sécurité du Golfe", en Politique étrangère, n°1 - 46ᵉannée, 1981, pp. 75-88.