Miscelánea
Utilización activa del vídeo en la formación inicial de educadores.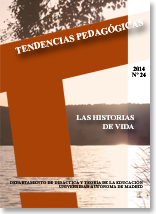 Publicado
octubre 26, 2015
Palabras clave:
Clases interactivas, vinculación teoría/práctica, realización de vídeos, análisis, reflexión.
Cómo citar
Rosales López, C. (2015). Utilización activa del vídeo en la formación inicial de educadores. Tendencias Pedagógicas, 24, 387–400. Recuperado a partir de https://revistas.uam.es/tendenciaspedagogicas/article/view/2112
Resumen
La reforma de los planes de estudio para la formación de Maestros en el proceso de convergencia con el EEES ha puesto de relieve la necesidad de estimular el desarrollo de competencias profesionales a través de una mayor vinculación de teoría y práctica. Las clases interactivas, consideradas como seminarios para el trabajo grupal cooperativo pueden constituir el contexto apropiado para un aprendizaje más dinámico y próximo a la realidad de la enseñanza. En este trabajo se proponen diversas formas de utilización del vídeo en dichas clases, pero especialmente la más activa, aquella en la que son ellos mismos quienes diseñan y graban secuencias didácticas en contextos reales para posteriormente analizarlas reflexionando sobre múltiples cuestiones curriculares con el apoyo del profesor supervisor y de los compañeros de estudios.
Descargas
Los datos de descargas todavía no están disponibles.
Citas
Bernstein, A., Sparks-Larger, M. (1993). A conceptual framework to guide the development of teacher reflection on decision making. Journal of Teacher Education, 44, 1. 45-54.
Clandinin, J. (2007). Handboock of narrative inquiri: mapping a methodology. California: Sage Publications
Comunicación de la Comisión al Consejo y al Parlamento Europeo de 3 de agosto de 2007, "Mejorar la calidad de la formación del profesorado". Disponible en
http://europa.eu/legislation_summaries/education_training_youth/lifelong_learning/cl Consultada en 1-4-2013.
Comisión de Practicum (2012). Documento Base do Practicum. (Documento no publicado) Santiago: Facultad de Ciencias de la Educación
Delors, J. (1996). La educación encierra un tesoro. Madrid: santillana/UNESCO Frank, C. et al. (2004). Ethnography for teacher education. Journal of Teacher
Education, 3.
García, J. y Bedmar, M. (2002). Hacia la educación intergeneracional. Madrid: Dykinson.
González, J. y Wagenaar, R. (2006). Tuning Educational Structures in Europe. Bilbao: Universidad de Deusto.
González Sanmamed, M. (Direc., 2006). Perspectiva do profesorado das universidades galegas. Santiago : ACSUG
Gaudin, C., Chaliés, S. (2012). L´utilisation de la vídeo dans la formation profesionelle des enseignants novices. Revue Française de Pedagogie, 178, 115-130
Hargreaves, A. (2003). Replantear el cambio educativo. Buenos Aires: Amorrotu
Hativa, N. (2002, ed.). Teacher Thinking Beliefs and Knowledge in Higher Education. London: Kluwer Academic Publishers.
Huberman, H. (1989). Les phases de la carriere enseignante. Revue Française de Pedagogie, 86. 5-16
Jacobson, M., Spiro, R. (1995). Hypertext learning environments, cognitive flexibility, and the transfer of complex knowledge: An empirical investigation. Journal of Educational Computing Research, 12, 4.
Koc, M. (2011). Let´s make a movie: Investigating pre-service teacher´s reflections on using video-recorded role playing cases in Turkey. Teaching and Teacher Education, 27, 2. In Gaudin, C., op. cit. 115-130.
Kölb, D. A. (1984). Experiental Learning: experience as the source of learning and development. Englewood Chiffs. New Jersey: Prentice Hall
Leblanc, S. (2009). Des espaces de confrontation á l´experience mediatisés par la vídeo: principes de conception, effects formatifs et projectifs. En Gaudin, C. (2012), op. Cit. 115-130.
Mc Alpine, L., Weston, C. (2002) Reflection: Issues related to improving Professors Teaching and Studens´learning. En Hativa, N., op cot.
Rosales, C. (2005). Temas para la reflexión y la investigación didáctica. Santiago: Tórculo
Rosales, C. (2000). Evaluar es reflexionar sobre la enseñanza. Madrid: Narcea
Rosales, C. (2012). El pensamiento de profesores y alumnos. Cuestiones relevantes de enseñanza y aprendizaje. Santiago: Andavira
Sherin, M. (2004). New perspectivas on the role of video in teacher education. In J. Brophy (dir.) Using video in teacher education. Oxfor: Elsevier.
Shulman, L. (1987). Knowledge and teaching: Fundations of the new Reform. Harvard Educational Review, 57,1. 1-23.
Yadav, A. (2008). What works for them? Preservice teacher´s perceptions of their learning from video cases. Action in Teacher Education, 29, 4, 27-38.