Monográfico
El Estrés en los Profesores de la Universidad Autónoma de Madrid.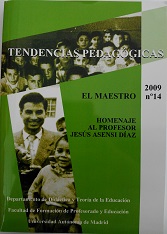 Publicado
octubre 19, 2015
Palabras clave:
Estrés, Satisfacción laboral, Satisfacción con el salario, Profesores universitarios.
Cómo citar
Velázquez Vázquez, D. (2015). El Estrés en los Profesores de la Universidad Autónoma de Madrid. Tendencias Pedagógicas, 14, 443-466. Recuperado a partir de https://revistas.uam.es/tendenciaspedagogicas/article/view/1929
Resumen
El SWS-Survey fue aplicado a una muestra de 53 profesores de la Universidad Autónoma de Madrid (UAM) como un instrumento ad hoc para medir sus niveles de estrés y de apoyos (recursos disponibles). El énfasis de la investigación está marcado en el área laboral-organizacional, desempeñándose como educadores a nivel universitario. Los resultados fueron comparados a otra muestra de 193 individuos de sus homólogos de la Universidad Nacional Autónoma de México (UNAM) y 48 de la Universidad Metropolitana de Ciencias de la Educación (UMCE) de Santiago de Chile. La evidencia encontrada sugiere que los profesores de la UAM tienen amplios recursos personales y sociales para superar el estrés en esas áreas; sin embargo, muestran altos niveles de estrés en el trabajo y bajo nivel de apoyo organizacional; además, perciben condiciones laborales y salariales insatisfactorias.
Descargas
Los datos de descargas todavía no están disponibles.
Citas
·Buendía, J. y Ramos, F. (2001). Empleo, estrés y salud. Madrid: Editorial Pirámide.
·Cooke, R.A. y Rousseau, D.M. (1984). Stress and Strain From Family Roles and Work Role Expectations, Journal of Applied Psychology, 69, 252-260.
·Dunham, J. (1976). Stress Situations and Responses: Stress in Schools. Hempstead: Editorial Hemel.
· Fimian, M. J. y Santoro, M. T. (1981). Correlates of Occupational Stress as Reported by FullTime Education Teachers. I. Sources of Stress II. Manifestations of Stress. USA: Educational Information Research Centre.
·Heneman, H. y Donald, S. (1985). Satisfacción de pago: su naturaleza multi-dimensional y su medida. Diario Internacional de Psicología 20. Holanda.
·Herzberg, F.; Mausner, B y Snyderman B. (1992). The motivation to work. New Bruns-wick, New Jersey: Transaction Publishing.
·Ibarra, Eduardo (2003). Universidad en la penumbra y más allá: notas para comprender la gran transformación de la universidad y discutir su porvenir como institución de la sociedad. Educación Superior: Cifras y Hechos, Centro de Investigaciones Interdisciplinarias en Ciencias
y Humanidades, UNAM, Año 3, No. 14-15, mayo-agosto, pp 13-17.
·Kyriacou, Chris (2003). Antiestrés para profesores. Barcelona: Octaedro.
·Milstein, M. M. y Golaszwski, J. T. (1985). Effects of Organisationally-based and individuallybased
Stress Management Efforts in Elementary School Settings. California, USA: Editorial Urban Education.
·Needle, R. H.; Griffin, T. y Svendsen, R. (1981). Occupational Stress: Coping and health problems of teachers. The Journal of School Health, 51, 175-181.
·Payne, M.A. y Furnham, A. (1987). Dimensions of Occupational Stress in West Indian Secondary
school teachers. British Journal of Educational Psychology. 41-50.
· Pearlin, L. y Turner, H.A. (1987). The Family as Context of the Stress Process, en Kasl, S.V. y Cooper, C.L. (Comps.), Stress and Health: Issues in Research Metodology, Chichester, Wiley
·Phillips, B. L. y Lee, Y. J. (1980). The Changing Role of American Teacher: Current and Future Sources of Stress. En C.L. Cooper y J. Marsahal (comps), White Collar and Professional Stress. Chichester, Wiley.
·Stewart, F. y Jeffrey G. (2001). Trabajo y familia: ¿aliados o enemigos? México: Editorial Oxford
University.
·Tellenbeck, S.; Brenner, O. S. y Lofgren, H. (1983). Teacher Stress: Exploratory Model Building.
Journal of Occupational Psychology, 56: 19-33.
· Travers, C. y Cooper, C. (1997). El estrés de los profesores: la presión en la actividad docente.
Barcelona: Paidós.
·Williams, S. y Lesley, C. (2004). Manejo del estrés en el trabajo: plan de acción detallado para profesionales. México D.F.: Editorial El Manual Moderno.