Artículos
El eslabón perdido de las imágenes en el genocidio camboyano: En torno a La imagen perdida (Rithy Panh, 2013) / The Missing Link in the Images of the Cambodia Genocide: On The Missing Picture (Rithy Panh, 2013)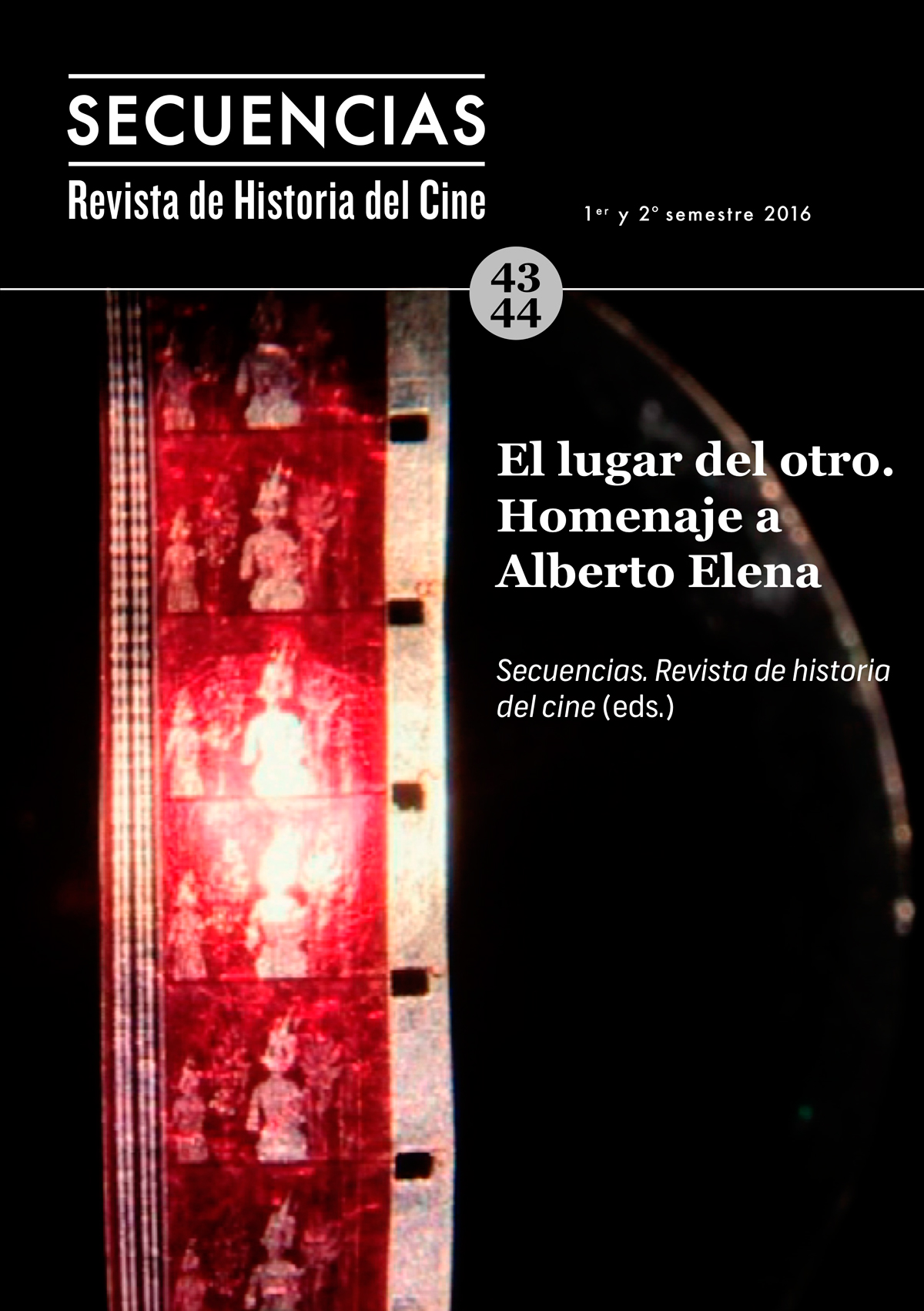 Publicado
febrero 24, 2017
Resumen
La imagen perdida (L'image manquante / The Missing Picture, Rithy Panh, 2013) constituye una indagación, a la vez intimista e histórica, acerca de las posibilidades, y por tanto también los límites, de cualquier imagen para capturar acontecimientos extremos de la historia y de la experiencia humana del dolor, en este caso ante el teatro del genocidio camboyano perpetrado por los Jemeres Rojos (1975-1979). En realidad, las imágenes que se utilizan en ámbitos documentales y ficcionales para representar el genocidio son de muy diversa condición. En primer lugar, este artículo expone las modalidades de dichas imágenes en función de su relación con los hechos y el tipo de mirada que las funda (imágenes de perpetradores, de liberadores, testimoniales, post facto…) para adentrarse más tarde en el estudio de otras formas carentes de soporte físico (imágenes espectrales, traumáticas o interiores). Una vez considerada su migración en el tiempo y el tejido icónico que entre todas conforman, el artículo estudia cómo actúan estos distintos tipos de imagen en el film y cómo, además de imágenes socializadas, Rithy Panh da forma a imágenes memorísticas incorpóreas.
Palabras clave: imagen y atrocidades, genocidio camboyano, Rithy Panh, cine documental.
Abstract:
L'image manquante / The Missing Picture (Rithy Panh, 2013) might be considered an investigation, both intimate and historical, on the possibilities and limits for any image to represent atrocities and the experience of atrocities. The theatre of this reflection is the Cambodian genocide (1975-1979). As a matter of fact, the range of images commonly used to embody the extermination perpetrated by the Khmer Rouge are extremely varied. First, this article analyzes their modality in relation to the facts they are supposed to convey, in particular, the kind of gaze they put forward so as to distinguish among perpetrators images, liberators images, testimonial images, images post facto. Then, it takes into consideration other images lacking physical support, such as spectral images, traumatic images and inner images. Once these cases have been studied in their interaction as well as in their temporal migration, this article closely examines how they intervened in the film and the way Rithy Panh gives shape to these incorporeal memorial images.
Keywords: image and atrocities, Cambodian genocide, Rithy Panh, documentary film.
Citas
AA. VV., Vann Nath Tribute (Phnom Penh, Bophana Center, 2013).
Bergström, Gunnar y Ekerwald, Hedda, Living Hell. Democratic Kampuchea, August 1978, (Phnom Penh, Documentation Center of Cambodia, 2008).
Caswell, Michelle, Archiving the Unspeakable. Silence, Memory, and the Photographic Record in Cambodia (Madison, University of Wisconsin Press, 2014).
Chandler, David, Voices from S-21. Terror and History in Pol Pot's Secret Prison (Beverly, Los Angeles y Londres, University of California Press, 1999).
Carpentier, Mélanie, «Rencontre avec Rithy Panh » (Grand Écart, 25 de mayo de 2013). Disponible en: http://www.franceculture.fr/cinema/festival-de-cannes-2013-rencontre-avec-rithy-panh (29/02/2016).
Dargis, Manohla, «Returning, in His Own Way, to the Killing Fields. 'The Missing Picture,' Rithy Panh's Look at 1970s Cambodia» (New York Times, 18 de marzo de 2014).
Didi-Huberman, Georges, Imágenes pese a todo : memoria visual del Holocausto (Barcelona, Paidós, 2004).
Dunlop, Nic, The Lost Executioner. A Journey into the Heart of the Killing Fields (Nueva York, Walker Publishing Company, 2006).
Hamers, Michelle Q., Do Nothing, Sit Still, and Wait for My Orders. The Role of Photography in the Archive Practices, Historiography, and Memory of Democratic Kampuchea 1975-1979 (Tesis doctoral inédita, marzo de 2011).
Hirsch, Marianne, Family Frames. Photography, Narratives and Postmemory (Cambridge y Londres, Harvard University Press, 1997).
Hirsch, Marianne, The Generation of Postmemory. Writing and Visual Culture after the Holocaust (Nueva York, Columbia University Press, 2012).
Hirsch, Marianne, «Postmemory. An Interview with Marianne Hirsch» (Art absolument, número especial dedicado a «Creation and Postmemory», primavera de 2013).
Hughes, Rachel, «The Abject Artefacts of Memory: Photographs from Cambodia's Genocide» (Media, Culture & Society, vol. 25, 2003), pp. 23-44.
Kiernan, Ben, The Pol Pot Regime. Race, Power, and Genocide under the Khmer Rouge (New Haven, Yale University Press, 1996).
Locard, Henri, Pourquoi les Khmers Rouges?(París, Vendémiaire, 2013).
Morris, Errol, Believing is Seeing (Observations on the Mysteries of Photography) (Nueva York, Penguin, 2011).
Panh, Rithy y Bataille, Christophe, L'image manquante (París, Bernard Grasset, 2013).
Panh, Rithy y Bataille, Christophe, L'élimination (París, Grasset, 2011).
Ponchaud, François, Cambodge année zéro (París y Pondicherry, Kailash, 2001 [1977]).
Rollet, Sylvie, «Malgré tout… l'image manque» (Cinema &Cie: International Film Studies Journal, vol. XV, n.º 24, 2015), pp. 93-102.
Sánchez-Biosca, Vicente, «Perpetrator Images, Perpetrator Artifacts: The Nomad Archives of Tuol Sleng (S-21)» (Cinema &Cie: International Film Studies Journal, vol. XV, n.º 24, 2015), pp. 103-116.
Sánchez-Biosca, Vicente, «Le visage fluctuant des victimes. Images de l'affliction au Cambodge (1975-2003)» (Témoigner entre histoire et mémoire n.° 121, octubre de 2015), pp. 152-169.
Sánchez-Biosca, Vicente, «¿Qué espera de mí esa foto? La perpetrator image de Bophana y su contracampo. Iconografías del genocidio camboyano» (Aniki. Portuguese Journal of Moving Image 2-2, 2015), pp. 322-348.
Torchin, Leshu, «Mediation and Remediation. La parole filmée in Rithy Panh's The Missing Picture (L'image manquante)» (Film Quarterly, vol. 68 n.º 1, otoño de 2014), pp. 32-41
Vann , Nath, A Cambodian Prison Portrait. One Year in the Khmer Rouge's S21 (Bangkok, White Lotus, 1998).
Zylberman, Lior, «The Missing Picture-Film Review. Directed by Rithy Panh, 2013» (Genocide Studies and Prevention 8-3, otoño de 2014).