Artículos
Trabajo emocional con musicoterapia con una adolescente oncológica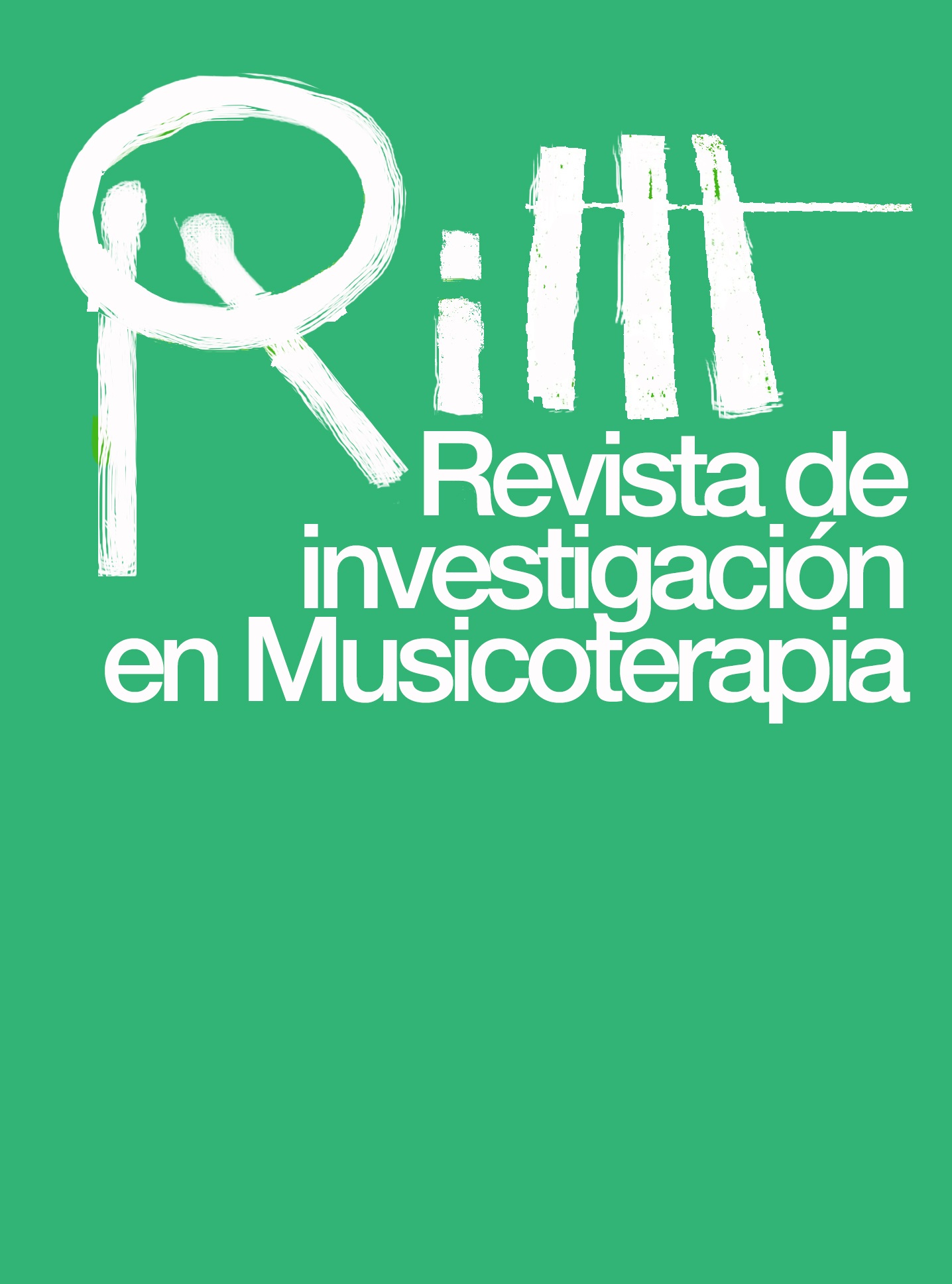 Publicado
diciembre 2, 2021
Palabras clave:
adolescente, oncología, emoción, musicoterapia, expresión emocional
Cómo citar
Delgado Quintela, M. (2021). Trabajo emocional con musicoterapia con una adolescente oncológica. Revista De Investigación En Musicoterapia, 5, 19–42. https://doi.org/10.15366/rim2021.5.002
Derechos de autor 2021 Revista de Investigación en Musicoterapia
Esta obra está bajo una licencia internacional Creative Commons Atribución-NoComercial-SinDerivadas 4.0.
Resumen
Objetivo: El objetivo de este estudio pretende establecer si el trabajo emocional con una adolescente oncológica con musicoterapia (MT) puede facilitar el desarrollo de habilidades emocionales y favorecer una mejora en el estado anímico y de autoestima. Método: El tratamiento ha consistido en 8 sesiones de musicoterapia, de frecuencia quincenal con una duración de 60 minutos/sesión. Trabajo individual, en atención domiciliaria, con una adolescente oncológica. Se han medido distintos parámetros pre - post sesión, pre- post tratamiento y la evolución de sesión a sesión en las distintas áreas mediante distintos instrumentos ad hoc. Resultados: Los resultados obtenidos mediante el análisis cuantitativo y cualitativo de los datos recogidos sugieren que la musicoterapia puede facilitar la adquisición de competencias emocionales y facilitar un cambio de estado de ánimo que les permita gestionar mejor el momento vital el que se encuentran y llevar a cabo un trabajo de prevención en el futuro.
Descargas
Los datos de descargas todavía no están disponibles.
Citas
American Music Therapy Association (1 de abril de 2019). Definition and quotes about music therapy. http://www.musictherapy.org/about/quotes/
Bellver, A y Verdet, H. (2015). Adolescencia y cáncer. Psicooncología, 12(1), 141-156. https://dx.doi.org/10.50209/rev_ PSIC.2015.v12.n1.48909
Bisquerra, R. (2003). Educación emocional y competenias básicas para la vida. Revista de
investigación Educativa 21(1), 7-43.
Bradt, J, Dileo, C, Magill, L & Teague, A. (15 de agosto 2016). Music interventions for improving psychological and physical outcomes in cancer patiens (Review). Cochrane Database Systematic Review. https://www.cochranelibrary.com/cdsr/doi/10.1002/14651858.CD006911.pub3/full#CD006911-abs-0001
Bragado, C. (2009). Funcionamiento psicosocial e intervenciones psicológicas en niños con cáncer. Psicooncología, 6(2-3), 327-341. https://www.researchgate.net/profile/Carmen_BragadoAlvarez/publication/235343502_Funcionamiento_Psicosocial_e_intervenciones_psicologicas_en_ninos_con_cancer/links/5592716508ae1e1f9bb03ec0/F
García, JH. (2010). Musicoterapia en oncología infantil en Patricia Martí Augé-Melissa
Mercadal Brotons (coord), Musicoterapia y Medicina. Aplicaciones prácticas (1ª ed., pp. 111-125). Editorial Médica Jims.
Gutiérrez, E. (2018). Arteterapia familiar en oncología pediátrica. Psicooncología 15, 133-
https://dx.doi.org/ 10.5209/PSIC.59183
López-Ibor, B. (2009). Aspectos médicos, psicológicos y sociales del cáncer infantil.
Psicooncología, 6(2-3), 281-284. https://search.proquest.com/openview/c20763efed490e1c4c4e46de7b783a74/1?pq-origsite=gscholar&cbl=54850
Martí-Augé, P, Mercadal- Brotons, M y Solé-Resano, C. (2015). Musicoterapia en
oncología. Gaceta Mexicana de oncología, 14 (6), 346-352. https://www.sciencedirect.com/science/article/pii/S1665920115001212
Martí -Augé, P. (1999). Aplicación en Medicina: La Musicoterapia como coadyuvante en el
tratamiento de un adolescente con leucemia. Revista música, arte y proceso 8, 37-48
O'Callaghan, C, Dun, B, Baron, P y Barry, P (2013). Music's Relevance for Children With Cancer: Music Therapists' Qualitative Clinical Data-Mining Research, Social Work in Health Care, 52(2-3), 125-143. https://doi.org/10.1080/00981389.2012.737904
Palomo, MP. (1995). El niño hospitalizado. Características, evaluación y tratamiento. Ediciones Pirámide.
Parra, C. (2008). L'aplicació de la Musicoteràpia en el col·lectiu de les dones maltractades: Dos estudis de cas únic i un exemple de retorn [Tesis Doctoral, Universitat Ramon Llull de Barcelona]. https://www.tdx.cat/handle/10803/9265
Plaza, M y Martínez, L. (2015). La risoterapia como complemento a otras terapias médicas. Revista Enfermería de Castilla y León, 7 (1), 73-79. http://www.revistaenfermeriacyl.com/index.php/revistaenfermeriacyl/article/viewFile/140/126
Registro Nacional de Tumores Infantiles (15 de noviembre 2018). Las cifras de tumores infantiles diagnosticados en España 2017. https://www.aecc.es/es/actualidad/noticias/registro-nacional-tumores-infantiles
Sociedad Española de Oncología Médica (15 de noviembre 2018). Las cifras del cáncer en España 2017. https://seom.org/informacion-sobre-el-cancer/que-es-el-cancer-y-como-se-desarrolla
Standley, JM. (2010). Investigación sobre música en el tratamiento médico en Patricia Martí Augé-Melissa Mercadal Brotons (coord), Musicoterapia y Medicina. Aplicaciones prácticas (1ª ed., pp. 1-63). Editorial Médica Jims.
Stubbs, RM. (2017). A review of attachment theory and internal working models as relevant to musictherapy with children hospitalized for life threatening illness. The Arts in Psychotherapy 57, 72-99. https://doi.org/10.1016/j.aip.2017.10.001
Tuquet, B & Leung, M. (2014). Music Therapy Services in Pediatric Oncology: A National Clinical Practice Review. Journal of Pediatric Oncology Nursing 31(6), 327 –338.
https://doi.org/10.1177/1043454214533424 jpo.sagepub.com
Wong-Baker FACES Foundation (2018). Wong-Baker FACES® Pain Rating Scale. Retrieved (10 junio 2019) with permission from http://www.WongBakerFACES.org