Artículos
'Violaciones Consentidas', una nueva violencia sexual: estudio preliminar. 'Consented rape', a new sexual violence: preliminary research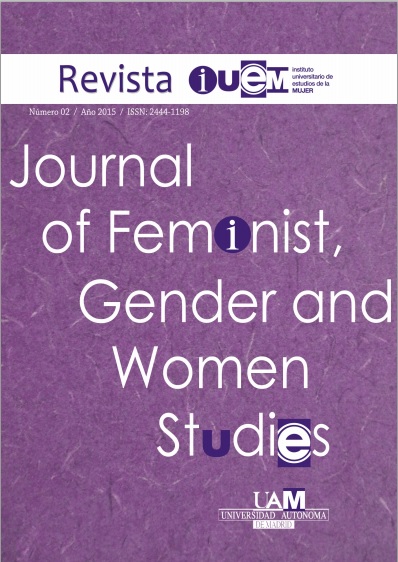 Publicado
noviembre 3, 2015
Cómo citar
Cuenca Suárez, S. (2015). 'Violaciones Consentidas', una nueva violencia sexual: estudio preliminar. 'Consented rape', a new sexual violence: preliminary research. Journal of Feminist, Gender and Women Studies, (2). Recuperado a partir de https://revistas.uam.es/revIUEM/article/view/2228
Resumen
El presente artículo se basa en una investigación preliminar de carácter cualitativo realizada en torno a las maneras de pensar y vivir las sexualidades, mediante la cual se ha detectado una forma de violencia invisible a la que se ha denominado "Violación Consentida". El término "Violación Consentida" trata de llamar la atención sobre la violencia estructural e intrapersonal que sufren o experimentan las mujeres cuando acceden a mantener relaciones sexuales sin el componente del deseo.
Mediante técnicas como el relato biográfico, la entrevista, el grupo de discusión y el grupo triangular, se busca conocer cómo se viven las "Violaciones Consentidas" e identificar los aspectos sociales que respaldan la aparición de esta violencia. A través de un análisis intergeneracional y cruzado con los diferentes tipos de relaciones afectivas identificadas se alerta de las magnitudes de esta violencia, que llega a estar presente en la totalidad de los discursos recogidos, fruto de los diferentes mecanismos de organización y perpetuación de la sociedad patriarcal. En repuesta al objetivo último de la investigación, que coincide con coadyuvar a una sexualidad saludable, se incluye en el apartado de conclusiones unas líneas de trabajo para su consecución.
ABSTRACT
The present article is based on a qualitative preliminary research which focuses in the different thought patterns and ways of living the diverse sexualities. In the research, it has been detected an invisible way of violence which is to be denominated "Consented Rape". The concept of "Consented Rape" is pretended to bring the attention upon the structural and intrapersonal violence that women suffer or experiment when they agree to perform a sexual intercourse without the desire component of it.
With the use of techniques such as biographical reports, interviews, discussion groups and triangular group; the purpose of this article is to understand how these "Consented Rapes" are experienced by the person. It is also another purpose to identify the social aspects that support the emergence of this kind of violence. A crossed intergenerational analysis has been utilised which has involved the different types of identified affective relationships. With this analysis, it seems of big importance the magnitude of this sort of violence which has appeared in all of the personal accounts that have been analysed in this research; and that is related with the different mechanisms of organisation and perpetuation of the patriarchal society. In response to the last objective of this research, which is related to cooperate towards a healthy sexuality, there are some lines of work to its attainment in the conclusions section.
Descargas
Los datos de descargas todavía no están disponibles.