Artículos
El embarazo es una máquina, no una mujer» Deshumanización y sexismo misógino en el planteamiento favorable al 'trabajo gestacional'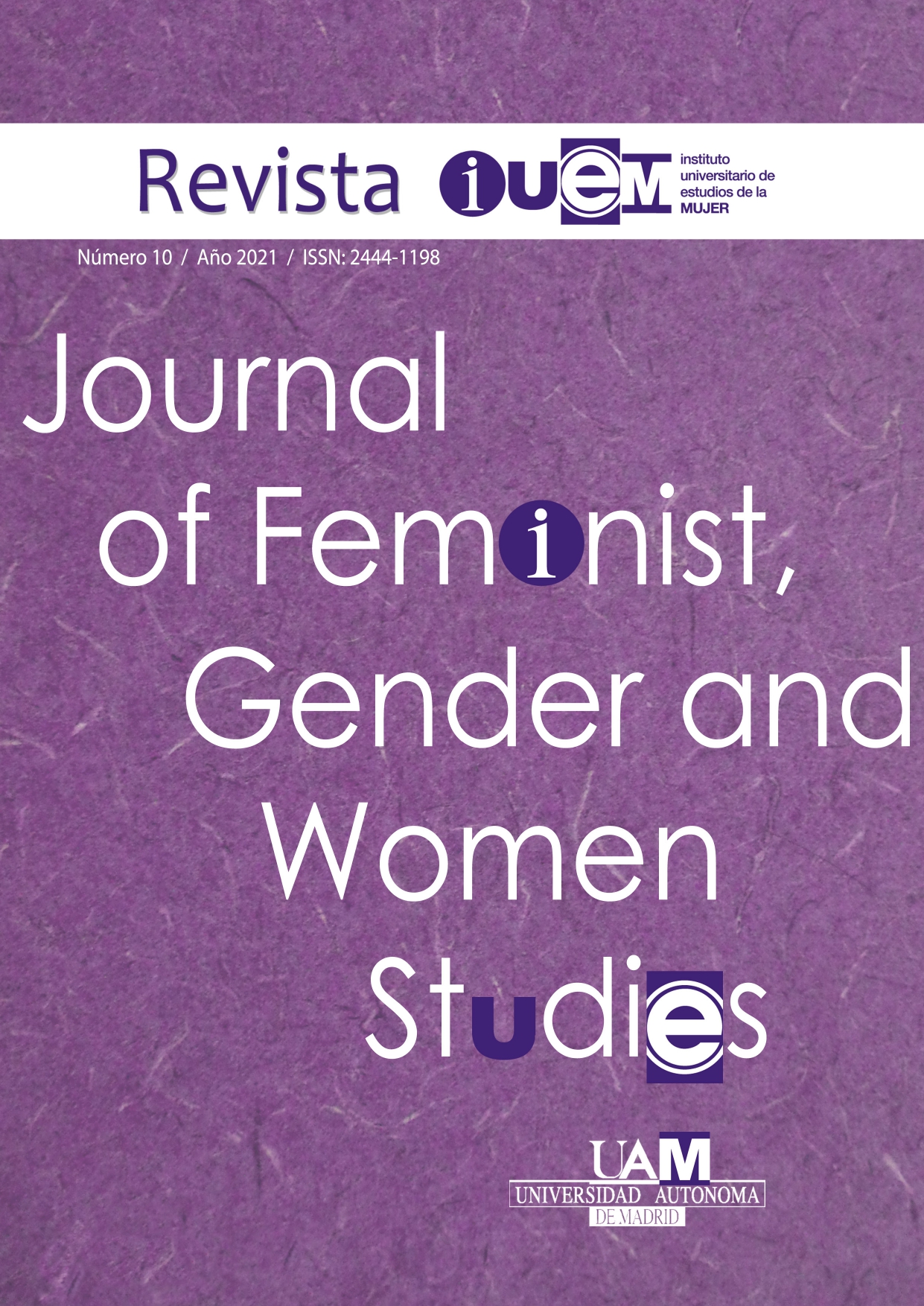 Palabras clave:
Gestaci´ón subrogada, Deshumanización, Sexismo Misógino, Tecnofeminismo, Mujeres
Cómo citar
Delicado-Moratalla, L. (2021). El embarazo es una máquina, no una mujer» Deshumanización y sexismo misógino en el planteamiento favorable al 'trabajo gestacional'. Journal of Feminist, Gender and Women Studies, (10), 41–50. https://doi.org/10.15366/jfgws2021.10.005
Resumen
El 'embarazo profesional' y la 'gestante cyborg' podrían parecer parte de una distopía propia de un futuro transhumanista, en el que no se vislumbra la gestación de la vida humana sin la intervención tecnológica o sin su integración en las lógicas mercantilistas. Sin embargo, ya son una realidad en algunos discursos académicos del ámbito queer y trans. En este ensayo realizo una reflexión feminista política y abolicionista en torno a la gestación subrogada y a la subsiguiente idea de 'trabajo gestacional'. Poniendo en el centro al sujeto político mujer, parto de los argumentos de las pensadoras feministas críticas con esta práctica y me baso en las contribuciones etnográficas más destacadas sobre la temática. Analizo la deriva pro vientres de alquiler fijándome especialmente en los retos políticos que plantea con respecto a los derechos reproductivos de las mujeres. Examino el sexismo misógino que presentan neologismos como 'gestante profesional' y fórmulas similares. Compruebo que las propuestas favorables a la gestación subrogada tienen características clásicas de las prácticas androcéntricas, con una intención insistente por interponerse tecnológicamente en el proceso vital que es la gestación. Concluyo con la idea de que proletarizar y maquinizar la maternidad significa que se margina la experiencia humana para resignificarse desde el paradigma biocapitalista y desde el tecnopoder y ello conduce directamente a la deshumanización y a la explotación extrema de las mujeres.
Descargas
Los datos de descargas todavía no están disponibles.
Citas
Balaguer, Maria Luisa. 2017. Hij@s del mercado. La maternidad subrogada en un Estado Social. Madrid: Cátedra.
"The world's first artificial womb for humans". 2019. BBC. 16/10/2019 https://www.bbc.com/news/av/health-50056405/the-world-s-first-artificial-womb-for-humans
Beauvoir, Simone de. 1999. El segundo sexo. Madrid: Cátedra.
Boris, Eileen y Salazar Parreñas, Rhacel (eds). 2010. Intimate Labors: Cultures, Technologies, and the Politics of Care. Stanford CA: Stanford University Press.
CCMA. 2016. Nens que no vénen de París. España: CCMA. https://www.ccma.cat/tv3/alacarta/30-minuts/nens-que-no-venen-de-paris/video/5557406/
Cooper, Melinda y Waldby, Catherine. 2014. Clinical Labor: Tissue Donors and Research Subjects in the Global Bioeconomy. Durham NC: Duke University Press.
Corea, Gena. 1988. The mother machine: reproductive technologies from artificial insemination to artificial wombs. London: Women's Press.
Expósito García, Mercedes. 2004. La maternidad en el siglo XXI: una construcción imaginario-tecnológica. Thémata, Revista de Filosofía, 33: 185-90.
González García, Marta y Pérez Sedeño, Eulalia. 2002. Ciencia, tecnología y género. OEI Enero-Abril.
Haraway, Donna J. 1991. Ciencia, «cyborgs» y mujeres: la reinvención de la naturaleza. Madrid: Cátedra.
Harrison, Laura. 2016. Brown Bodies, White Babies. The Politics of Cross-Racial Surrogacy. New York Press.
Kroløkke, Charlotte Halmø y Pant, Saumya. 2012. "I only need her uterus": Neo-liberal Discourses on Transnational Surrogacy. NORA - Nordic Journal of Feminist and Gender Research 20 (4): 233-48. https://doi.org/10.1080/08038740.2012.729535.
Lee, Robyn. 2018. Breastfeeding and sexual difference: Queering Irigaray. Feminist Theory 19 (1): 77-94. https://doi.org/10.1177/1464700117742876.
Lewis, Sophie. 2017. Defending Intimacy against What? Limits of Antisurrogacy Feminisms. Signs: Journal of Women in Culture and Society 43 (1): 97-125. https://doi.org/10.1086/692518.
Lewis, Sophie. 2018. International Solidarity in reproductive justice: surrogacy and gender-inclusive polymaternalism. Gender, Place & Culture 0524: 1-21. https://doi.org/10.1080/0966369X.2018.1425286.
Lewis, Sophie. 2019. Full Surrogacy Now. London and New York: Verso.
Martínez, Layla. 2019. Gestación subrogada. Capitalismo, patriarcado y poder. Logroño: Pepitas.
Mies, Maria y Shiva, Vandana. 2014. Ecofeminismo. Barcelona: Icaria Editorial.
Muraro, Luisa. 2017. El alma del cuerpo. Barcelona: Icaria Editorial.
Nuño Gómez, Laura. 2016. Una nueva cláusula del Contrato Sexual: vientres de alquiler. Isegoría 55 (diciembre): 683. https://doi.org/10.3989/isegoria.2016.055.15.
Oksala, Johanna. 2019. Feminism against Biocapitalism: Gestational Surrogacy and the Limits of the Labor Paradigm. Signs: Journal of Women in Culture and Society 44 (4): 883-904. https://doi.org/10.1086/702031.
Pande, Amrita. 2014. Wombs in Labor: Transnational Commercial Surrogacy in India. Columbia University Press.
Pérez Sedeño, Eulalia y Ortega Arjonilla, Esther (eds). 2014. Cartografías del cuerpo. Madrid: Cátedra.
Puleo, Alicia. 2017. Nuevas formas de desigualdad en un mundo globalizado. El alquiler de úteros como extractivismo. Revista Europea de Derechos Fundamentales 29: 165-84.
Raymond, Janice. 1989. At Issue Reproductive Technologies, Radical Feminism and Socialist Liberalism. Reproductive and Genetic Engineering: Journal of International Feminist Analysis 2 (2).
Rich, Adrienne. 2019. Nacemos de mujer. La maternidad como experiencia e institución. Madrid: Traficantes de sueños.
Rodríguez Magda, Rosa María. 2019. La mujer molesta. Feminismos postgénero y transidentidad sexual. Editorial Ménades.
Rudrappa, Sharmila. 2015. Discounted Life. The Price of Global Surrogacy in India. New York: NYU Press.
Salazar Benítez, Octavio. 2018. La gestación para otros. Madrid: Dykinson.
Schurr, Carolin. 2018. The baby business booms: Economic geographies of assisted reproduction. Geography Compass 12 (8): 1-15. https://doi.org/10.1111/gec3.12395.
Simón Rodríguez, Elena. 2008. Hijas de la igualdad, herederas de injusticias. Madrid: Narcea.
Twine, France Winddance. 2015. Outsourcing the womb. Race, class and gestational surrogacy in a global market. Routledge.
Valcárcel, Amelia. 2019. Ahora, feminismo. Cuestiones candentes y frentes abiertos. Madrid: Cátedra.
Wajcman, Judy. 2006. El tecnofeminismo. Madrid: Cátedra.