Monográfico
La política educativa en tiempos turbulentos. Estado, desmercantilización y globalización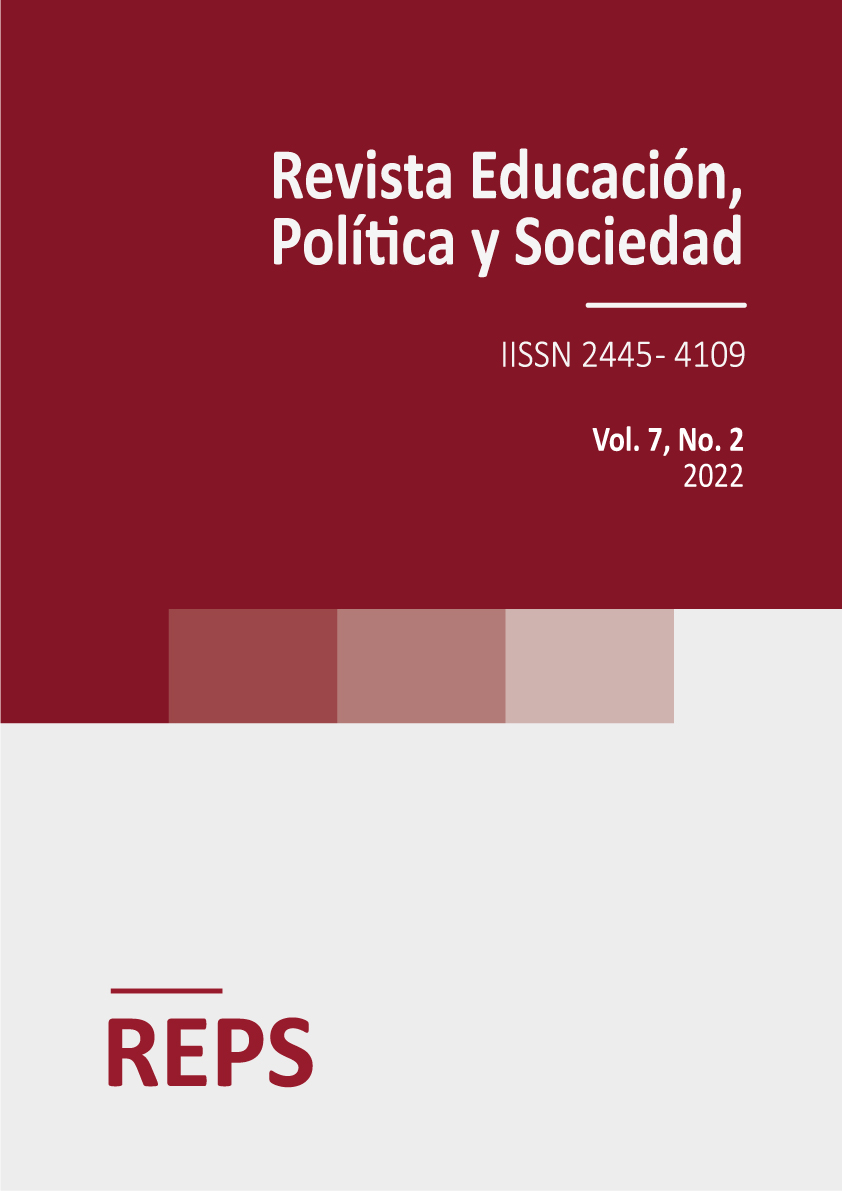 Palabras clave:
Política Educativa, Estado, globalización, restauraciones conservadoras
Cómo citar
Carrasco-Bahamonde, J. A., & Carrasco-Bahamonde, D. (2022). La política educativa en tiempos turbulentos. Estado, desmercantilización y globalización. Revista Educación, Política Y Sociedad, 7(2), 15–36. https://doi.org/10.15366/reps2022.7.2.001
Esta obra está bajo una licencia internacional Creative Commons Atribución-NoComercial 4.0.
Resumen
El artículo explora un conjunto de abordajes conceptuales para aproximarnos al ciclo de restauraciones conservadoras en el campo educativo a partir de la clave interpretativa que ofrece el vínculo entre reestructuración del Estado y formación de política educativa en el marco de la globalización. Para esto, reconstruye un itinerario del debate conceptual en torno al estudio de la reforma educativa a partir de las contribuciones de la sociología de la política educativa. Finalmente, ofrece herramientas conceptuales para el análisis de los complejos escenarios de cambio que enfrentan los sistemas educativos y contribuir a una conceptualización más atenta al proceso de formación de las políticas educativas en tiempos de crisis neoliberal global.
Descargas
Los datos de descargas todavía no están disponibles.
Citas
Adelantado, J. y Noguera, J. (1999). Reflexionando sobre las relaciones entre política social y estructura social. Papers: Revista de Sociología, 59, 71-77.
Adorno, T. (1998). Educación para la emancipación. Morata.
Apple, M. (1989). The State and Education Policy. Open University Press.
Apple, M. (2000). Between Neoliberalism and Neo-conservatism: Education and Conservatism in a Global Context. En N. Burbules y A. Torres (Ed.), Globalization and Education. Critical Perspective (pp. 57-78). Routledge.
Apple, M. (2018). ¿Puede la educación cambiar la sociedad? LOM.
Archer, M. (1984). Social Origins of Educational System. SAGE
Ball, S. J. (1994b). Some Reflections of Policy Theory: A brief response to Hatcher and Troyna. Journal of Education Policy, 9(2), 171–182.
Ball, S. (1989). La Micropolítica de la Escuela. Hacia una teoría de la organización escolar. Paidós.
Ball, S. (1994). Education Reform. A critical and post-structural approach. Open University Press.
Ball, S., Maguire, M. y Braun, A. (2012). How Schools Do Policy. Policy Enactments in Secondary Schools. Routledge.
Ball, S. y Maroy, C. (2009). School's Logic of Action as Mediation and Compromise between Internal Dynamics and External Constraints and Pressures. Compare: A Journal of Comparative and International Education, 39(1), 99-112.
Baumman, Z. (2013). Sobre la Educación en un Mundo Líquido. Paidós.
Boltanski, L., Fraser, N. y Corcuff, P. (2019). Contra la izquierda conservadora: Una crítica radical del capital sin nostalgia estatista. Clave Intelectual.
Bonal, X. y Tarabini, A. (2011). Globalización y política educativa: los mecanismos como método de estudio. Revista de Educación, 355, 235-255.
Bonal, X., Verger, A. y Tarabini, A. (2007). Globalización y educación. Textos fundamentales. Miño y Dávila.
Bowles, S. y Gintis, H. (1976). The capitalist school in America: educational reform and the contradictions of economic life. Basic Books.
Dale, R. (1989). The State and Educational Policy. Open University Press.
Esping-Andersen, G. (1990). The Three Worlds of Welfare Capitalism. Polity Press.
Friedman, M. (1955). The Role of Government in Education. En R. Solo (Ed.). Economics and the Public Interest (pp. 127-134). Rutgers University Press.
Gale, T. (1994). Beyond caricature: Exploring theories of educational policy production and implementation. Australian Educational Researcher, 21(2), 1-12.
Habermas, J. (1986). Problemas de Legitimación en el Capitalismo Tardío. Amorrortu.
Habermas, J. (2000). Teoría y Praxis. Tecnos.
Hanafi, S. (2020). Global sociology revisited: Toward new directions. Current Sociology, 68(1), 3-21.
Harvey, D. (2005). A Brief History of Neoliberalism. Oxford University Press.
Lingard, B. y Ozga, J. (2006). Globalization, Education Policy and Politics. En B. Lingard y J. Ozga (Eds.), The RoutledgeFalmer Reader in Education Policy and Politics (pp. 46-64). Routledge Falmer.
Maroy, C. (2009). Convergences and hybridization of educational policies around 'post?bureaucratic' models of regulation. Compare, 39(1), 71-84.
Maroy, C. (2004). Changes in regulation modes and social production of inequalities in education systems: a European Comparison. Reguleducnetwork European Commission.
Martens, K., Nagel, A., Windzio, M. y Weymann, A. (2010). Transformation of Educational Policy. Palgrave Macmillan.
Mischa, A. (2014). Measuring Futures in Action: Projective Grammars in the Rio+20 Debates. Theory and Society, 43(3-4), 437-464.
Lingard, B. (1993). The Changing State of Policy Production in Education: Some Australian Reflections on the State of Policy Sociology. International Studies in Sociology of Education, 3(1), 25-47.
Offe, C. (1984). Contradictions in Welfare State. Hutchinson & Co.
Passeron, J. y Bourdieu, P. (1977). La Reproducción. Elementos para una teoría del sistema de enseñanza. Editorial Laia.
Przeworski, A. (1990). The State and Economy Under Capitalism. Harwood Academic Publishers.
Robertson, S. (2021). Guardians of the Future: International Organisations, Anticipatory Governance and Education. (Forthcoming).
Sharp, R. (1980). Conocimiento, Ideología y Política Educativa. Akal.
Taylor, S., Rizvi, F., Lingard, B. y Henry, M. (1997). Educational Policy and the Politics of Change. Routledge.
Troyna, B. (1994). Critical Social Research and Education Policy. British Journal of Educational Studies, 42(1), 70-84.
Vidovich, L. (2007). Removing policy from its pedestal: some theoretical framings and practical possibilities. Educational Review, 59(3), 285-298.