Artículos
Constancia y fluctuaciones: una mirada al discurso de la política exterior costarricense ante la Asamblea General de las Naciones Unidas (2002-2015)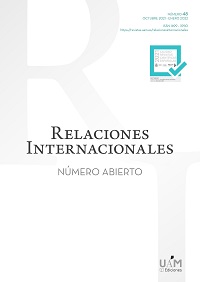 Publicado
26 octubre 2021
Palabras clave:
discurso, estado pequeño, política exterior, Costa Rica, influencia internacional
Cómo citar
Cascante Segura, C. H. (2021). Constancia y fluctuaciones: una mirada al discurso de la política exterior costarricense ante la Asamblea General de las Naciones Unidas (2002-2015). Relaciones Internacionales, (48), 143–172. https://doi.org/10.15366/relacionesinternacionales2021.48.008
Derechos de autor 2021 Carlos Humberto Cascante Segura
Esta obra está bajo una licencia internacional Creative Commons Atribución-NoComercial-SinDerivadas 4.0.
Resumen
El artículo analiza el discurso de política exterior de Costa Rica en el Debate General de la Asamblea General de Naciones Unidas (AGONU). Para ello se recurre a una propuesta teórica basada en el comportamiento de los pequeños estados, el manejo y desarrollo del poder blando, así como el discurso como instrumento de ese tipo de poder. Metodológicamente, se emplea un método de análisis de contenido mixto, donde el componente cuantitativo se desarrolla a partir del software científico "Wordsmith 6.0", cuyos resultados numéricos se estudian a partir del análisis cualitativo de conceptos.  A partir de ambas propuestas se establece la existencia de cuatro categorías fundamentales del discurso costarricense en ese foro: "derechos humanos", "derecho internacional", "desarme", así como "protección del medio ambiente y desarrollo." A partir de la determinación de estas se analizan los cambios y continuidades a lo largo de más de una década, lo que permite determinar que existe constancia en las categorías, pero fluctuaciones en la intensidad de su uso y en el contenido. La fluctuación, por consiguiente, es paradójicamente una constante en discurso costarricense, por lo que incluso iniciativas multilaterales vinculadas a las categorías descritas como el Consenso de Costa Rica (desarme-desarrollo) y Paz con la Naturaleza (ambiente) fueron desplazadas, pese a que su contenido continuó de alguna forma en el discurso, lo que muestra una de las debilidades del discurso de política exterior costarricense: su falta de constancia para construir entramados conceptuales más sólidos. Por otra parte, la intensidad con que se usa cada una de estas categorías se encuentra claramente vinculado con los intereses propios que tenga cada gobierno, sin que importe mucho el partido político a que este pertenezca. Se concluye, por ende, que la falta de constancia relativa en el contenido de las categorías tiende a debilitar el poder blando costarricense en tales espacios.
Descargas
Los datos de descargas todavía no están disponibles.
Citas
Alden, C., Aran, A. (2017). Foreign Policy Analysis. Routledge.
Aguilar Bulgarelli, O. (2003). La forja del partido Unidad Social Cristiana. Juricentro.
Baillat, A., Emprin, F. y Ramel, F. (2018). On Words and Discourse: From Quantitative to Qualitative. En Devin, G. Resources and Applied Methods in International Relations (pp. 151-166). Palgrave.
Bardin, L. (2002). Análisis de contenido. Akal.
Baturo, A., Dassandi, N. y Mikhaylov, S. (2017). Understanding state preferences with text as data: Introducing the UN General Debate corpus. Research and Politics, 4 (2). https://journals.sagepub.com/doi/pdf/10.1177/2053168017712821.
Blavoukos, S. y Bourantonis, D. (2014). Identifying parameters of foreign policy change: An eclectic approach. Cooperation and Conflict, 49(4), 483–500. http: doi:10.1177/0010836713517568
Benhaïm, Y. y Öktem, K. (2015). The rise and fall of Turkey's soft power discourse, European Journal of Turkish Studies [Online], 21. https://doi.org/10.4000/ejts.5275.
Broad, M. y Daddow, O. (2010). Half-Remembered Quotations from Mostly Forgotten Speeches: The Limits of La-bour's European Policy Discourse." The British Journal of Politics and International Relations, 12, 205-222. https://doi.org/10.1111/j.1467-856X.2010.00404.x
Cascante Segura, C. (2014). Política exterior e identidad nacional. El caso del asilo al general Gerardo Barrios Espi-noza (1863-1865). Diálogos: Revista Electrónica de Historia, 15 (2), 3-30.
Chilton, P. y Schäffner C. (2011). Discourse and Politics. En Van Dijk, T. Discourse Studies. A Multidisciplinary In-troduction (pp. 303-329). Sage.
Chitty, N. (2017). Soft Power, Civic Virtue and World Politics. En Chitty, N., Li, J., Rawnsley, G. y Hayden, C. (edito-res), The Routledge Handbook of Soft Power. Routledge.
Chong, A. (2010). Small state soft power strategies: virtual enlargement in the cases of the Vatican City State and Singapore. Cambridge Review of International Affairs, 23 (3), 383-405. https://doi.org/10.1080/09557571.2010.484048
Daddow, O. y Schnapper, P. (2013). Liberal intervention in the foreign policy thinking of Tony Blair and David Cam-eron. Cambridge Review of International Affairs, 26 (2), 330-349. https://doi.org/10.1080/09557571.2012.737763
Domenech, J. (2013). El Tratado sobre el Comercio de Armas: un hito histórico en la protección de la protección civil. Madrid: Instituto Español de Estudios Estratégicos. http://www.ieee.es/Galerias/fichero/docs_marco/2013/DIEEEM11-2013_TratadoComercioArmas_DomenechOmedas.pdf
Facio, G. (1977). Nuestra voz en el mundo. Imprenta Trejos Hermanos.
Foucault, M. (1992). El orden del discurso. Tusquets Editores.
Galal, A.M. (2020). External behavior of small states in the light of theories of international relations, Review of Economics and Political Science, 5 (1), 38-56. https://www.emerald.com/insight/content/doi/10.1108/REPS-11-2018-0028/full/html
Hagström, L. y Nordin, A. (2020). China's "Politics of Harmony" and the Quest for Soft Power in International Poli-tics, International Studies Review, 22 (3), 507–525. https://doi.org/10.1093/isr/viz023
Hernández Naranjo, G. (2011). Partidos políticos y la calidad de la democracia en un contexto de cambios en el sistema de partidos de Costa Rica. Anuario del Centro de Investigaciones y Estudios Políticos, 2, 124-147.
López, C. y Silva, T. (2015). "El discurso político partidario sobre la política exterior en Brasil y Uruguay (2003-2014)." Revista Uruguaya de Ciencia Política, 24 (especial), 67-84. http://www.scielo.edu.uy/scielo.php?script=sci_arttext&pid=S1688-499X2015000200004&lng=es&nrm=iso
Lustig, C. (2016). Soft or Hard Power? Discourse Patterns in Brazil's Foreign Policy Toward South America. Latin American Politics and Society, 58(4), 103-125. http//doi:10.1111/laps.12004
Malamud, C. y García Encina, C. (2011, 7 de febrero). El conflicto fronterizo entre Costa Rica y Nicaragua: ¿me-dioambiente, soberanía, narcotráfico o mero instrumento electoral? (ARI). Real Instituto Elcano. http://www.realinstitutoelcano.org/wps/portal/rielcano_es/contenido?WCM_GLOBAL_CONTEXT=/elcano/elcano_es/zonas_es/america+latina/ari22-2011
Maass, M. (2014). Small states: Survival and proliferation, International Politics 51, 709–72. https://doi.org/10.1057/ip.2014.31
Mayring, P. (2014). Qualitative Content Analysis. Theoretical Fundation, Basis Procedures and Software Solutions. Leibnitz-Institute.
Merke, F., Reynoso, D. y Schenoni, L. L. (2020). Foreign Policy Change in Latin America: Exploring a Middle-Range Concept. Latin American Research Review, 55 (3), 413–429. http://doi.org/10.25222/larr.380
MREC. (2005). Guía de Política Exterior de Costa Rica. Ministerio de Relaciones Exteriores y Culto de Costa Rica.
Murillo, C. (2008). La política exterior de los estados pequeños. El caso de Costa Rica, Temas de nuestra América, 46, 82-113. https://www.revistas.una.ac.cr/index.php/tdna/article/view/7803
Nye, J. S. (2004). Soft Power. The Means to Success in the World Politics. Public Affairs.
Nye, J. S. (2010). Prefacio y capítulo 5 "El Poder blando y la Política exterior americana", en Soft Power, Public Affairs, New Hampshire, 2004, ps. IX-XIII y 127-147, Relaciones Internacionales, 14, 117-140.
Neuendorf, K. (2002). The Content Analysis Guidebook. Sage.
Noticias ONU. (2004, 21 de octubre). Costa Rica asume liderazgo en lucha contra clonación humana. https://news.un.org/es/story/2004/10/1043951
Ó Súilleabháin, A. (2014). Small States at the United Nations: Diverse Perspectives. Shared Opportunities. Interna-tional Peace Institute.
Sáenz, J. (2013). Historia Diplomática de Costa Rica (1948-1970). Escuela de Relaciones Internacionales de la Uni-versidad Nacional de Costa Rica.
Schreier, Margrit. (2014). Qualitative Content Analysis. Sage.
Simonoff, A. (1997). Discursos e ideas sobre política exterior en el radicalismo argentino. Relaciones Internaciona-les, 6 (12) (s.n.). https://revistas.unlp.edu.ar/RRII-IRI/article/view/1887
Stagno, B. (2014). Defendiendo la integridad del Estatuto de Roma: los altos y bajos del caso de Costa Rica, 2002-2008." En Boeglin, N., Hoffman, J. y Sainz-Borgo. C. (Ed) La Corte Penal Internacional: una perspectiva latinoame-ricana (pp. 303-330). Universidad para la Paz.
Stagno, B. (2013). Los caminos menos transitados: la Administración Arias Sánchez y la redefinición de la política exterior de Costa Rica, 2006-2010. Heredia: Euna.
Thorhallsson, Baldur. 2012. Small States in the UN Security Council: Means of Influence?. The Hague Journal of Diplomacy, 7, 135-160. DOI: 10.1163/187119112X628454
UNVR, United Nations Voting Recording. https://www.un.org/en/ga/documents/voting.asp
van Dijk, Teum (2006). Ideología: una aproximación multidisciplinaria. Sevilla: Gedisa.
Welch Larson, D. (1988). Problems of content analysis in Foreign Policy: Notes from the Study of the Origins of Cold War Belief Systems. International Studies Quaterly, 32 (2), 241-255.
Arias Sánchez, O. (2006, 19 de setiembre). Discurso en la LXI° Asamblea General de las Naciones Unidas. https://undocs.org/es/A/61/PV.11
Arias Sánchez, O. (2009, 24 de setiembre). Discurso en la LIX° Asamblea General de las Naciones Unidas. https://undocs.org/es/A/64/PV.6
Castillo Barrantes, E. (2012, 1 de octubre). Discurso en la LXVII° Asamblea General de las Naciones Unidas. https://undocs.org/es/A/67/PV.19
Chinchilla Miranda, L. (2011, 24 de setiembre). Discurso en la LXVI° Asamblea General de las Naciones Unidas, de 2011. https://undocs.org/en/A/65/PV.11
Chinchilla Miranda, L. (2013, 23 de setiembre). Discurso en la LXVIII° Asamblea General de las Naciones Unidas. https://undocs.org/es/A/68/PV.6
Pacheco de la Espriella, A. (2004, 21 de setiembre). Discurso en la LIX° Asamblea General de las Naciones Unidas. https://undocs.org/es/A/59/PV.3
Saborío, L. (2003, 24 de setiembre). Discurso en la LVIII° Asamblea General de las Naciones Unidas.: https://undocs.org/en/A/58/PV.10
Solís Rivera, L. (2014, 24 de setiembre). Discurso en la LXVII° Asamblea General de las Naciones Unidas.: https://undocs.org/es/A/69/PV.7
Solís Rivera, L. (2015, 30 de setiembre). Discurso en la LXX° Asamblea General de las Naciones Unidas, 30 setiem-bre de 2015.: https://undocs.org/es/A/70/PV.19
Vargas Pereira, M. (2005, 22 de setiembre). Discurso en la LX° Asamblea General de las Naciones Unidas. 22 de setiembre de 2005.: https://undocs.org/es/A/60/PV.21