Artículos
Desecuritización, un concepto en construcción. El regreso al tratamiento de la energía nuclear por los cauces políticos ordinarios en Japón a la luz de Fukushima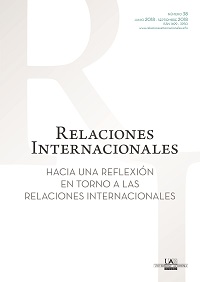 Palabras clave:
Securitización, Politización, Desecuritización negativa, Energía nuclear, Fukushima
Cómo citar
CASADO CLARO, M. F. (2018). Desecuritización, un concepto en construcción. El regreso al tratamiento de la energía nuclear por los cauces políticos ordinarios en Japón a la luz de Fukushima. Relaciones Internacionales, (38), 59-78. https://doi.org/10.15366/relacionesinternacionales2018.38.003
Derechos de autor 2018
Esta obra está bajo una licencia internacional Creative Commons Atribución-NoComercial-SinDerivadas 4.0.
Resumen
Pese a que la desecuritización se ha definido como un gemelo conceptual nacido al mismo tiempo que la securitización, no ha recibido un tratamiento equivalente en el debate académico. A diferencia de esta última, ha tenido poco desarrollo tanto teórico como empírico, pasando mayormente inadvertida a pesar de resultar esencial para comprender los mecanismos desecuritizadores que conducen a la politización de cuestiones que anteriormente habían sido tratadas en modo seguridad. Más si cabe si tenemos en cuenta que para la Escuela de Copenhague la securitización suponía en cierto modo un fracaso de la política ordinaria, que es donde deberían debatirse las cuestiones que afectan a los ciudadanos.
A fin de contribuir a su desarrollo, el artículo hace una revisión de la literatura explorando distintas formas de desecuritizar las cuestiones de seguridad (estrategias objetivista, constructivista y deconstructivista; y desecuritización por estabilización, por substitución, por rearticulación o por silenciación). A fin de hacer una aportación empírica a la aplicación y difusión del concepto, se analiza el caso del retorno a la política ordinaria del tratamiento de la energía nuclear en Japón a la luz del accidente de Fukushima y, asimismo, se presenta como aportación original al debate el concepto de "desecuritización negativa".
Descargas
Los datos de descargas todavía no están disponibles.
Citas
AIRI, Ryu, y MESHKATI, Najmedin, Nuclear safety culture in TEPCO and Tohoku Electric Power Company: The root-cause of the different fates of Fukushima Daiichi Nuclear Power Plant and Onagawa Nuclear Power Station. Research paper, 26 de febrero de 2014.
ARADAU, Claudia, "Security and the democratic scene: desecuritization and emancipation", Journal of International Relations and Development, 7 (2004), pp.388–413.
BALZACQ, Thierry, editor. Securitization theory: How security problems emerge and dissolve. Routledge, 2011.
BUZAN, Barry, WAEVER, Ole y DE WILDE, Jaap, Security: A New Framework for Analysis. Lynne Rienner Publishers, Londres, 1998.
DEUDNEY, Daniel, "Environment and security: muddled thinking", Bulletin of the Atomic Scientists, vol. 47, n.o 3, 1991, pp. 22-28.
ELLIOTT, David. Fukushima: Impacts and Implications. Palgrave Pivot, 2012.
FLOYD, Rita, "Towards a Consequentialist Evaluation of Security: Bringing Together the Copenhagen and the Welsh Schools of Security Studies", Review of International Studies, nº 33, 2007, pp.327–350.
FLOYD, Rita, Security and the environment: Securitisation Theory and US environmental security policy, Cambridge University Press, 2010.
HANSEN, Lene, "Reconstructing desecuritisation: the normative-political in the Copenhagen School and directions for how to apply it". Review of International Studies, vol. 38, n.o 3, 2012, pp.525-46. doi: 10.1017/S0260210511000581.
HUYSMANS, Jef, "Migrants as a security problem: Dangers of 'securitizing' societal issues", en MILES, Robert y THRÄNHARDT, Dietrich (Eds.), Migration and European integration: the dynamics of inclusion and exclusion, Fairleigh Dickinson University Press, 1995.
HUYSMANS, Jef. "The question of the limit: Desecuritisation and the aesthetics of horror in political realism", Millennium: Journal of International Studies, vol. 27, n.o3, 1998, pp.569–589. doi: 10.1177/03058298980270031301
KNUDSEN, O. F., "Post-Copenhagen Security Studies: Desecuritizing Securitization", Security Dialogue, nº 32, 2001, pp.355–68. doi: 10.1177/0967010601032003007
PIZZICONI, Barbara, "Post-Fukushima discourses on nuclear power in Japan" en CALVETTI, Paolo y MARIOTTI, Marcela (eds.), Contemporary Japan. Challenges for a world economic power in transition, editado por Paolo Calvetti y Marcela Mariotti, Edizioni Ca' Foscari. Digital Publishing, 2015, pp. 161-88. Google Scholar, https://eprints.soas.ac.uk/14745.
RODRIGUEZ, Jesús, "El laberinto nuclear" en El País, 29 marzo 2009.
ROE, Paul, "Securitization and minority rights: conditions of desecuritization", Security dialogue, vol. 35, n.o 3, 2004, pp.279–294.
SAMUELS, Richard J., 3.11: Disaster and Change in Japan, Cornell University Press, 2013.
TAURECK, Rita, "Securitization Theory and Securitization Studies", Journal of International Relations and Development, 9 (2006), 53–61. doi: 10.1057/palgrave.jird.1800072
The National Diet of Japan Fukushima Nuclear Accident Independent Investigation Commission, The official report of the Fukushima Nuclear Accident Independent Investigation Commission, Executive summary, Japan, The National Diet of Japan, 2012. http://naiic.go.jp/en/
TSUNEKAWA, Keiichi, "Toward a balanced assessment of Japan's responses to the Triple Disasters", en TSUNEKAWA, Keiichi (ed.), Five Years after: Reassessing Japan's Responses to the Earthquake, Tsunami, and the Nuclear Disaster, Tokyo, Japan, Tokyo University Press, 2017, pp. 1–32.
VILANOVA TANÉ, Santiago, Fukushima, el declive nuclear: la conspiración del «lobby» atómico ante el impacto del accidente nuclear. Icaria editorial, Barcelona, 2012.
WAEVER, Ole. "Securitization and Desecuritization" en Lipschutz (editor) On Security, Columbia University Press. 1995. P.46-87.
WAEVER, Ole. Concepts of security. University of Copenhagen, Institute of Political Science, 1997.