Artículos
Revisitar la soberanía indígena: los desafíos de una reivindicación excluida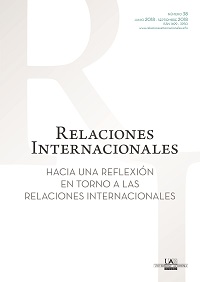 Palabras clave:
Soberanía, soberanía indígena, pueblos indígenas, autodeterminación, poscolonialismo
Cómo citar
CLAVÉ-MERCIER, V. (2018). Revisitar la soberanía indígena: los desafíos de una reivindicación excluida. Relaciones Internacionales, (38), 99-119. https://doi.org/10.15366/relacionesinternacionales2018.38.005
Derechos de autor 2018
Esta obra está bajo una licencia internacional Creative Commons Atribución-NoComercial-SinDerivadas 4.0.
Resumen
El 14 de septiembre de 2017 se cumplieron 10 años de la Declaración de Naciones Unidas sobre los Derechos de los Pueblos Indígenas (UNDRIP). Considerado a menudo como una importante victoria para los pueblos indígenas, el presente artículo aborda sin embargo un punto ausente en la UNDRIP pero central en numerosas luchas indígenas: la cuestión de la soberanía. Empieza explorando la evolución histórica del concepto de soberanía en la teoría política y las relaciones internacionales, antes de estudiar la conceptualización indígena del término. Posteriormente, analiza reivindicaciones y prácticas de soberanía y autogobierno indígenas en tres de los cuatro países que votaron en contra de UNDRIP en 2007: Nueva Zelanda, Australia y Canadá. Este análisis permite examinar diferentes modelos soberanos posibles para el reconocimiento de la soberanía indígena y esbozar sus respectivas configuraciones político-espaciales. A lo largo de este artículo se intenta poner constantemente a prueba la clásica y supuestamente inquebrantable relación entre soberanía, autoridad absoluta y territorialidad indiscutida. Finalmente, se concluye señalando la necesidad de una mirada transdisciplinar para entender la reivindicación de soberanía indígena, y llamando a la transformación de las relaciones internacionales, la política doméstica y el derecho internacional para avanzar hacia su reconocimiento y realización.
Citas
ABELLÁN, Joaquín, Estado y soberanía: conceptos políticos fundamentales, Alianza, Madrid, 2014.
AGNEW, John, Geopolítica. Una re-visión de la política mundial, Trama Editorial, Madrid, 2005.
AGNEW, John, Sovereignty and Globalization, Rowman & Littlefield Publishers, Lanham, 2009.
ALFRED, Taiaiake, "Sovereignty", en BARKER, Joanne (ed.), Sovereignty Matters: Locations of Contestation and Possibility in Indigenous Struggles for Self-Determination, University of Nebraska Press, Lincoln & Londres, 2005, pp: 33-50.
ANAYA, James & GROSSMAN, Claudio, "The Case of Awas Tingni v. Nicaragua: A New Step in the International Law of Indigenous Peoples" en Arizona Journal of International and Comparative Law, vol.19, nº 1, 2002, pp: 1-15.
ANGHIE, Antony, Imperialism, Sovereignty and the Making of International Law, Cambridge University Press, Cambridge, 2005.
BANTEKAS, Ilias y OETTE, Lutz, International human rights law and practice, Cambridge University Press, Cambridge, 2013.
BIERSTEKER, Thomas, "State, Sovereignty and Territory" en CARLSNAES, Walter & RISSE, Thomas & SIMMONS, Beth (eds.), Handbook of International Relations, Sage Publications, Londres, 2002, pp: 157-176.
BORELLA, François, "Soberanía, supremacía y reparto de poderes" en PÉREZ CALVO, Alberto (ed.), Estado, nación y soberanía, Secretaría General del Senado, Madrid, 2000, pp: 23-44.
CORNTASSEL, Jeff, "Toward Sustainable Self-Determination: Rethinking the Contemporary Indigenous-Rights Discourse" en Alternatives, vol. 33, 2008, pp: 105-132.
COULTHARD, Glen, "Subjects of Empire: Indigenous Peoples and the 'Politics of Recognition' in Canada" en Contemporary Political Theory, vol. 3, 2007, pp: 1–29.
DELORIA, Vine, "Self-Determination and the Concept of Sovereignty" en WUNDER, John (ed.), Native American Sovereignty, Garland Publishing, Nueva York y Londres, 1999, pp: 107-114.
GOTTMANN, Jean, The Significance of Territory, University Press of Virginia, Charlottesville, 1973.
HINSLEY, Francis, Sovereignty, Cambridge University Press, Cambridge, 1986.
HOFFMAN, John, Sovereignty, University of Minneapolis Press, Minneapolis,1998.
INTERNATIONAL WORK GROUP for INDIGENOUS AFFAIRS, Indigenous World, 2017. Disponible en https://www.iwgia.org/images/documents/indigenous-world/indigenous-world-2017.pdf [consultado el 13 de Junio de 2018]
JACKSON, Robert, Quasi-States: Sovereignty, International Relations and the Third World, Cambridge University Press, Cambridge, 1990.
JACKSON, Robert, "Sovereignty in World Politics: A Glance at the Conceptual and Historical Landscape" en Political Studies, vol. 47, nº 3, 1999, pp: 431-56.
KICKINGBIRD, Kirke, Indian Sovereignty, The Institute, Washington, 1977.
KRASNER, Stephen, Sovereignty: Organized Hypocrisy, Princeton University Press, Princeton, 1999.
KRASNER, Stephen, Problematic Sovereignty, Columbia University Press, Nueva York, 2001.
LENZERINI, Federico, "Sovereignty Revisited: International Law and Parallel Sovereignty of Indigenous Peoples" en Texas International Law Journal, vol. 42, 2006, pp: 155-189.
MADRAZO, Enrique, La soberanía: la evolución del concepto hacia una perspectiva internacional, Dykinson, Madrid, 2010.
MANSELL, Michael, Treaty and Statehood. Aboriginal Self-Determination, The Federation Press, Sydney, 2016.
MASSEY, Doreen, "Power Geometry and a Progressive Sense of Place" en BIRD, Jon y CURTIS, Barry, Mapping the Futures, Routledge, Londres y Nueva York, 1993.
MATIKE MAI AOTEAROA, He Whakaaro Here Whakaumu Mō Aotearoa, 2016. Disponible en http://www.converge.org.nz/pma/MatikeMaiAotearoaReport.pdf [consultado el 13 de Junio de 2018]
McCUE, June, "New Modalities of Sovereignty: An Indigenous Perspective" en Intercultural Human Rights Law Review, vol. 2, 2007, pp: 19-29.
OLIVA, Daniel, La cooperación internacional con los pueblos indígenas. Desarrollo y derechos humanos, Cideal, Madrid, 2005.
OTTO, Dianne, "A Question of Law or Politics?" en Syracuse Journal of International Law and Commerce, vol. 21, 1995, pp: 65-104.
REYNOLDS, Henry, "Reviving Indigenous Sovereignty?" en Macquarie Law Journal, vol. 6, 2006, pp: 5-12.
STAVENHAGEN, Rodolfo, Report of the Special Rapporteur on the situation of human rights and fundamental freedoms of indigenous people, Addendum, Naciones Unidas, E/CN.4/2006/78/Add.5 17, 2006.
WIESSNER, Siegfried, "Indigenous Sovereignty: A Reassessment in Light of the UN Declaration on the Rights of Indigenous Peoples" en Vanderbilt Journal of Transnational Law, vol.41, 2008, pp: 1141-1176.
WILLIAMS, Robert, "The Algebra of Federal Indian Law: The Hard Trail of Decolonizing and Americanizing the White Man's Indian Jurisprudence" en Wisconsin Law Review, vol. 7, 1986, pp: 219-299.