Diálogos
Revisando la securitización de la agenda internacional: la normalización de las políticas del pánico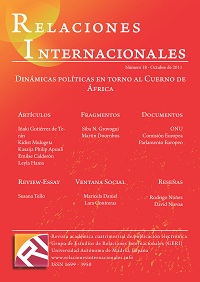 Publicado
octubre 31, 2011
Cómo citar
TELLO, S. (2011). Revisando la securitización de la agenda internacional: la normalización de las políticas del pánico. Relaciones Internacionales, (18), 189-200. Recuperado a partir de https://revistas.uam.es/relacionesinternacionales/article/view/5106
Derechos de autor 2011
Esta obra está bajo una licencia internacional Creative Commons Atribución-NoComercial-SinDerivadas 4.0.
Resumen
Review-Essay de:
BALZACQ, Thierry (ed.), Securitization theory. How security problems emerge and dissolve, PRIO New Security Studies, Ed. Routledge, Nueva York, 2011.
ABRAHAMSEN, Rita y WILLIAMS, Michael C., Security Beyond the State. Private Security in International Politics, Cambridge University Press, Nueva York, 2011.