Fragmentos
"Conclusión: la seguridad y la elección moral" en Security, Identity and Interest. A Sociology of International Relations, Cambridge University Press, Cambridge, 1999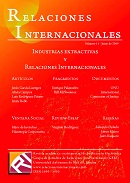 Palabras clave:
seguridad, teoria social, neorrealismo
Cómo citar
MCSWEENEY, B. (2009). "Conclusión: la seguridad y la elección moral" en Security, Identity and Interest. A Sociology of International Relations, Cambridge University Press, Cambridge, 1999. Relaciones Internacionales, (11), 119-137. Recuperado a partir de https://revistas.uam.es/relacionesinternacionales/article/view/4965
Derechos de autor 2009
Esta obra está bajo una licencia internacional Creative Commons Atribución-NoComercial-SinDerivadas 4.0.
Resumen
El libro Security Identity and Interests: A Sociology of International Relations analiza el problema de la seguridad en relaciones internacionales y las lecturas que de este complejo y controvertido tema se han ofrecido desde la academia. El texto traducido es el capítulo final del libro, con el que Bill McSweeney profundiza en una explicación alternativa de la seguridad y del orden social a la que ofrece el neorrealismo, entre otras, proponiendo una "teoría reflexiva del orden social" que se detiene en el carácter fluctuante de esta, y en sus posibilidades de cambio.