Artículos
Las colonias francesas dentro de la ecología-mundo (1830-1962): el caso de los combustibles fósiles, los bosques y las plantaciones tropicales en Argelia y Vietnam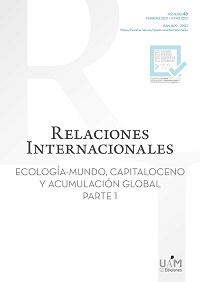 Publicado
febrero 28, 2021
Palabras clave:
colonialismo, historia, capitaloceno, ecología-mundo, imperio colonial francés
Cómo citar
Campagne, A., & Zahrawi Haj-Younes, R. (2021). Las colonias francesas dentro de la ecología-mundo (1830-1962): el caso de los combustibles fósiles, los bosques y las plantaciones tropicales en Argelia y Vietnam. Relaciones Internacionales, (46), 63–80. https://doi.org/10.15366/relacionesinternacionales2021.46.004
Derechos de autor 2021 Armel Campagne; Rami Zahrawi Haj-Younes
Esta obra está bajo una licencia internacional Creative Commons Atribución-NoComercial-SinDerivadas 4.0.
Resumen
Los imperios coloniales jugaron un papel importante en la historia del Capitaloceno a través de la apropiación y explotación de los recursos naturales baratos, de la mano de obra y las energías baratas del mundo extraeuropeo, pero también por su producción de las naturalezas capitalizadas dentro de él, y, más ampliamente su coproducción de un mundo ecológico caracterizado por intercambios económicos y ecológicos desiguales a escala global. Basado en una problemática resultante del trabajo de Jason Moore, una reinterpretación de la historiografía existente y un trabajo de archivo, este artículo muestra que, si bien es esclarecedor comprender la historia de los combustibles fósiles, los bosques y las plantaciones de Argelia (1830-1962) y de Vietnam (1858-1954) en términos de ecología-mundo, su contribución al desarrollo de la ecología-mundo debe examinarse a la luz de las especificidades de cada colonia y de cada sector.
En primer lugar, hay que matizar la hipótesis de una producción colonial de combustibles fósiles que sería sistemáticamente barata y destinada a los centros capitalistas occidentales de la ecología-mundo, no correspondiendo esta hipótesis ni al carbón argelino (caro y usado localmente) ni a los hidrocarburos argelinos (caros y exportados principalmente a Francia) ni al carbón vietnamita (barato pero exportado al sudeste asiático). Entonces, la historia conjunta de las plantaciones de caucho vietnamitas y la agricultura colonial argelina revela una capacidad desigual y nunca absoluta de los colonizadores franceses, siempre dependientes de las condiciones ecológicas locales, para crear naturalezas capitalizadas que generen productos tropicales baratos. Finalmente, el estudio combinado de la explotación colonial de los recursos forestales en Argelia y Vietnam permite mostrar hasta qué punto el ecologismo manifestado por los colonizadores franceses, en particular el de las administraciones forestales coloniales, no obstaculizó la producción. Para la ecología-mundo, este análisis, evidentemente, merecería ser profundizado por nuevos estudios de caso, pero constituye, sin embargo, un primer vistazo a la compleja inserción histórica de las colonias francesas en el mundo ecológico.
Descargas
Los datos de descargas todavía no están disponibles.
Citas
Aso, M. (2018). Rubber and the making of Vietnam: An ecological history, 1897-1975. The University of North Carolina Press.
Bonneuil, C. (1997). Mettre en ordre et discipliner les tropiques : Les sciences du végétal dans l'Empire français, 1870-1940. Paris VII.
Bonneuil, C., & Fressoz, J.-B. (2016). L'événement anthropocène. Seuil.
Bouchène, A., Peyroulou, J.-P., Siari Tengour, O., & Thénault, S. (Eds.). (2014). Histoire de l'Algérie à la période coloniale, 1830—1962. Éd. La Découverte.
Bourdieu, P. (2008). The logic of practice. Stanford Univ. Press.
Brocheux, P., & Hémery, D. (2011). Indochina: An Ambiguous Colonization, 1858-1954. University of California Press.
Campagne, A. (2017a). Histoire des productions industrielles de charbon en Indochine (1873-1955) [Mémoire de Master 2]. EHESS.
Campagne, A. (2017b). Le Capitalocène. Aux racines historiques du dérèglement climatique. Éditions Divergences.
Campagne, A. (2020). Coal, French energy imperialism and the conquest of Vietnam (1873-1885). Journal of Energy History/Revue d'Histoire de l'Énergie, 3. http://energyhistory.eu/node/218
Campagne, A. (2021). French colonialism and coal mining in Algeria and Vietnam, 1873-1962. Institut Européen Universitaire.
Cantoni, R. (2017). Oil Exploration, Diplomacy, and Security in the Early Cold War: The Enemy Underground. Routledge.
Clancy-Smith, J. (2016). L'Afrique du Nord à l'époque coloniale : Migration, agriculture et échec de l'innovation, 1830-1914. Revue d'histoire Du XIXe Siècle, 53, 97–114.
Cooper, F., & Stoler, A. L. (Eds.). (1997). Tensions of empire: Colonial cultures in a bourgeois world. University of California Press.
Crosby, A. W. (2003). The Columbian exchange: Biological and cultural consequences of 1492. Praeger.
Davis, D. K. (2007). Resurrecting the granary of Rome: Environmental history and French colonial expansion in North Africa. Ohio University Press.
Fichter, J. R. (2012). British Infrastructure and French Empire: Anglo-French Steam Interdependency in Asian Waters, c.1852–1870. Britain and the World, 5(2), 183–203.
Fichter, J. R. (2019). Imperial Interdependence on Indochina's Maritime Periphery: France and Coal in Ceylon, Singapore, and Hong Kong, 1859–1895. In J. R. Fichter (Ed.), British and French Colonialism in Africa, Asia and the Middle East (pp. 151–179). Springer International Publishing.
Ford, C. (2008). Reforestation, Landscape Conservation, and the Anxieties of Empire in French Colonial Algeria. The American Historical Review, 113(2), 341–362.
Frémeaux, J. (2010). Le Sahara et la France. SOTECA.
Garrier, G. (1989). Le phylloxéra : Une guerre de trente ans, 1870-1900. A. Michel.
Grove, R. H. (1997). Green imperialism: Colonial expansion, tropical island Edens and the origins of environmentalism, 1600 - 1860. Cambridge Univ. Press.
Hamilton, P. E. (2020). The Imperial and Transpacific Origins of Chinese Capitalism. Journal of Historical Sociology, 33(1), 134–148.
Henni, A. (2020). Économie de l'Algérie coloniale, 1830-1954.
Isnard, H. (1949). Vigne et colonisation en Algérie. Annales de Géographie, 58(311), 212–219.
Jaehyun, J. (2018). Exploitation minière et exploitation humaine : Les charbonnages dans le Vietnam colonial, 1874-1945 [Thèse de doctorat en Histoire]. Université Paris Diderot - Paris 7.
Larab, F. (2013). Les mineurs du désert : Kenadsa 1913-1962.
Malm, A. (2016a). Fossil Capital: The Rise of Steam Power and the Roots of Global Warming. Verso.
Malm, A. (2016b). Who Lit This Fire? Approaching the History of the Fossil Economy. Critical Historical Studies, 3(2), 215–248.
Marseille, J. (2005). Empire colonial et capitalisme français : Histoire d'un divorce. A. Michel.
McElwee, P. D. (2016). Forests are gold: Trees, people, and environmental rule in Vietnam. University of Washington Press.
Meynier, G. (2015). L'Algérie révélée : La guerre de 1914 - 1918 et le premier quart du XXe siècle. Bouchène Editions.
Moore, J. (2007). Ecology and the Rise of Capitalism, PhD Dissertation, Department of Geography. University of California.
Moore, J. (2015). Capitalism in the Web of Life: Ecology and the Accumulation of Capital. Verso.
Murray, M. J. (1980). The development of capitalism in colonial Indochina (1870-1940). University of California Press.
Patel, R., & Moore, J. W. (2017). A history of the world in seven cheap things: Guide to capitalism, nature, and the future of the planet. Oakland, California.
Pomeranz, K. (2002). Political Economy and Ecology on the Eve of Industrialization: Europe, China, and the Global Conjuncture. The American Historical Review.
Saul, S. (2016). Intérêts économiques français et décolonisation de l'Afrique du Nord. Librairie Droz.
Scott, J. C. (2000). Weapons of the weak: Everyday forms of peasant resistance. Yale Univ. Press.
Sessions, J. E. (2014). By sword and plow: France and the Conquest of Algeria. Cornell University Press.
Thomas, F. (2009). Protection des forêts et environnementalisme colonial : Indochine, 1860-1945. Revue d'histoire moderne et contemporaine, 56–4 (4), 104.
Touati, I. (2018). Le commerce du blé entre l'Algérie et la France, XVIe-XIXe siècles. Éditions Bouchène.
Tucker, R. P., & Richards, J. F. (Eds.). (1983). Global deforestation and the nineteenth-century world economy. Duke University Press.
Vilar, P. (1934). L'Espagne et le commerce mondial du liège. Annales de Géographie, 43(243), 282–298.