MONOGRÁFICO
[SPA] TOMÁS MORO Y EL REVERSO OSCURO DE UTOPÍA: ALIENACIÓN Y CÁLCULO RACIONAL EN EL DISCURSO DISTÓPICO // THOMAS MORE AND THE DARK BACK OF UTOPIA: ALIENATION AND RATIONAL CALCULATION IN DYSTOPIC DISCOURSE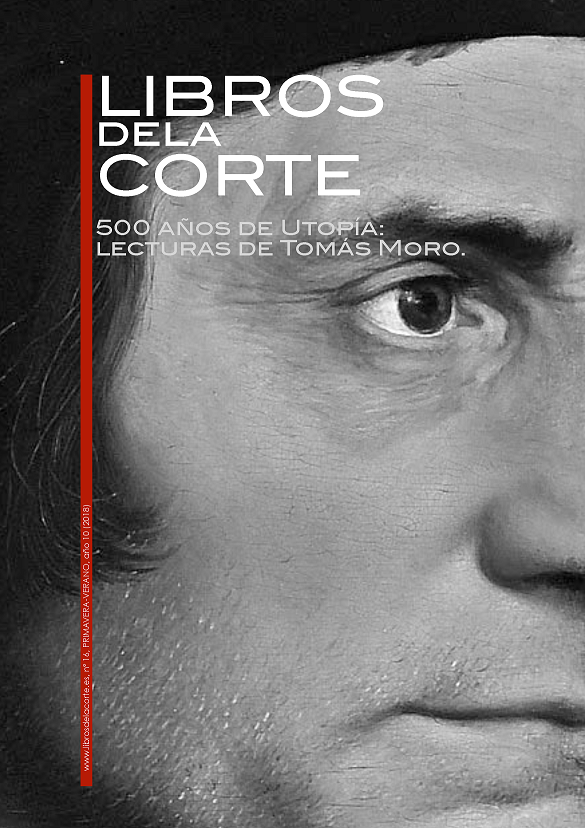 Cómo citar
Martínez Mesa, F. J. (2018). [SPA] TOMÁS MORO Y EL REVERSO OSCURO DE UTOPÍA: ALIENACIÓN Y CÁLCULO RACIONAL EN EL DISCURSO DISTÓPICO // THOMAS MORE AND THE DARK BACK OF UTOPIA: ALIENATION AND RATIONAL CALCULATION IN DYSTOPIC DISCOURSE. Librosdelacorte.Es, (16), 279–292. https://doi.org/10.15366/ldc2018.10.16.014
Resumen
Con la publicación de Utopía en 1516, se inauguró un nuevo género, el relato utópico moderno, caracterizado por la descripción de sociedades o comunidades imaginarias donde sus habitantes disfrutaban de una vida armónica y placentera. Sin embargo, a través de sus páginas, la obra también permite establecer espacios de continuidad con las modernas lecturas distópicas: muchos de sus pasajes también nos inscriben en un mundo de tribulación y sufrimiento donde no parece haber lugar para la esperanza. A partir de esa constatación, este artículo reflexiona sobre el papel central que el humanista Moro va a conceder a la ficción como instrumento de emancipación y acción crítica al servicio del hombre cara a dar respuesta a las difíciles condiciones planteadas en el curso de su existencia (cálculo racional de intereses, alienación) y que en la mayor parte de los casos tienen su origen en el curso de la misma acción humana.

PALABRAS CLAVE: Distopía, utopía, alienación, humanismo, crítica
--
With the publication of Utopia in 1516, a new genre was inaugurated: the modern utopian narrative characterized by the description of societies or imaginary communities where the inhabitants enjoyed a harmonious and pleasant life. However, through its pages, the work also allows us to establish spaces of continuity with modern dystopian readings: many of its passages also inscribe us into a world of tribulation and suffering where there seems to be no place for hope. Based on this observation, this article reflects on the central role that the humanist Moro will grant to fiction as an instrument of emancipation and critical action to the service of man in the face of his response to the difficult conditions raised in the course of his existence (rational calculation of interests, alienation) and that in most cases have their origin in the course of the same human action.
KEYWORDS: Dystopia, utopia, alienation, humanism, criticism
Descargas
Los datos de descargas todavía no están disponibles.
Citas
Bellamy, Edward (2011), El año 2000 (Madrid: Capitán Swing,).
Bouchard, Guy, (1985); L'Utopie Aujourd'Hui (Quebec: Gaetan Morin.
)
Casey, James (2001), "Historiografía inglesa: tendencias recientes en el estudio de la época moderna", Chronica Nova 28, 105-127.
Claeys, Gregory (2016); Dystopia: A Natural History (Oxford: Oxford University Press), https://doi.org/10.1093/acprof:oso/9780198785682.001.0001.
Davis, James Collin (2000), "L'Utopie et le Nouveau Monde 1500-1700", en Utopia. La quête de la société idéale en Occident, dirs. Lyman Tower Sargent y Roland Schaer (París: Bibliothéque Nationale de France - Fayard).
Gilbert, Daniel, (2006), Tropezando con la felicidad (Barcelona: Destino).
James, William (2004), La voluntad de creer (Madrid: Encuentro).
Jameson, Fredric (1988), The Ideologies of Theory: Essays 1971-1986. Volume 2: The Syntax of History (Londres: Routledge).
Logan, George M. and Adams, Robert M. (eds.) (2002), More, Utopia (Nueva York: Cambridge University Press).
Moylan, Tom (2000); Scraps of the Untainted Sky: Science Fiction, Utopia, Dystopia (Boulder: Westview).
Moro, Tomás (2005), Utopía (Madrid: Espasa Calpe).
Pagden, Anthony (1990), The Languages of Political Theory in Early Modern Europe (Nueva York: Cambridge University Press).
Sargent, Lyman Tower (1994); "The Three Faces of Utopianism Revisited," Utopian Studies 5-1.
Schulz, Kathryn (2015); En defensa del error (Madrid: Siruela).
Silver, Nate (2014), La señal y el ruido (Barcelona: Península).
Skinner, Quentin (1985), Los Fundamentos del pensamiento político moderno (México: Fondo de Cultura Económica).
Suvin, Darko (2016), Metamorphoses of Science Fiction: On the Poetics and History of a Literary Genre (Berna: Peter Lang).
Thoreau, Henry David (1994), Walden (Nueva York: Peter Pauper Press).
Youings, Joyce (1984), Sixteenth-Century England (Londres: Penguin).