Recensiones
Currás Refojos, B. (2019): Las sociedades de los castros entre la Edad del Hierro y la dominación de Roma. Estudio del paisaje del Baixo Miño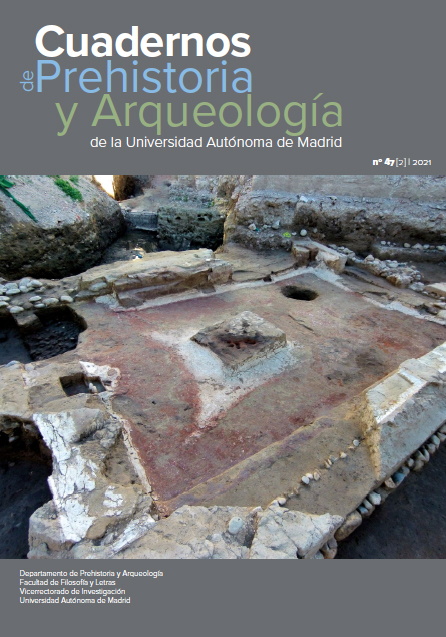 Publicado
diciembre 21, 2021
Cómo citar
Berrocal Rangel, L. (2021). Currás Refojos, B. (2019): Las sociedades de los castros entre la Edad del Hierro y la dominación de Roma. Estudio del paisaje del Baixo Miño. Cuadernos De Prehistoria Y Arqueología De La Universidad Autónoma De Madrid, 47(2), 344–356. Recuperado a partir de https://revistas.uam.es/cupauam/article/view/14981
Descargas
Los datos de descargas todavía no están disponibles.
Citas
Álvarez, Y.; López, J.L.; Fernández-Götz; y García Quintela, M.V. (2017): "El oppidum de San Cibrán de Las y el papel de la religión en los procesos de centralización en la Edad del Hierro". Cuadernos de Prehistoria y Arqueología de la Universidad Autónoma de Madrid, 43: 217-239, http://doi.org/10.15366/cupauam2017.43.008.
Armada Pita, X.-L. (2013): "Big Men showing of. The ideology and practice of social inequality in the Atlantic Late Bronze Age of Iberia". En M. Cruz Berrocal, L. García Sanjuán y A. Gilman (eds.): The Prehistory of Iberia. Debating early social stratification and the state. New York-Routledge: 267-291.
Berrocal-Rangel, L. (1992): Los pueblos Célticos del Suroeste peninsular. Complutum Extra, 2. Universidad Complutense de Madrid. Madrid.
Berrocal-Rangel, L.; P. Martínez Seco y C. Ruiz Triviño (2002): El Castiellu de Llagú. Un castro astur en los orígenes de Oviedo. BAH, 8. Real Academia de la Historia. Madrid.
Brañas, R. (1995): Indixenas e Romanos na Galicia Céltica. Santiago de Compostela.
Fabiâo, C. (2007): "The Roman Army in Portugal". En A. Morillo y J. Aurricoechea (eds.): The Roman Army in Hispania. An Archaeologoical Guide. Universidad de León. León: 107-128.
González-Ruibal, A. (2006-2007): Galaicos. Poder y Comunidad en el Noroeste de la Península Ibérica (1200 a.C. – 50 d.C.). Brigantium, 18-19. A Coruña.
Lejars, T. y Gruel, K. (2015): "Paraître et modes vestimentaires, femmes et enfants". En O. Buchsenschutz (ed.) : L´Europe Celtique à l'Âge du Fer VIIIe-Ier siècles. PUF Nouvelle Clio. L'Histoire et ses Problèmes. Paris: 229-242.
Orejas. A. (1996): Estructura social y territorio. El impacto romano en la cuenca noroccidental del Duero. Anejos de Archivo Español de Arqueología, 15. Madrid.
Sastre, I. (2011): "Social Inequality during the Iron Age: Interpretation Models". En T. Moore y X.L. Armada (eds.): Atlantic Europe in the First Millennium BC. Crossing the Divide. . Oxford University Press. Oxford: 264-284.
Torres-Martínez, J.F. (2010): El Cantábrico en la Edad del Hierro. BAH, 28. Real Academia de la Historia. Madrid.