Crítica de la Cultura
La Ilustración como "práctica cultural crítica" de la modernidad global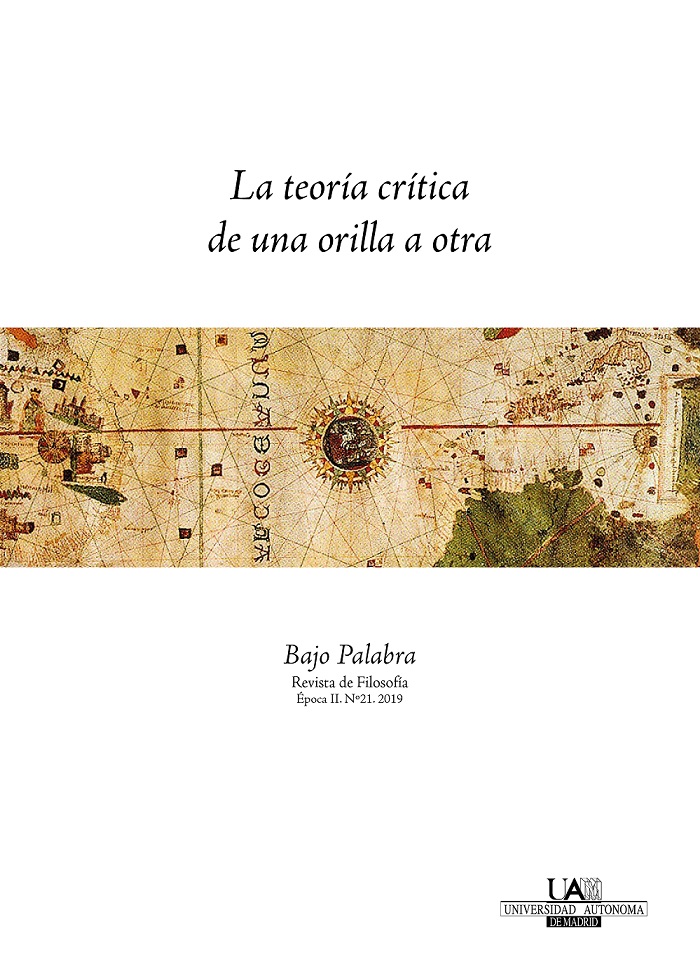 Palabras clave:
Ilustración, Teoría Crítica, globalización, eurocentrismo, modernidad
Cómo citar
Kozlarek, O. (2019). La Ilustración como "práctica cultural crítica" de la modernidad global. Bajo Palabra, (21), 109-126. https://doi.org/10.15366/bp2019.21.006
Resumen
En el presente trabajo pretendo defender a la Ilustración sin cerrarme a sus problemas. Tengo tres razones para ello: en primer lugar, creo que las alternativas que se imponen cuando nos alejamos de la Ilustración no son convincentes. En segundo lugar, estoy convencido de que el potencial de la Ilustración está lejos de agotarse hoy en día. En tercer lugar, entiendo a la Ilustración como una "práctica cultural crítica" que nos prepara de una manera única para el crecimiento irrevocable de nuestro mundo a nivel global, porque nos obliga una y otra vez a volvernos críticamente en contra de nuestras propias culturas.
Descargas
Los datos de descargas todavía no están disponibles.
Citas
Allen, Amy (2016), The End of Progress: Decolonizing the Normative Foundations of Critical Theory, New York: Columbia University Press.
Chakrabarty, Dipesh (2000), "Postcoloniality and the Artifice of History", en: Dipesh Chakrabarty (2000), Provincializing Europe. Postcolonial Thought and Historical Diffrence, Princeton/Oxford: Princeton University Press, pp. 27-46.
Cassirer, Ernst (2001), Philosophie der Symbolischen Formen. Erster Teil: Die Sprache, Darmstadt: Wissenschaftliche Buchgesellschaft.
Connell, Raewyn (2007), Southern Theory. The Global Dynamics of Knowledge in Social Science, Cambridge/Malden: Polity.
- (2010a), "The Shores of the Southern Ocean: Steps toward a World Sociology of Modernity" (inédito).
- (2010b), "How can we weave a world sociology?", en: Global Dialogue, http:// www.isa-sociology.org/global dialogue/ (02.03.2018).
Delanty, Gerard (2005), "Cultural Translations and European Modernity", en: Eliezer Ben-Rafael et al. (Hg.), Comparing Modernities, Leiden: Brill: pp. 443-460.
Ette, Ottmar (2002), Weltbewusstsein. Alexander von Humboldt und das unvollendete Projekt einer anderen Moderne, Weilerswist: Velbrück.
Habermas, Jürgen (1989), Der philosophische Diskurs der Moderne. Zwölf Vorlesungen, Frankfurt/M.: Suhrkamp.
Horkheimer, Max /Theodor W. Adorno (1990), Dialeltik der Aufklärung. Philosophische Fragmente, Frankfurt/M.: Fischer.
Jullien, François (2017), Es gibt keine kulturelle Identität. Wir verteidigen die Ressourcen einer Kultur, Berlin: Suhrkamp.
Koselleck, Reinhart (2005), "Über den Stellenwert der Aufklärung ion der deutschen Geschichte", en: Hans Joas/Klaus Wiegandt (eds.) (2005), Die kulturellen Werte Europas, Frankfurt/M.: Fischer Taschenbuchverlag, pp. 353-366.
Kozlarek, Oliver (2014), "Experiences of Modernity and the Modernity of Experience", en: Oliver Kozlarek (ed.), Multiple Experiences of Modernity. Towards a Humanist Critique of Modernity, Göttingen: Vandenhoek & Ruprecht, pp. 9-41.
- (2016), Postcolonial Reconstruction. A Sociological Reading of Octavio Paz, Berlin/New York: Springer.
Miller, Nicola (2008), Reinventing Modernity in Latin America: Intellectuals Imagine the Future, 1900-1930. New York and London: Palgrave.
Mignolo, Walter D. (2011), The Darker Side of Western Modernity. Global Futures, Decolonial Options, Durham/London: Duke University Press.
Mishra, Pankaj (2018), "Politik im Zeitalter des Zorns. Das dunkle Erbe der Aufklärung", en: Heinrich Geiselberger (Hrsg.), (2018), Die große Regression. Eine internationale Debatte über die geistige Situation der Zeit, Berlin: Suhrkamp, pp. 175-195.
Romero Cuevas, José Manuel (2008), "¿Qué queda de la Ilustración? Apuntes para un debate", en: Isegoría. Revista de Filosofía Moral y Política, Núm. 39, julio-diciembre 2008, pp. 153-169.
Rosa, Hartmut (2005), Beschleunigung. Die Veränderung der Zeitstrukturen der Moderne, Frankfurt/M.: Suhrkamp.
Wagner, Peter (2008), Modernity as Experience and Interpretation. A New Sociology of Modernity, Cambridge/Malden: Polity Press.
Wallerstein, Immanuel (2006), European Universalism. The Rhetoric of Power, New York/London: The New Press.