I. Cuerpo y deporte / Body and Sport
The Duty of Being Healthy. The Universe of Meanings of "Leisure Time Society" / El deber de estar sanos. El universo de significados de la "sociedad del ocio"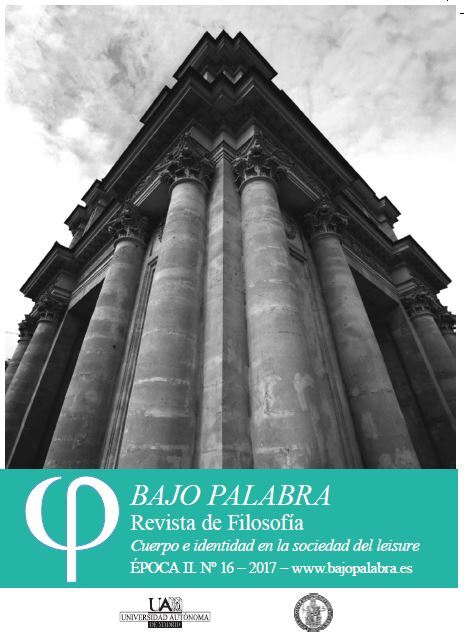 Publicado
diciembre 15, 2017
Cómo citar
Camorrino, A. (2017). The Duty of Being Healthy. The Universe of Meanings of "Leisure Time Society" / El deber de estar sanos. El universo de significados de la "sociedad del ocio". Bajo Palabra, (16). Recuperado a partir de https://revistas.uam.es/bajopalabra/article/view/9009
Resumen
Abstract:
The body is the scenario in which late-modern self can spectacularize his adhesion to the "health project",1 a horizon of meaning inaugurated by modernity. The steady improvement of health is socially promoted as superior virtue of the late-modern values hierarchy. The aim of this paper is to investigate the sociological reasons for which the contemporary man builds his identity on the centrality of the aesthetic dimension, a broad horizon that includes not only the obsessive practice of fitness.
Keywords: body, health, risk, pain, identity, meaning.
Resumen:
El cuerpo es el escenario en el que el yo de la modernidad tardía puede manifestar su adhesión al "health project", ese horizonte de sentido inaugurado por la modernidad. La salud física promueve virtudes socialmente superiores en la jerarquía de valores de la modernidad tardía. En este artículo pretendemos investigar las razones sociológicas por las cuales los hombres contemporáneos construyen su identidad centrándose en la dimensión estética –un horizonte amplio que incluye no sólo la práctica del fitness.
Palabras clave: cuerpo, salud, riesgo, dolor, identidad, sentido
Descargas
Los datos de descargas todavía no están disponibles.
Citas
BAUMAN, Zygmunt, Il teatro dell'immortalità. Mortalità, immortalità e altre strategie di vita, Bologna, Il Mulino, 1995.
BAUMAN, Zygmunt, Paura liquida, Roma-Bari, Laterza, 2010.
BECK, Ulrich, Risk Society. Towards a New Modernity, London. Thousand Oaks. New Delhi, SAGE, 1992.
BECK, Ulrich, BECK-GERNSHEIM, Elisabeth, Individualization: Institutionalized Individualism and its Social and Political Consequences, London-Thousand Oaks-New Delhi, SAGE, 2002.
BERGER, Peter L., The Social Reality of Religion, Great Britain, Penguin Books, 1973.
BERGER, Peter L. and Luckmann Thomas, The Social Construction of reality. A treatise in the Sociology of Knowledge, Great Britain, Penguin Books, 1991.
CAMORRINO, Antonio, La natura è inattuale. Scienza, società e catastrofi nel XXI secolo, S. Maria C. V. (Ce), Ipermedium, 2015.
CAMORRINO, Antonio, "L'immaginario tecnologico. Un'analisi sociologica della cosmologia contemporanea", Im@go, 7 (V), 2016, pp. 36-55.
CIPOLLA, Carlo M., Miasmi e umori, Bologna, Il Mulino, 1989.
DESCOLA, Philippe, Par-delà nature et culture, Paris, Gallimard, 2005.
ELIAS, Norbert, Postscript. Ageing and Dying: Some Sociological Problems, Oxford, Basil Blackwell, 1985.
ELIAS, Norbert, DUNNING, Eric Quest for excitement. Sport and Leisure in the Civilizing Process, Oxford, Basil Blackwell, 1986.
FOUCAULT, Michel, Naissance de la clinique. Una archéologie du regard médical, Paris, Presses Universitaires de France, 1963.
LE BRETON, David, "Il corpo in pericolo. Antropologia delle attività fisiche e sportive a rischio", Rassegna Italiana di Sociologia, 3, 2002, pp. 407-427.
LE BRETON, David, Anthropologie de la douleur, Paris, Édition Métailié, 1995.
LE BRETON, David, Expériences de la douleur. Entre destruction et renaissance, Paris, Édition Métailié, 2010.
LYOTARD, Jean-François, La condition postmoderne, Paris, Les Editions de Minuit, 1979.
MAFFESOLI, Michel, Apocalisse. Rivelazioni sulla società moderna, S. Maria C. V. (CE), Ipermedium, 2009.
SASSATELLI, Roberta, Fitness Culture. Gyms and the commercialisation of Discipline and Fun, Palgrave Macmillan, Basingstoke, 2010.
SONTAG, Susan, Aids and Its Metaphors, New York, Farrar, Straus and Giroux, 1989.