IV. Estética y Teoría del Arte / Aesthetics and Theory of Arts
"El nacimiento británico de la estética. Primeras reflexiones filosóficas sobre la sensibilidad como facultad de experimentación de la belleza / British Birth of Aesthetics. First philosophical Reflections on the Sensitivity as Faculty of Beauty (...)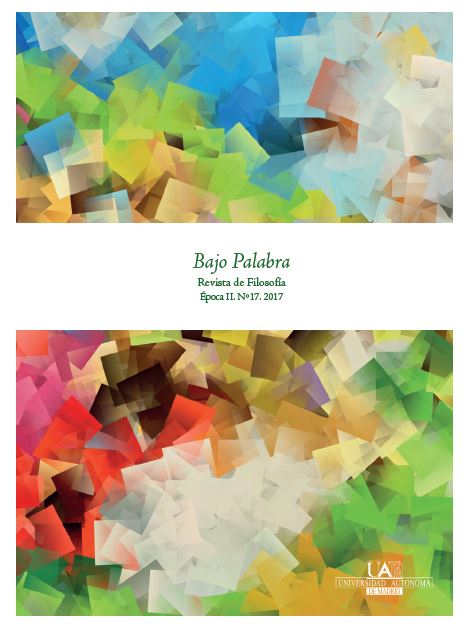 Publicado
noviembre 13, 2017
Resumen
Partiendo de la base de que el nacimiento británico de la estética hunde sus raíces en la filosofía de John Locke, por un lado, y en la de Shaftesbury, por otro, se pretenden reconstruir los fundamentos principales de este nacimiento y su síntesis en la obra de Francis Hutcheson. Con ello se intenta resaltar una de las aportaciones más importantes de la primera Enlightenment a la disciplina dieciochesca.

Palabras clave: Estética, Ilustración, sentido de la belleza, Locke, Shaftesbury Hutcheson.
Abstract
On the basis that the British birth of Aesthetics is rooted in the philosophy of John Locke, on the one hand, and that of Shaftesbury, on the other, it is intended to reconstruct  the main foundations of this birth and its synthesis in the work of Francis Hutcheson. Thereby it is attempting to highlight one of the most important contributions of the first Enlightenment to the discipline of the eighteenth-century.
 
Keywords: Aesthetics, Enlightment, sense of beauty, Locke, Shaftesbury Hutcheson.
Citas
ARREGUI, J.V. (1995), "La teleología de la belleza en Shaftesbury y Hutcheson", Themata. Revista de Filosofía, nº 13, pp. 11-35.
CANTERLA, C. (2009), Mala noche. El cuerpo, la política y la irracionalidad en el siglo XVIII, Sevilla, Fundación José Manuel Lara.
HEMINGWAY, A. (1989), The 'Sociology' of Taste in the Scottish Enlightenment", Oxford Art Journal, Vol. 12, pp. 3-35. Accessed: 13/06/2013 06:46.
HUTCHESON, F. (1992), Una investigación sobre el origen de nuestra idea de la belleza, Estudio preliminar, traducción y notas de Jorge V. Arregui. Madrid, Tecnos.
KIVY, P. (2003), The Seventh Sense. Francis Hutcheson and Eighteenth Century British Aesthetics, Oxford, Clarendon Press.
LOCKE, J. (2002), Ensayo sobre el entendimiento humano, selección, traducción, prólogo y notas de Luis Rodríguez Aranda, Barcelona, Ediciones Folio.
LLORENS, N. (2002-2003), "Shaftesbury y el modelo clásico", Locus Amoenus, 6, pp. 343-368.
MORTENSEN P. (1994), "Shaftesbury and the Morality of Art Appreciation", Journal of the History of Ideas, vol. 55, pp. 631-650.
PAULSON, R. (1989), Breaking and Remaking. Aesthetic Practice in England, 1700-1820, New Brunswick and London, Rutgers University Press.
SHAFTESBURY, A.A.C. (1997), Los Moralistas. Jorge Arregui y Pablo Arnau (eds.), Barcelona, Ediciones internacionales universitarias
SHAFTESBURY, A.A.C. (1997b), Investigación sobre la virtud o el mérito, Estudio introductorio, traducción y notas de Agustín Andreu, Madrid, Instituto Superior de Investigaciones Científicas.
TOWNSEND, D. (1991), "Lockean Aesthetics", The Journal of Aesthetics and Art Criticism, Vol. 49, pp. 349-361.
TOWNSEND, D. (1987), "From Shaftesbury to Kant: The Development of the Concept of Aesthetic Experience", Journal of the History of Ideas, Vol. 48, pp. 287-305, Accessed: 13/06/2013 06:48.