II. Filosofía Moral, Política y del Derecho / Moral, Political and Legal Philosophy
Una exhortación a cultivar las virtudes: La posible conexión entre la Consolación de la Filosofía de Boecio y la ética neoplatónica / An Exhortation to Cultivate Virtues: The Possible Connection between the Consolation of Philosophy of Boethius (...)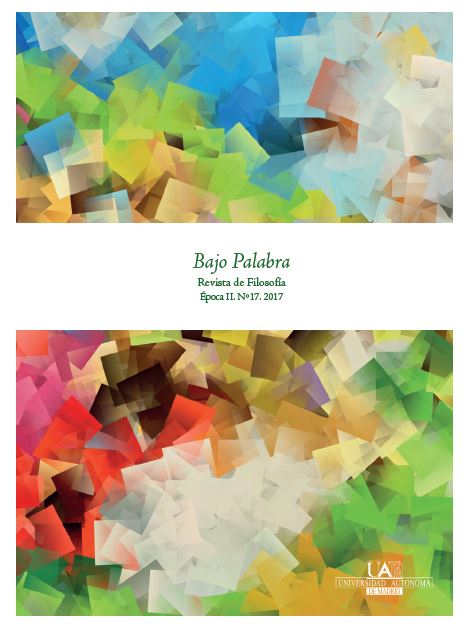 Publicado
noviembre 13, 2017
Cómo citar
Zamora Calvo, J. M. (2017). Una exhortación a cultivar las virtudes: La posible conexión entre la Consolación de la Filosofía de Boecio y la ética neoplatónica / An Exhortation to Cultivate Virtues: The Possible Connection between the Consolation of Philosophy of Boethius (.). Bajo Palabra, (17). https://doi.org/10.15366/bp2017.17.008
Resumen
En este artículo se explora la arquitectura dinámica de la Consolación de la Filosofía de Boecio según la exposición de la ordenación jerárquica de las virtudes establecida por Porfirio en la Sentencia 32. El libro I concierne a la virtud del hombre político. El libro II y los ocho primeros capítulos del libro III pueden leerse desde la perspectiva neoplatónica de las virtudes purificadoras. El libro III, particularmente los capítulos 9-12, conecta con la perspectiva de las virtudes teoréticas, ya que abordan el regreso del alma al primer principio, identificado con el Bien. Y, por último, desde el capítulo 5 del libro IV y todo el libro V, las virtudes paradigmáticas corresponderían a la investigación dialéctica sobre la providencia, el destino y el libre arbitrio.

Palabras clave: Consolación, Boecio, Ética neoplatónica, Neoplatonismo, Porfirio.
Abstract
This paper explores the dynamic architecture of the Consolation of Philosophy of Boethius according to the exposition of the hierarchical arrangement of virtues established by Porphyry in  Sentence 32. Book I deals with the virtue of the political man. Book II and the first eight chapters of Book III, for their part, can be read from the Neoplatonic perspective of purifying virtues. Book III, particularly chapters 9-12, links with the perspective of the theoretical virtues, since they address the return of the soul to the first principle, identified with the Good. And finally, from chapter 5 of book IV and the entire book V, the paradigmatic virtues would correspond to the dialectical research on providence, destiny and free will.

Keywords: Consolation, Boethius, Neoplatonic ethics, Neoplatonism, Porphyry.
Descargas
Los datos de descargas todavía no están disponibles.
Citas
Alekniené, T., "L'énigme de la 'patrie' dans le traité I de Plotin: héritage de l'exégèse philonienne?", Recherches augustiniennes et patristiques, 35, 2007, pp. 1-46. doi. 10.1484/J.RA.5.102370
Armisen-Marchetti, M., Macrobe. Commentaire au Songe de Scipion, 2 vols., Paris: Les Belles Lettres, 2001-2003.
Becker, M., Die Kardinaltugenden bei Cicero und Ambrosius: De Officiis, Basel, Schwabe, 1994.
Bejczy, I. P., The Cardinal Virtues in the Middle Ages. A Study in Moral Thought from the Fourth to the Fourteenth Century, Leiden, E. J. Brill, 2011.
Bertrand-Dagenbach, C., "La prison, lieu d'effroi", en C. Bertrand-Dagenbach, A. Chauvot, J.-M. Salamito et al. (eds.), Carcer: prison et privation de liberté dans l'Antiquité classique. Actes du colloque de Strasbourg (5 et 6 décembre 1997), Paris, De Boccard, 1991, pp. 211-219.
Bouffartigue, J., Patillon, M. y Segonds, A.-P., Porphyre. De l 'abstinence, 3 vols., Paris, Les Belles Lettres, 1977-1995.
Brisson, L. et al., Porphyre. Sentences, 2 vols., Paris, J. Vrin, 2005.
Burnet, J., Platonis Opera, 5 vols., Oxford, Clarendon, 1900-1907.
Castillo, C., "La cristianizacion del pensamiento ciceroniano en el De Officiis de San Ambrosio", Anuario Filosófico, 34 (70), 2001, pp. 297-322.
Chadwick, H., Boethius: The Consolations of Music, Logic, Theology, and Philosophy, Oxford, Clarendon, 1981.
Chase, M., "'Omne corpus fugiendum?' Augustine and Porphyry on the Body and the Post-Mortem Destiny of the Soul", Chôra: Revue d'Études Anciennes et Médiévales, 2, 2004, pp. 37-58.
Cordonier, V., "Une lecture critique de la théologie d'Aristote: le Quodlibet VI, 10 d'Henri de Gand comme réponse à Gilles de Rome", en V. Cordonier y T. Suarez-Nani (eds.), L'aristotélisme exposé: aspects du débat philosophique entre Henri de Gand et Gilles de Rome, Fribourg, Academic Press, 2014, pp. 83-180.
Courcelle, P., Les lettres grecques en Occident. De Macrobe à Cassiodore, Paris, De Boccard, 1948.
Courcelle, P., La Consolation de Philosophie dans la tradition littéraire: Antécédents et postérité de Boèce, París, Études Augustiniennes, 1967.
Courcelle, P., "Le tyran et le philosophe d'après la Consolation de Boèce", en Passagio dal mondo antico al medio evo da Teodosio a san Gregorio Magno. Atti dei convegni Lincei, Roma, Accademia nazionale dei Lincei, 1980, pp. 195-224 (reimpreso en Opuscula selecta: bibliographie et recueil d'articles publiés entre 1938 et 1980, Paris, Études Augustiniennes, 1984, pp. 385-414).
D'Onofrio, G., Vera Philosophia: Studies in Late Antique and Medieval Christian Thought, Turnhout, Brepols, 2008.
De Libera, A., Segonds, A.-P., Porphyre: Isagoge. Texte grec, translatio Boethii, Paris, J. Vrin, 1998.
Descoings, K. y Guillaumin, J.-B., Silves latines 2011-2012: Ovide, Métamorphoses XIV; Boèce, Consolation de Philosophie I-III, Neuilly, Atlande, 2011.
Egidio Romano, Aegidii Romani Primus Sententiarum, correctus a Augustino Montifalconio, Venetiis Impressus sumptibus et expensis heredum quondam Domini Octaviani Scoticivis Modoetiensis: ac sociorum. Die Martii 1521, reimpreso en Frankfurt a.M., Minerva, 1968.
Flamant, J., Macrobe et le néo-platonisme latin à la fin du IVe siècle, Leiden, E. J. Brill, 1977.
Foessel, M., Le temps de la consolation, Paris, Éditions du Seuil, 2015.
Galonnier, A., Boèce, Opuscula Sacra. Volume 2. De sancta trinitate, De persona et duabus naturis (Traites I et V): Texte latin de l'edition de Claudio Moreschini, Louvain/Paris, Ed. de l'Institut supérieur de philosophie/Peeters, 2013.
Gegenschatz, E., "Die Freiheit der Entscheidung in der Consolatio philosophiae des Boethius", Museum Helveticum, 15 (2), 1958, pp. 110-129. doi: 10.5169/seals-15284
Gruber, J., Kommentar zu Boethius De consolatione philosophiae, Berlin/New York, W. de Gruyter, 1978. doi: 10.1515/9783110902280
Guillaumin, J.-B., "Lumine claro cernere uerum: lumière et vision dans la Consolation de Philosophie de Boèce", Pallas, 92, 2013, pp. 237-255. doi: 10.4000/pallas
Guillaumin, J.-Y., Boèce. La Consolation de Philosophie, Paris, Les Belles Lettres, 2002.
Henry, P. y Schwyzer, H.-R., Plotini Opera, 3 vols., Oxford, Clarendon, 1964-1982.
Hiltbrunner, O., "Die Schrift De Officiis ministrorum des Heiligen Ambrosius und ihr Ciceronisches Vorbild", Gymnasium, 71, 1964, pp. 174-189.
Huh, M.-J., "La théorie néoplatonicienne de la vertu et la Consolation de Philosophie", en A. Giavatto y F. Le Blay (eds.), Autour de la Consolatio philosophiae de Boèce, Neuilly, Atlande, 2015, pp. 81-125.
Jürgasch, T., Theoria versus Praxis?: zur Entwicklung eines Prinzipienwissens im Bereich der Praxis in Antike und Spätantike, Berlin/Boston, W. de Gruyter, 2013.
Lazam, C. y Fumaroli, M., Boèce. Consolation de la philosophie, Paris/Marseille, Rivages, 1989.
Luna, C., Aegidii Romani Opera omnia, III. 2: Reportatio Lecturae super libros l-IV Sententiarum. Reportatio Monacensis. Excerpta Godefridi de Fontibus, Firenze, SISMEL/Edizioni del Galluzzo, 2003.
Luschnat, O., "Das Problem des ethischen Fortschritts in der alten Estoa", Philologus, 102 (1-2), 1958, pp. 178-214. doi: 10.1524/phil.1958.102.12.178
Magee, J., "Boethius' Anapestic Dimeters (Acatalectic), with Regard to the Structure and Argument of the Consolatio", en A. Galonnier (ed.), Boèce ou la chaîne des savoirs. Actes du colloque international de la Fondation Singer-Polignac (Paris, 8-12 juin 1999), Louvain/Paris, Institut Supérieur de Philosophie/Peeters, 2003, pp.147-169.
Marenbon, J., Boethius, Oxford/New York, Oxford University Press, 2003.
Marenbon, J., "Boèce, Porphyre et les variétés de l'abstractionnisme", Laval théologique et philosophique, 68 (1), 2012, pp. 9-20. doi: 10.7202/1010214ar
Moorhead, J., Theoderic in Italy, Oxford/New York, Oxford University Press, 1992.
Moreschini, C., Boethius. De Consolatione Philosophiae. Opuscula Theologica, 2ª ed., München/Leipzig, Saur, 2005.
Moreschini, C., A Christian in Toga. Boethius: Interpreter of Antiquity and Christian Theologian, Göttingen, Vandenhoeck & Ruprecht, 2014.
North, H. F., "Canons and Hierarchies of the Cardinal Virtues in Greek and Latin Literature", en L. Wallach (ed.), The Classical Tradition: Literary and Historical Studies in Honor of Harry Caplan, Ithaca [N.Y.], Cornell University Press, 1966, pp. 165-183.
Otal, M., "Phantasia et nous pathêtikos", Methodos, 16, 2016, pp. 1-38. doi: 10.4000/methodos.4487
Pérez Gómez, L., Boecio. La Consolación de la Filosofía, Madrid, Akal, 1997.
Zamora Calvo, J. M., "Truth and Modes of Cognition in Boethius: A Neoplatonic Approach", Schole, 11 (2), 2017, pp. 346-363. doi: 10.21267/AQUILO.2017.11.4524