II. Cultura audiovisual en la vida cotidiana / Audiovisual cultures in everyday life
La estética de lo siniestro en el videoclip: integración de lo siniestro en el discurso audiovisual / The aesthetics of the uncanny in music videos: the integration of the uncanny in the audiovisual discourse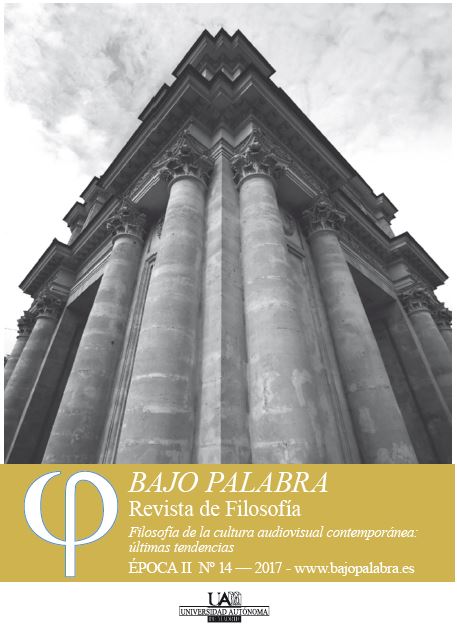 Cómo citar
Quirós Fernández, A. (2017). La estética de lo siniestro en el videoclip: integración de lo siniestro en el discurso audiovisual / The aesthetics of the uncanny in music videos: the integration of the uncanny in the audiovisual discourse. Bajo Palabra, (14). Recuperado a partir de https://revistas.uam.es/bajopalabra/article/view/8031
Resumen
Resumen:
Este trabajo aborda el estudio de la estética de lo siniestro en su relación con la música, la imagen y el discurso en el marco concreto del videoclip. A través de la revisión teórica de las ideas expuestas por Sigmund Freud en su opúsculo "Lo siniestro" (1919) y el análisis de vídeos musicales de diferentes géneros, se plantean dos interrogantes: ¿Cómo aparece lo siniestro en el videoclip? ¿Se adscribe lo siniestro a un determinado género musical?
Palabras clave: Videoclip, Lo siniestro, Género musical, Estética, Freud.
Abstract:
This work discusses the aesthetics of the uncanny in its relation with music, image and discourse in the context of music videos. Having conducted a theoretical review of the ideas exposed by Sigmund Freud in his opuscule "Das Umheimliche" (1919) and the analysis of musical videos of different genres, two questions arise: in what sense the uncanny is present in these videos? Is the uncanny related to a specific musical genre?
Keywords: Music video, Uncanny, Musical genre, Aesthetics, Freud.
Descargas
Los datos de descargas todavía no están disponibles.