II. Cultura audiovisual en la vida cotidiana / Audiovisual cultures in everyday life
El Auditorio Inquietante: estética sonora en los artgames / The uncanny auditorium: sound aesthetic in artgames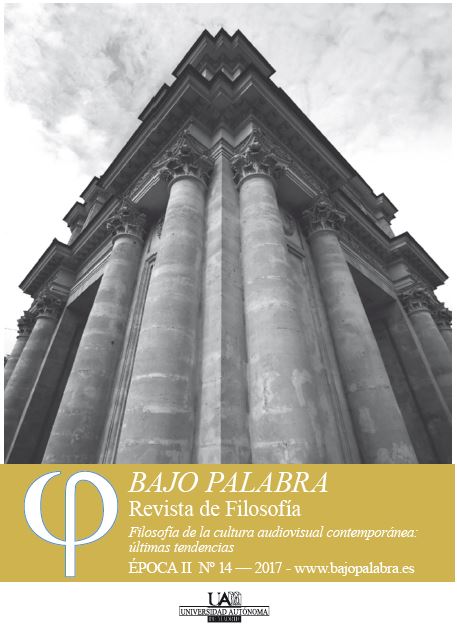 Cómo citar
Camacho Blanco, L. F. (2017). El Auditorio Inquietante: estética sonora en los artgames / The uncanny auditorium: sound aesthetic in artgames. Bajo Palabra, (14). Recuperado a partir de https://revistas.uam.es/bajopalabra/article/view/8030
Resumen
Los videojuegos se empiezan a erigir como el género artístico predominante del siglo XXI. Con un lenguaje ya maduro y una estética propia, aquellas limitaciones que tenían otrora se han convertido en grandes herramientas estéticas y semióticas con las que desencadenar distintos procesos emocionales. El sonido y la música han conseguido tener sus propias funciones dentro de los artgames, diferenciadas de las de otros medios audiovisuales, y lo más importante, se ha creado una sonoridad-signo, un simulacro baudrillardiano asociado al medio videolúdico: el auditorio inquietante.
Palabras clave: videojuegos, estética, sonido, música, valle inquietante, auditorio inquietante, simulacros, hiperrealidad, semiótica, audiovisual
Abstract:
Artgames are progressively turning into the main artistic genre of the 21st century. With its own mature language and aesthetic, the old videogame limitations have become a great semiotic tool that triggers different emotional processes. Sound and music have obtained their own roles inside the artgames, different from the rest of audiovisual media and which is more important, they have created a sign-sound, a Baudrillard-type simulacrum asociated to artgames media: the uncanny auditorium.
Keywords: Videogames, artgames, sound, music, uncanny valley, uncanny auditorium, simulacra, hyperreality, semiotics, audiovisual
Descargas
Los datos de descargas todavía no están disponibles.