I. Cultura audiovisual contemporánea: tentativas teóricas / Audiovisual cultures: theoretical approaches
Evolución de la experiencia plurisensorial: entre arte y vida cotidiana / The evolution of multisensorial experience: between art and everyday life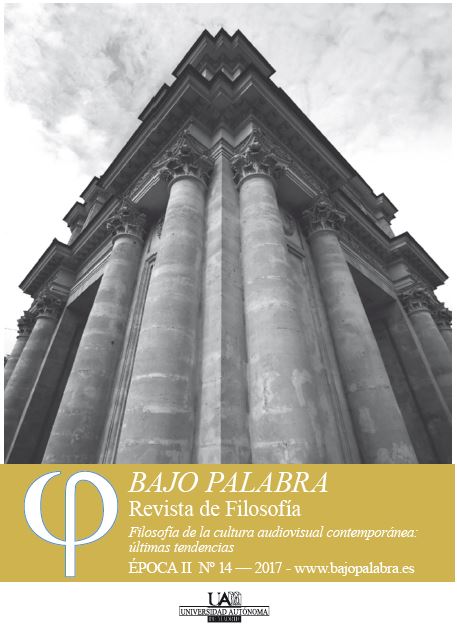 Cómo citar
Palmese, C., & Carles Arribas, J. L. (2017). Evolución de la experiencia plurisensorial: entre arte y vida cotidiana / The evolution of multisensorial experience: between art and everyday life. Bajo Palabra, (14). Recuperado a partir de https://revistas.uam.es/bajopalabra/article/view/8028
Resumen
El estudio del desarrollo histórico del sonido permite mostrar su capacidad para transmitir no sólo la dimensión temporal sino también los aspectos relacionados con el espacio y el movimiento. El sonido no es un mero canal sensorial aislado, sino que en su interacción con la dimensión visual genera una asociación espacio-temporal indisociable contribuyendo, en el arte y en la vida cotidiana, a la construcción del lugar, en un espaciotiempo dado.
Palabras clave: audiovisión, espacio, tiempo, cuerpo, recorrido, movimiento, intersensorialidad
Abstract:
The evolution of the concept of sound shows its ability to express the temporal dimensión, but also aspects related to space and movement. Sound is not just another sensorial cannel, since its interaction with the visual dimensión generates an undetachable association of space and time, an specific one for every moment and place.
Keywords: audiovision, time, space, body, walk, intersensoriality, movement
Descargas
Los datos de descargas todavía no están disponibles.