I. Cultura audiovisual contemporánea: tentativas teóricas / Audiovisual cultures: theoretical approaches
Neoapocalípticos y neointegrados / Neoapocalyptic and neointegrated spectators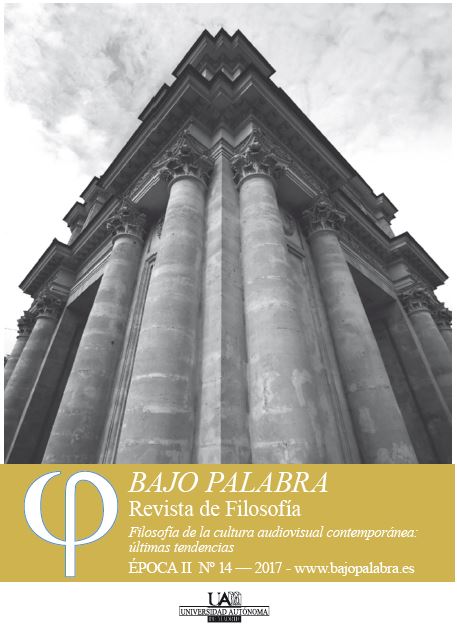 Cómo citar
Salmerón Infante, M. (2017). Neoapocalípticos y neointegrados / Neoapocalyptic and neointegrated spectators. Bajo Palabra, (14). Recuperado a partir de https://revistas.uam.es/bajopalabra/article/view/8024
Resumen
Este artículo retoma la distinción entre apocalípticos e integrados que estableció Umberto Eco. Los primeros consideran que la cultura de masas empobrece y aliena al sujeto, los segundos que la cultura de masas democratiza y abre la propia cultura. Nuestra tesis es que los nuevos medios de difusión de productos audiovisuales, muy especialmente internet, varían de tal modo la recepción de los contenidos, que hacen, si no desechable del todo, sí reformulable la contraposición de Eco.
Palabras Clave: Posmodernidad, espectador, spleen cibernético, videoclip, anuncio, Umberto Eco
Abstract:
This article revisits the difference between the apocalyptic and the integrated, established by Umberto Eco. The first ones consider that mass culture impoverishes and alienates human beings, while the second ones acknowledge its capacity to achieve more democratic and open societies. Our thesis is that the new available media for broadcasting audiovisual productions, especially the Internet, change in such a way the reception of contents that Ecos´s distinction may seem pointless, and thus must be reformulated.
Keywords: Postmodernity, spectator, cyber-spleen, video-clip, spot, Umberto Eco
Descargas
Los datos de descargas todavía no están disponibles.