Artículos
Totalitarismo y absolutismo en Hannah Arendt y María Zambrano / Totalitarianism and Absolutism in Hannah Arendt y María Zambrano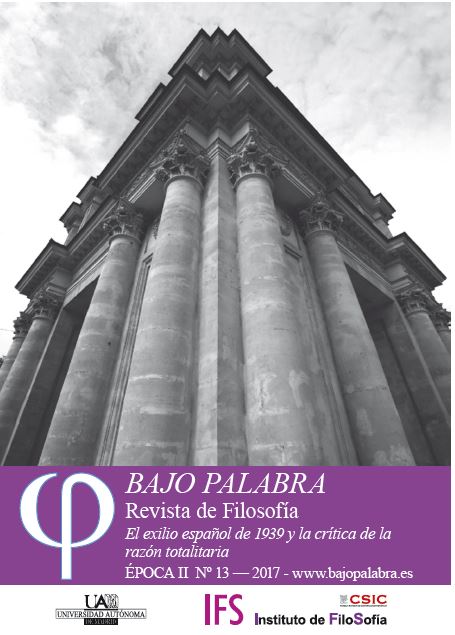 Cómo citar
Tejada Mínguez, R. (2017). Totalitarismo y absolutismo en Hannah Arendt y María Zambrano / Totalitarianism and Absolutism in Hannah Arendt y María Zambrano. Bajo Palabra, (13). Recuperado a partir de https://revistas.uam.es/bajopalabra/article/view/8011
Resumen
Se trazan algunos paralelismos entre la vida y la obra de Arendt y Zambrano. Aun en medio de notorias diferencias, ambas vivieron y reflexionaron sobre la condición exiliada, y dedicaron abundantes análisis al totalitarismo y al absolutismo, respectivamente. Más en concreto, se señalan cuatro puntos en los que la perspectiva de ambas autoras coinciden, se diferencian, se asemejan o se enfrentan, parcial o totalmente: 1) la cuestión de la historia y de la temporalidad; 2) la mentira y los medios para ponerla en práctica. 3) el poder y la voluntad del jefe de Estado. 4) el crimen colectivo y el mal.
Palabras clave: Zambrano, Arendt, exilio, totalitarismo, absolutismo, historia, mentira, poder, mal.
Abstract:
Some parallels are drawn between the life and the works of Arendt and MZ. In spite of many differences between them, both lived the exile and thought on it, and analysed Totalitarianism and Absolutism, respectively. In particular, it is pointed out four questions in that their perspectives coincide, differ, are alike or face, partially or totally: 1) history and temporality; 2) lie and the means to practise it; 3) power and the will of the head of the state; 4) the collective crime and the evil
Keywords: Zambrano, Arendt, totalitarianism, Absolutism, history, lie, power, evil.
Descargas
Los datos de descargas todavía no están disponibles.