Artículos
Gaos, intérprete de la modernidad como totalitarismo / Gaos interpreter of the crisis of Modernity as Totalitarianism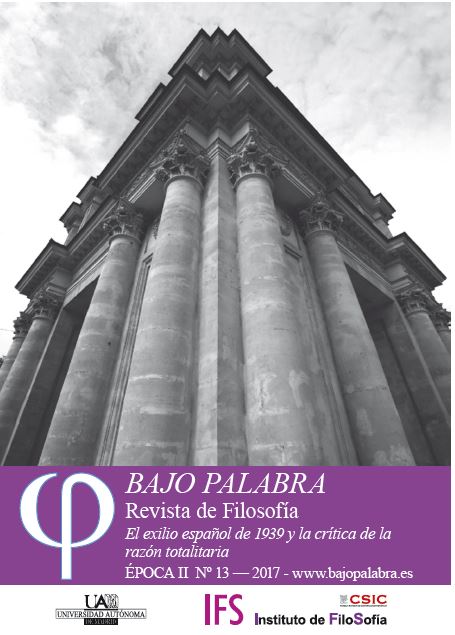 Cómo citar
Sevilla Segura, S. (2017). Gaos, intérprete de la modernidad como totalitarismo / Gaos interpreter of the crisis of Modernity as Totalitarianism. Bajo Palabra, (13). Recuperado a partir de https://revistas.uam.es/bajopalabra/article/view/8009
Resumen
Este artículo investiga, especialmente en los materiales inéditos del archivo de Gaos, la noción de totalitarismo como diagnóstico de su época. Gaos considera que a la modernización como proceso de laicización, tecnificación y degradación del sujeto y del vínculo social, se añaden los efectos de la guerra civil, el nazismo, el estalinismo, y el diagnóstico orteguiano de la "rebelión de las masas"; con ello, el totalitarismo, adquiere un alcance antropológico más que político.
Palabras Clave: Gaos, Modernidad, totalitarismo, crisis, filosofía contemporánea, tecnología, publicidad. 
Abstract:
This paper inquires —studying especially the unpublished notes preserved in his archive— into José Gaos's concept of totalitarianism as a diagnosis of his own time. Gaos considers that the effects of civil war, Nazism, Stalinism, and Ortega's thesis of the "revolt of the masses", must be added to modernization as a process of generalization of laicism, technique, and loss of value of the subject and of social ties. So widened, totalitarianism becomes an anthropological notion, rather than political.
Keywords: Gaos, Modernity, Totalitarianism, crisis, contemporary philosophy, technology, publicity
Descargas
Los datos de descargas todavía no están disponibles.