II. Democracia: problemas actuales
La democracia cansada. Globalización, postmodernidad y multiculturalismo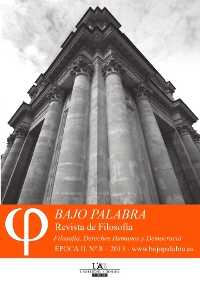 Publicado
febrero 10, 2016
Cómo citar
Caro Rey, J. (2016). La democracia cansada. Globalización, postmodernidad y multiculturalismo. Bajo Palabra, (8). Recuperado a partir de https://revistas.uam.es/bajopalabra/article/view/3151
Resumen
Este artículo se propone pensar nuestra "condición democrática" desde dos claves principales: la globalización y la postmodernidad. El panorama que de ese análisis se desprende es negativo en relación a la valoración de la democracia. Desde el punto de vista de la filosofía es preciso aportar una fundamentación que anime y contribuya a un cambio de rumbo: es preciso apreciar las potencialidades de nuestra democracia allí donde sólo vemos problemas: en la diferencia, en el escepticismo, en la incredulidad.
Palabras clave: modernidad cansada, democracia, globalización, postmodernidad, multiculturalismo, individualismo, utopía, progreso, terror, impertinencia, representatividad, transversalidad.
Abstract:
This article deals with our thoughts about a "democratic status" from two primary key aspects: globalization and postmodernity. The outlook that emerges from this analysis is negative in relation to the appraisal of democracy. From the point of view of philosophy, it is necessary to provide a foundation that will encourage and contribute to a change of course: it is necessary to appreciate the potential of our democracy in those areas where there are only problems: within diversity, skepticism, or disbelief.
Keywords: weary modernity, democracy, globalization, postmodernism, multiculturalism, individualism, utopia, progress, terror, impertinence, representativeness, transversality.
Descargas
Los datos de descargas todavía no están disponibles.