Artículos
Transformarse en médico: narrativas de discontinuidad y argumentos autobiográficos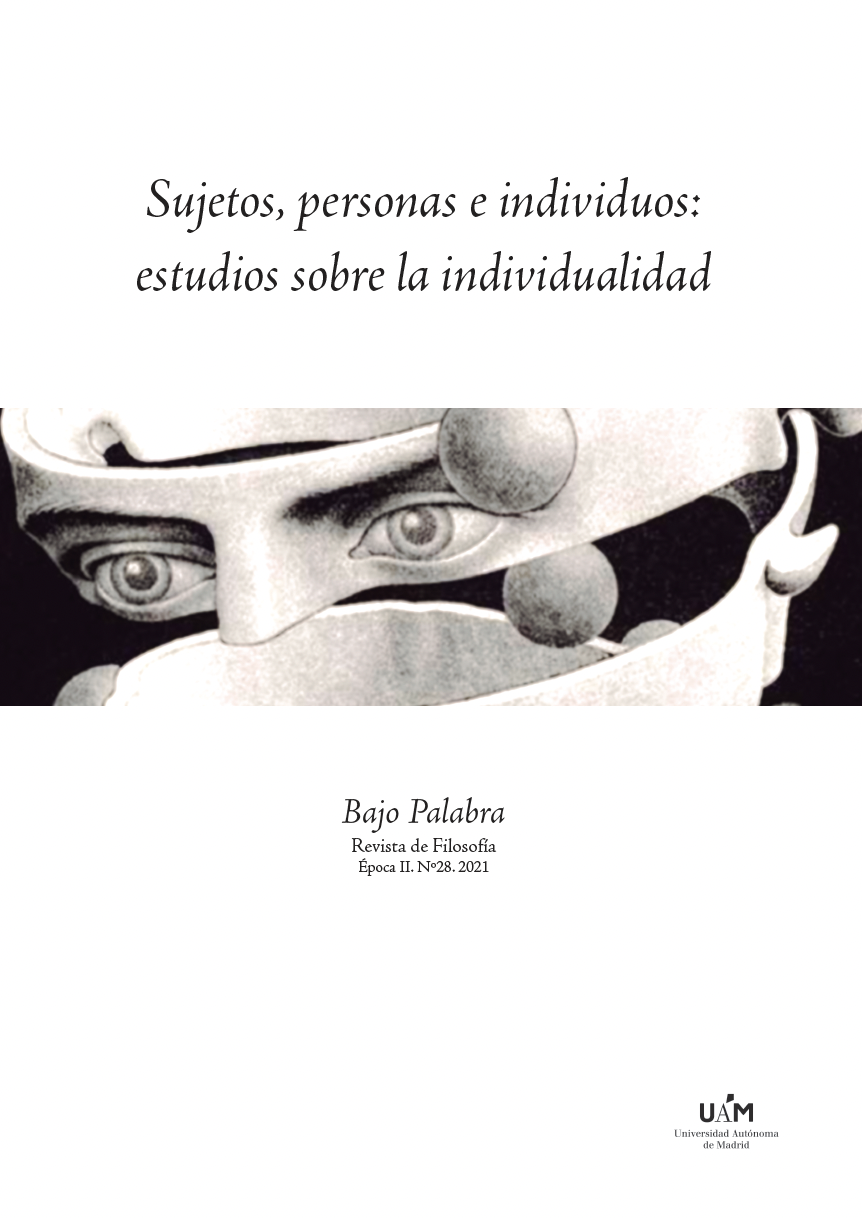 Publicado
diciembre 27, 2021
Palabras clave:
Identidad narrativa, problema de la persistencia, transformación, discontinuidad, argumentos autobiográficos
Cómo citar
Villanueva Lozano , M. . (2021). Transformarse en médico: narrativas de discontinuidad y argumentos autobiográficos. Bajo Palabra, (28), 200–215. https://doi.org/10.15366/bp2021.28.009
Derechos de autor 2021 Marcia Villanueva Lozano
Esta obra está bajo una licencia internacional Creative Commons Atribución 4.0.
Resumen
Este artículo presenta una aproximación al problema de la persistencia desde
un enfoque narrativo de la identidad personal para caracterizar lo que denomino
el problema de la transformación. Analizo
este problema utilizando experiencias de
médicos y estudiantes de medicina mexicanos que describen cómo fue para ellos
"transformarse en médico". Con estos
datos empíricos, exploro las narrativas
de discontinuidad que surgen con la
transformación, y los argumentos autobiográficos que se arguyen para reparar la
discontinuidad.
Descargas
Los datos de descargas todavía no están disponibles.
Citas
Conway, M., Singer, J., y Tahini, A. (2004). The Self and Autobiographical Memory: Correspondence and Coherence. Social Cognition, 22(5), pp. 491-529.
DOI: https://doi.org/10.1521/soco.22.5.491.50768
Dennett, D. (1978) Where am I? In Brainstorms. MIT Press.
Goffman, E. (2006[1963]). Estigma. La identidad deteriorada. Amorrortu.
Habermas, T., y Köber, C. (2015). Autobiographical reasoning in life narratives
buffers the effect of biographical disruptions on the sense of self-continuity. Memory, 23(5), 664-674. DOI: https://doi.org/10.1080/09658211.2014.920885
Lindemann, H. (2001). Damaged identities, narrative repair. Cornell University
Press.
Lindemann, H. (2014). Holding and Letting Go: The Social Practice of Personal
Identities. Oxford Scholarship Online. DOI: https://doi.org/10.1093/acprof:oso/9780199754922.001.0001
Locke, J. (1982[1690]). Ensayo sobre el entendimiento humano. Fondo de Cultura Económica.
Martin, R. (1998). Self-concern: an experiential approach to what matters
in survival. Cambridge University Press. DOI: https://doi.org/10.1017/
CBO9780511663826
Muñoz Corcuera, A. (2021). Persistence Narrativism and the Determinacy of
Personal Identity. Philosophia, 49 (2): 723-739. DOI: https://doi.org/10.1007/
s11406-020-00265-8
Olson. E. (2010). Personal Identity. Stanford Encyclopedia of Philosophy, Winter
Ed. Stanford University. (https://plato.stanford.edu/archives/win2010/entries/identity-personal/).
Parfit, D. (1984) Reasons and Persons. Clarendon Press.
Prebble, S., Addis, D. y Tippet L. (2013) Autobiographical Memory and Sense
of Self. Psychological Bulletin, 139(4), 815-840. DOI: https://doi.org/10.1037/
a0030146
Ribeiro, A., y Gonçalves, M. (2010). Commentary: Innovation and Stability
within the Dialogical Self: The Centrality of Ambivalence. Culture y Psychology,
(1), 116-126. DOI: https://doi.org/10.1177/1354067X09353211
Ricœur, P. (1996). Si? mismo como otro. Siglo XXI.
Serret, E. (2011). Hacia una redefinición de las identidades de género. Géneros,
(9), 71-97.
Schechtman, M. (1996). The constitution of selves. Cornell University Press.
Villanueva, M. (2011). Cacaos. Seminario de Medicina y Salud, Facultad de
Medicina, UNAM.
Villanueva, M. (2019). Somos médicos, no dioses: una etnografía filosófica de la
deshumanización de la medicina (Doctorado en Filosofía de la Ciencia). UNAM.
(Disponible en: https://tesiunam.dgb.unam.mx/F/RD6VVYMT98365E7XLMF4RYMN17UJYLFJVUY14DNI2SBUJNYXYE-07915?func=full-set-set&-
set_number=824442&set_entry=000001&format=999)
Wilkes, K. (1993). Real People: Personal Identity without Thought Experiments. Oxford
UP. DOI: https://doi.org/10.1093/acprof:oso/9780198240808.001.0001
Wilson, A., y Ashplant, T. (1988). Whig history and present-centred history. The
Historical Journal, 31(1), 1-16. DOI: https://doi.org/10.1017/
S0018246X00011961