Artículos
La mínima emisión de co2 y evaporación del agua hacen que la arena sea un desengrasante apto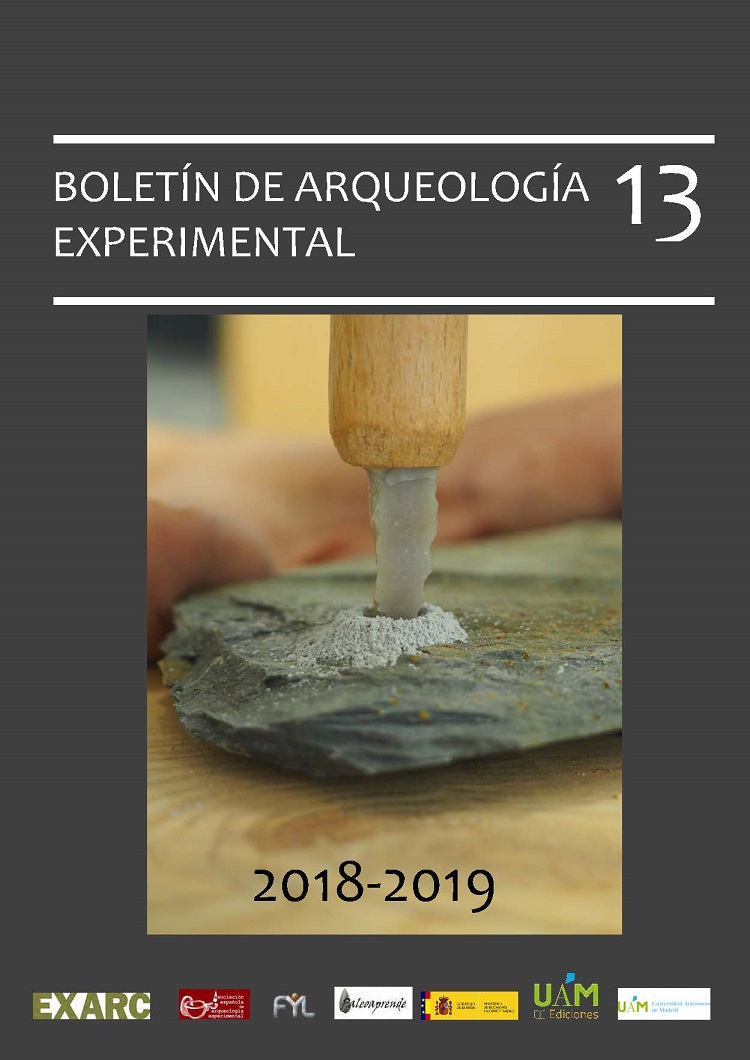 Palabras clave:
desgrasantes, arena, cerámica, impermeabilidad
Cómo citar
Beemnet, A. (2019). La mínima emisión de co2 y evaporación del agua hacen que la arena sea un desengrasante apto. Boletín De Arqueología Experimental, (13), 115–122. https://doi.org/10.15366/baexuam2018-19.13.008
Resumen
Este experimento tuvo el propósito de determinar el mejor desgrasante entre arena, cuarzo y serrín. Para lograr esto, se elaboraron tres cuencos de cerámica con una mezcla de 300 g de arcilla y 10 g de desgrasante. Después de esto, se comprobó su capacidad de absorción utilizando 80 ml de aceite en cada recipiente durante 30 minutos, después de lo cual se midió la cantidad restante de aceite. Este proceso se repitió una segunda vez. Los resultados indican que la arena es el mejor desgrasante, mientras que el serrín es el segundo mejor, dejando el cuarzo en el último lugar.
Descargas
Los datos de descargas todavía no están disponibles.
Citas
BELOIT COLLEGE (2013): "Pottery-Making Techniques." In Logan Museum of Anthropology. [Sitio web] [Publicación: 20/04/2013] https://www.beloit.edu/logan_online/exhibitions/virtual_exhibitions/north_america/southwest/techniques.php [Último acceso: 13/05/2017].
BETTS, C. M. (2000). Symbolic, cognitive, and technological dimensions of Orr phase Oneota ceramics. Tesis doctoral. University of Illinois, Urbana-Champaign.
CARTER, M. (2002): "Prehistoric Ceramic Production: Raw Materials and Firing Methods of the La Crosse Locality Oneota", University of Wisconsin-La Crosse Journal of Undergraduate Research, 5: 261-280. [Online] https://www.uwlax.edu/urc/jur-online/PDF/2002/M_Carter.pdf [Último acceso: 13/05/2017].
CHEMANI, H. Y CHEMANI, B. (2013): "Valorization of wood sawdust in making porous clay brick". Academic Journals, 8 (15): 609-614.
KILIKOGLOU, V., VEKINIS, G., MANIATIS, Y. y DAY, P. M. (1998): "Mechanical Performance of Quartz-Tempered Ceramics: Part I, Strength and Toughness". Archaeometry, 40 (2): 261-79.
https://doi.org/10.1111/j.1475-4754.1998.tb00837.x
RICE, P. M. (1987): Pottery Analysis: A Sourcebook, The University of Chicago Press, Chicago.
RICE, P. M. (1996): "Recent ceramic analysis: 1. Function, style, and origins". Journal of Archaeological Research, 4 (2): 133-163.
https://doi.org/10.1007/BF02229184
VIOLATTI, C. (2014): "Pottery in Antiquity" [Entrada en wiki] [Última modificación 13/09/2014] En Ancient History Encyclopedia [Wiki] https://www.ancient.eu/pottery/ [Último acceso 30/05/2019].