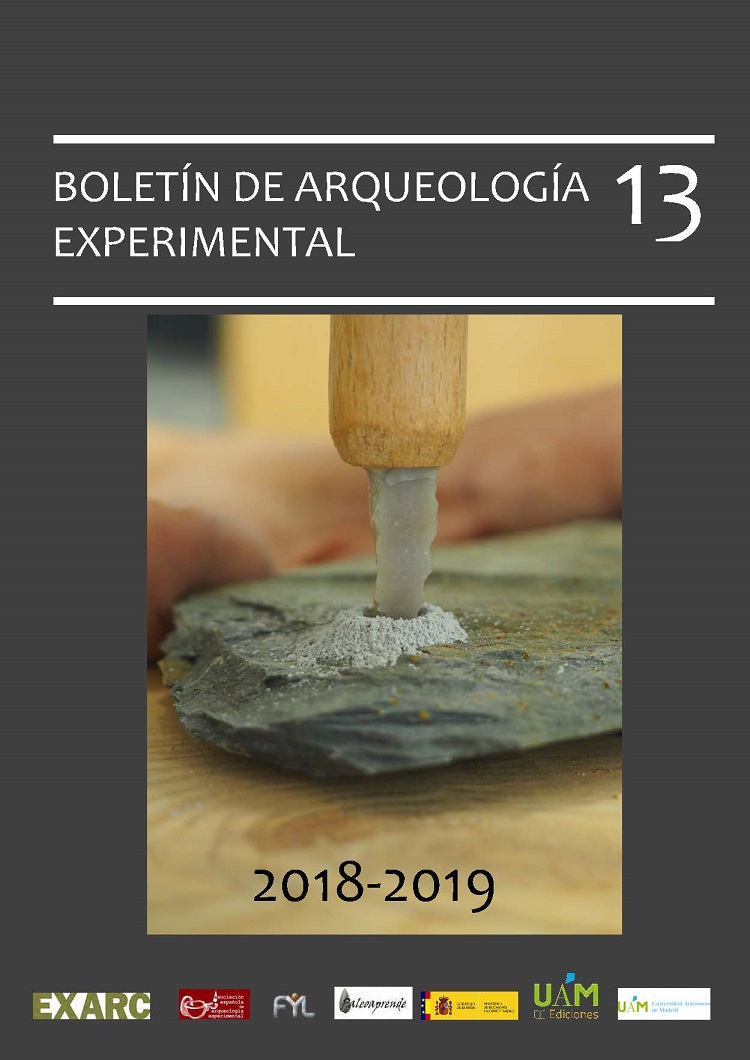 Palabras clave:
materias primas, porcelana, talla lítica
Resumen
Se presentan los resultados de una experiencia piloto sobre la fabricación de nódulos de porcelana con dos tipos de masa diferentes y varios colores. La experiencia tiene dos objetivos de cara a futuros programas experimentales. El primero es escoger la calidad de la masa porcelánica en función de su respuesta a la talla con varios percutores. El segundo objetivo es probar la visibilidad de los estigmas de talla en diferentes colores. Un tercer objetivo que subyace en este trabajo es adquirir la competencia en la fabricación de estos nódulos, buscando el autoabastecimiento del Laboratorio de Arqueología Experimental.
Citas
BAENA, J. y GONZÁLEZ, J. (1998): "Las materias primas". En J. BAENA (coord.). Talla lítica experimental. Introducción a la talla de utillaje prehistórico. BAR International Series, 721: 19-26. Oxford.
COTTERELL, B. (2010): Fracture and Life. Imperial College Press, Londres.
https://doi.org/10.1142/9781848162839
CRABTREE, D. E. (1971): "Notes on Experiments in Flintknapping 3: the flintknappers raw material". En CRABTREE, D. E. Experiments in Flintworking: 8-24. Idaho State University Museum, Pocatello.
DAVIS, A. J. y SHEA, J. J. (1988): "Quantifying Lithic Curation: an Experimental Test of Dibble and Pelcin's Original Flake-Tool Mass Predictor". Journal of Archaeological Science, 25: 603-610.
https://doi.org/10.1006/jasc.1997.0255
DIBBLE, H. L. y PELCIN, A. (1995): "The Effect of Hammer Mass and Velocity on Flake Mass". Journal of Archaeological Science, 22: 429-439.
https://doi.org/10.1006/jasc.1995.0042
DIBBLE, H. L. y WHITTAKER, J. (1981): "New experimental evidence on the relation between percussion flaking flake variation". Journal of Archaeological Science, 6: 283-296.
https://doi.org/10.1016/0305-4403(81)90004-2
Geribàs, N.; Mosquera, M. y Vergès, J. M. (2010): "What Novice Knappers Have to Learn to Become Expert Stone Toolmakers". Journal of Archaeological Science, 37: 2857-2870
https://doi.org/10.1016/j.jas.2010.06.026
HARWOOD, R. y CRANDELL, O. (2010): "Practical Applications of Dekton Artificial Rock for Experimental Archaeology and Traditional Lithic Technology". [Online]. Puget Sound Knappers http://pugetsoundknappers.com/interesting_stuff/Dekton.html. [Último acceso 15/03/2019]
KHREISHEH, N. N.; DAVIES, D. y BRADLEY, B. A. (2013): "Extending experimental control: the use of porcelain in flaked stone experimentation". Advances in Archaeological Practice, 1(1): 38-46.
https://doi.org/10.7183/2326-3768.1.1.37
ROY, B. (2009): "Prehistoric sites in Mandla, Madhya Pradesh (India), with evidence of using modern materials". Hukay, 14: 25-46.
SPETH, J. (1972): "Mechanical basis of percussion flaking". American Antiquity, 37: 34-60.
https://doi.org/10.2307/278884
WHITTAKER, J. C. (1994): "Flintknapping: Making and Understanding Stone Tools". University of Texas Press, Austin.
WHITTAKER, J. y STAFFORD, M. (1999): "Replicas, Fakes, and Art: the Twentieth Century Stone Age and its Effects on Archaeology". American Antiquity, 64(2): 203-214.