Artículos
Cien peces podridos en un pozo y evidencia arqueozoológica sobre la confiscación y eliminación de peces no aptos para consumo en los siglos XV y XVI en la ciudad de Tourcoing, Francia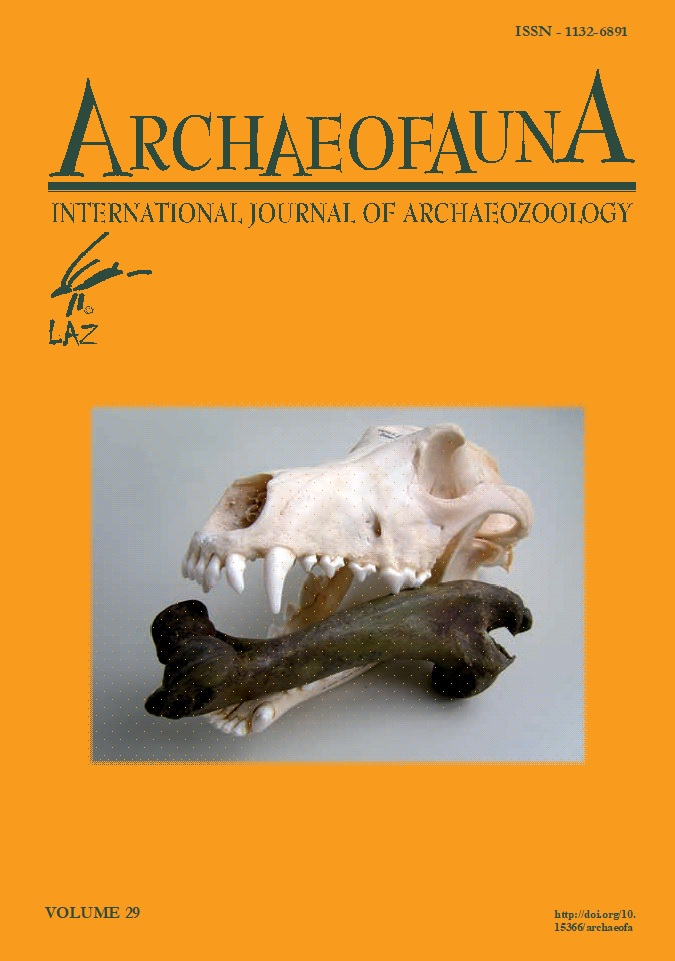 Palabras clave:
PESCADO, MERCADO, ZOOARQUEOLOGIA, ARCHIVOS MUNICIPALES, MEDIEVAL
Cómo citar
OUESLATI HALMA, T., & BARBIEUX, J. (2020). Cien peces podridos en un pozo y evidencia arqueozoológica sobre la confiscación y eliminación de peces no aptos para consumo en los siglos XV y XVI en la ciudad de Tourcoing, Francia. Archaeofauna, 29, 175–183. https://doi.org/10.15366/archaeofauna2020.29.011
Resumen
La plaza principal de la ciudad de Tourcoing (Francia) fue excavada en 1982. La excavación evidenció un foso lleno de esqueletos de peces que aún conservaban sus escamas. La totalidad del relleno de esta estructura datada entre los siglos XV-XVI fue recuperada y en 2016 los materiales fueron tamizados y analizados en el laboratorio de zooarqueología de la univer- sidad de Lille. Más de un centenar de esqueletos completos, representando eglefinos completos entre 35-71 cm de longitud total fueron identificados. Archivos contemporáneos de las ciudades de Lille y Douai evidenciaron la práctica de desechar y enterrar peces no aptos para el consu- mo y permiten valorar el hallazgo desde una perspectiva no anticipada. El trabajo relata como operaban los mercados de pescado y los tipos de control a que se sometía a los pescaderos. Se describirán, por último, ejemplos de violación de las ley, confiscaciones y juicios de los referidos en archivos locales.
Descargas
Los datos de descargas todavía no están disponibles.
Citas
AMEYE, J.; BARBIEUX, J.; LECOMPTE, A.; PINTIAUX, E.; PLATEAUX, A. & STOCK, B. 1985: Histoire de l'hôtel de ville de Tourcoing. Chroniques Tourquennoises Tome II, 230 pp.
CANNON, D.Y. 1987: Marine fish osteology, a manual for archaeologists. Department of Archaeology Simon Fraser University, Barnaby.
ESPINAS, G. 1913: La vie urbaine de Douai au Moyen-âge, t.2, Auguste Picard, Paris.
DESSE-BERSET, N. & DESSE, J. 2000: Salsamenta, garum et autres préparations de poissons. Ce qu'en disent les os. Mélanges de l'Ecole française de Rome. Antiquité 112: 73-97. https://doi.org/10.3406/mefr.2000.2116
HEINRICH, D. 2002: A Comparison of animal bones from two wrecks of ships (17th and 18th century) stranded on the North Sea coast of Schleswig-Holstein. Bonn. zool. Beitr. 50: 259-267.
KLIPPEL, W.E. & FALK, C.R. 2002: Atlantic cod in The Missouri River: Gadus morhua from Steamboat Bertrand. Archaeofauna 11: 23-44.
MATTSON, S. 1992: Food and feeding habits of fish species over a soft sublitioral botiom in the Northeast Atlantic. 3. Haddock (Melanogrammus aeglefinus (L.)) (Gadidae). Sarsia 77: 33-45. https://doi.org/10.1080/00364827.1992.10413490
NEEDS-HOWARTH, S.; MANDRAK, N.; WELAND, C.; LONGSTAFFE, F.; YAU, G. & AUSTIN, S. 2013: DNA barcoding and stable isotope analysis shed new light on the time-depth of Alosa pseudoharengus in Lake Ontario, poster presented at the International Council for Archaeozoology Fish Remains Working Group, Tallinn.
OUESLATI, T. 2013 : Analyse ichtyoarchéologique de la place du poisson de mer dans les pratiques alimentaires romaines du Nord de la France. In: Daire, M.-Y. ; Dupont, C. ; Baudry, A. ; Billard, C. ; Large, J.-M. ; Lespez, L.; Normand, E. & Scarre, C. (eds.): Anciens peuplements littoraux et relations Homme/ Milieu sur les côtes de l'Europe atlantique. B.A.R (International Series) 2570. Oxford.
OUESLATI, T. 2017: Aller à la pêche au gros et produire du garum à l'époque romaine dans le Nord de la Gaule. In : Villaescusa, R.G. ; Schörle, K. ; Gayet, F. & Rechin, F. (eds.): L'exploitation des ressources maritimes de l'Antiquité, Activités productives et organisation des territoires: 41-56. XIIe Colloque de l'Association AGER / XXXVIIe Rencontres Internationales d'Archéologie et d'Histoire d'Antibes. Éditions APDCA, Antibes.
OUESLATI, T. 2019: A French fish event at the turn of the 10th century? Environment, economy, and ethnicity in maritime Flanders, International Journal of Osteoarchaeology. https://onlinelibrary.wiley.com/doi/full/10.1002/ oa.2780. https://doi.org/10.1002/oa.2780
VAN NEER, W.; WOUTERS, W.; VILVORDER, F. & DEMANET, J.-C. 2009: Pont-à-Celles/Luttre: importation de poissons marins dans le vicus des «Bons-Villers» à Liberchies. Chronique de l'Archéologie wallonne 16: 46-48.
WHEELER, A. & JONES, A.K.G. 2009: Fishes. Cambridge University Press, Cambridge.