Artículos
Applying a Measure for Determining Season of Oyster Harvesting: A Case Study of a Pre- Columbian Florida site, USA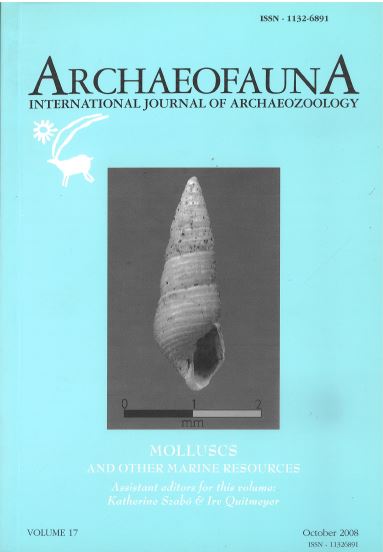 Publicado
octubre 4, 2016
Cómo citar
Fradkin, A. (2016). Applying a Measure for Determining Season of Oyster Harvesting: A Case Study of a Pre- Columbian Florida site, USA. Archaeofauna, (17). Recuperado a partir de https://revistas.uam.es/archaeofauna/article/view/6614
Resumen
Over the past two decades, several methods have been developed for determining seasonal patterns of shellfish collecting in archaeological faunal assemblages. One such technique involves the use of the impressed odostome (Boonea impressa), a gastropod that is an ectoparasite of oysters and often found in archaeological oyster middens when fine recovery methods (1.6 mm screen or smaller) are employed. Shell length measurements of archaeological odostomes are correlated with modern studies on the snail's annual growth cycle, ultimately indicating season(s) of oyster harvesting by the site inhabitants. This technique is applied to the archaeological faunal assemblage at Greenfield Site No. 5 (8DU5541), a pre-Columbian site located along the Atlantic coast in northeast Florida, U.S.A. Over 6,000 odostomes were recovered in the 1.6 mm mesh screens. Shell length measurements indicate that oysters were harvested in the summer through late autumn months (July-November).
Keywords: Oysters, Odostomes (Boonea impressa), Seasonality, Middens, Florida
Resumen:
Durante las dos últimas décadas, se han implementado una serie de métodos para determinar los patrones estacionales de recolección de conchas en muestras arqueológicas. Una de estas técnicas hace uso de una especie de odostoma (Boonea impressa), un gasterópodo ectoparásito de la ostra que se recupera en los concheros al emplear métodos de recogida muy selectivos (luces de malla de 1-6 mm como máximo). Las medidas de longitud de concha de los odostomas arqueológicos han sido correlacionados con los resultados procedentes de estudios actuales sobre el ciclo de crecimiento del molusco. En última instancia esta metodología nos indica el momento de captura de las ostras por parte de los pobladores de los yacimientos. La técnica ha sido aplicada a una muestra procedente del yacimiento nº 5 del sitio Greenfield (8DU5541), un asentamiento precolombino de la costa atlántica nordoriental de Florida, U.S.A. Más de 6.000 odostomas fueron recuperados con los tamices de 1,6 mm. Las longitudes de las conchas apuntan a que las ostras fueron recolectadas entre los meses de verano a otoño tardío (julio-noviembre).
Palabras clave: Ostras, Odostomas (Boonea impressa), Estacionalidad, Concheros, Florida
Descargas
Los datos de descargas todavía no están disponibles.