Artículos
Investigations on Archaeological Cerastoderma glaucum Population from Troia (Turkey) and Their Potential for Palaeoeconomical Reconstruction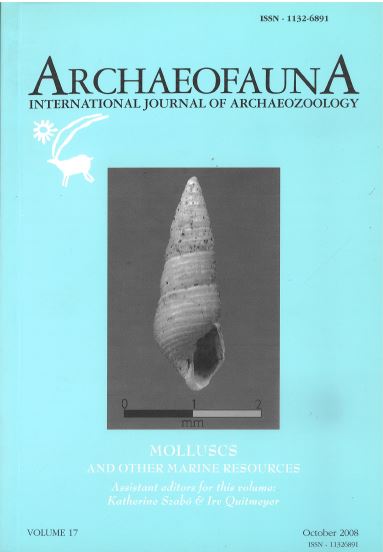 Publicado
octubre 4, 2016
Cómo citar
Çakirlar, C. (2016). Investigations on Archaeological Cerastoderma glaucum Population from Troia (Turkey) and Their Potential for Palaeoeconomical Reconstruction. Archaeofauna, (17). Recuperado a partir de https://revistas.uam.es/archaeofauna/article/view/6609
Resumen
The nature of shellfishing in the subsistence economy and the role of shellfish in the diet of Bronze Age Troia are questioned in this paper. A prominent feature of the archaeozoological assemblages of the site are remains of Cerastoderma glaucum. Relative abundance of taxa, mean valve height and estimated age range of C. glaucum populations were used as analytical tools to estimate the relative importance of this resource. Analyses indicate that shellfishing activity was more intense during the Early Bronze Age than in the Late Bronze Age, but shellfish consumed during the Late Bronze Age yielded more flesh per individual. Potentially, the average Late Bronze Age C. glaucum individual contributed more calories and protein to the diet than the average Early Bronze Age C. glaucum. Results from Middle Bronze Age samples are ambiguous. This ambiguity can be related to climatic changes that occurred at the time, but a bigger sample size is needed for a more satisfactory explanation of the patterns observed.
Keyworsds: Troia, Shellfishing, Cerastoderma glaucum, Subsistence economy, Bronze Age
Resumen:
En este trabajo se cuestionan la naturaleza del marisqueo en las economías de subsistencia y el papel de los moluscos en la dieta de la Troya de la Edad del Bronce. Un rasgo característico de las colecciones arqueozoológicas de este yacimiento son los restos de Cerastoderma glaucum. La abundancia relativa de taxones, la altura media de las valvas y el rango de edad estimada en las poblaciones de este berberecho han sido utilizadas como herramientas analíticas para estimar la importancia relativa de este recurso. Los análisis indican que la actividad del marisqueo fue más intensa durante la temprana Edad del Bronce que durante la Edad del Bronce Tardío, si bien los moluscos consumidos en esta última etapa proporcionaron mayor aporte cárnico por individuo. En potencia el individuo promedio de C. glaucum de la tardía Edad del Bronce proporcionaba más calorías y proteínas a la dieta que el individuo promedio de esta especie procedente de la temprana Edad del Bronce. Los resultados de las muestras del Bronce Medio son ambiguos. Esta ambigüedad puede estar relacionada con cambios climáticos que ocurrieron en esos momentos si bien serán necesarias nuevas muestras de mayor envergadura para alcanzar una explicación mas satisfactoria a los patrones que se detectan.
Palabras clave: Troya, Marisqueo, Cerastoderma glaucum, Economía de subsistencia, Edad del Bronce
Descargas
Los datos de descargas todavía no están disponibles.