Artículos
«Y los días goteaban sangre»: el otro y su (re)construcción a través de la maldad en una isla en el mar Rojo (1939), de Wenceslao Fernández Flórez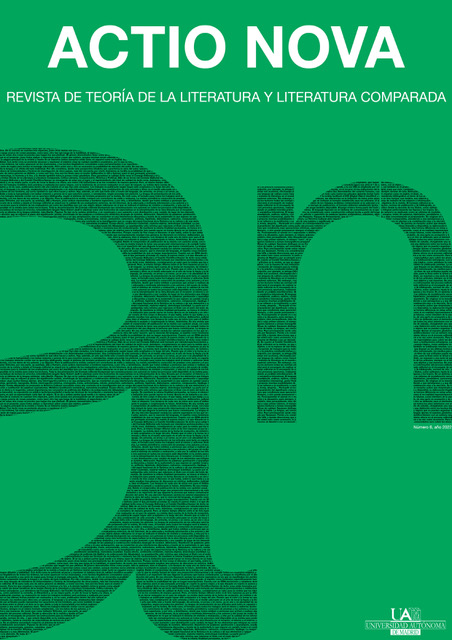 Publicado
diciembre 29, 2022
Palabras clave:
Wenceslao Fernández Flórez, Guerra civil española, deshumanización, otredad, maniqueísmo
Cómo citar
García Martín, F. D. (2022). «Y los días goteaban sangre»: el otro y su (re)construcción a través de la maldad en una isla en el mar Rojo (1939), de Wenceslao Fernández Flórez. ACTIO NOVA: Revista De Teoría De La Literatura Y Literatura Comparada, (6), 279–300. https://doi.org/10.15366/actionova2022.6.012
Derechos de autor 2022 Francisco David García Martín
Esta obra está bajo una licencia Creative Commons Reconocimiento-NoComercial 3.0 Unported.
Resumen
La reflexión sobre el concepto del mal puede tomar aspectos muy variados en el contexto de un enfrentamiento entre dos grupos opuestos. El proceso de construcción del otro, que deja atrás la razón y la evaluación de las características para recurrir a la generalización, se puede convertir en la base ideal sobre la cual llevar a cabo la deshumanización y objetualización del individuo, tal y como sucedió durante la Guerra Civil española. En este trabajo pretendemos analizar la interrelación existente entre la recreación del exogrupo y su adscripción a un determinado concepto de maldad, tal y como se presenta en la novela Una isla en el mar rojo (1939), de Wenceslao Fernández Flórez. En esta obra, la realidad de lo sucedido se confunde con la ficción a lo largo de unas páginas en las que la idea del mal es delimitada con claridad, en una narración que presenta a los republicanos como la quintaesencia de la vileza. El mal es ficcionalizado en esta novela, al mismo tiempo que se convierte en un instrumento de la acción política; líneas que pretendemos exponer a continuación.
Descargas
Los datos de descargas todavía no están disponibles.
Citas
Alt, Peter-André (2011): «Mephisto's Principles: On the Construction of Evil in Goethe's Faust I», en The Modern Language Review, 106: 149-163.
Álvarez, Antonio (2017): Enciclopedia Álvarez. Tercer Grado, Madrid, Edaf.
Arendt, Hannah (1958): The Origins of Totalitarianism, Cleveland, The World Publishing Company.
Asay, Jamin (2014): «Against "Truth"», en Erkenntnis, 79: 147-164.
Babic, Johan (2004): «Toleration vs. Doctrinal Evil in Our Time», en The Journal of Ethics, 8: 225-250.
Beevor, Antony (2006): The Battle for Spain, Londres, Orion Books.
Bernstein, Richard J. (2002): «Reflections on Radical Evil: Arendt and Kant», en Soundings, 85: 17-30.
Casanova, Julián (2014): Historia de España. República y guerra civil (vol. 8), Barcelona, Crítica/Marcial Pons.
Colmeiro, José (2013): Memoria histórica e identidad cultural, Barcelona, Anthropos.
Cuesta, Josefina (2008): La odisea de la memoria, Madrid, Alianza Editorial.
Davis, Madison J. (2018): «Where Is a Bad Guy When You Really Need One? Antagonists and Master Criminals», en World Literature Today, 92: 12-14.
De la Cueva, Julio (1998): «Religious Persecution, Anticlerical Tradition and Revolution: On Atrocities against the Clergy during the Spanish Civil War», en The Journal of Contemporary History, 33: 355-369.
Fernández Flórez, Wenceslao (1966): Obras completas. Tomo IV, Madrid, Aguilar.
Flemming, Arthur (1986): «Omnibenevolence and Evil», en Ethics, 96: 261-281.
Formosa, Paul (2007): «Understanding Evil Acts», en Human Studies, 30: 57-77.
Foucault, Michel (2004) : Philosophie (anthologie), Paris, Gallimard.
García Santesmases, Antonio (2011): «Religión y espacio público: los nuevos retos del laicismo», en Viento Sur, 114: 43-52.
Garrard, Eve (2002): «Evil as an Explanatory Concept», en The Monist, 85: 320-336.
Gimelli Martin, Catherine (2016): « The "Reason" of Radical Evil: Shakespeare, Milton, and the Ethical Philosophers», en Studies in Philology, 113: 163-197.
Gomis, Lorenzo (1964): «Crónica: Wenceslao Fernández Flórez», en El Ciervo, 126: 13.
Hoover, Jon (2007): Ibn Taymiyya's Theodicy of Perpetual Optimism, Leiden, Brill.
Horne, Brian (2003): «On the representation of evil in modern literature», en New Blackfriars, 84 (983): 30-42.
Kane, G. Stanley (1975): «The Concept of Divine Goodness and the Problem of Evil», en Religious Studies, 11: 49-71.
Kelsey, Morton T. (1974): «The Mythology of Evil», en Journal of Religion and Health. 13: 7-18.
Kershaw, Ian (2015): Hitler, Barcelona, Península.
Khan, Abrahim H. (1975): «Kierkegaard's Conception of Evil», en Journal of Religion and Health, 14: 63-66.
Law, Stephen (2010): «The evil-god challenge», en Religious Studies, 46 (3): 353-373.
Long, A.A. (1968): «The Stoic Concept of Evil», en The Philosophical Quarterly, 18 (73): 329-343.
Mackenzie, J.L. (1911): «The Meaning of Good and Evil», en International Journal of Ethics, 21 (3): 251-268.
Martínez Cachero, José María (2009): Liras entre lanzas. Historia de la Literatura «Nacional» en la Guerra Civil, Madrid, Castalia.
Newman, Jeffrey (2014): «Hannah Arendt: Radical Evil, Radical Hope», en European Judaism, 47: 60-71.
Pena-Ruiz, Henri (2008): «Los retos del laicismo y su futuro», en Revista Internacional de Filosofía Política, 31: 199-218.
Pettit, Philip (2017): Republicanismo. Una teoría sobre la libertad y el gobierno, Barcelona, Paidós.
Perrett, Roy W. (2002): «Evil and Human Nature», en The Monist, 85: 304-319.
Preston, Paul (2011): El holocausto español, Barcelona, Debolsillo.
Said, Edward (2010): Orientalismo, Barcelona, Debolsillo.
Schott, Robin May (2008): «Just War and the Problem of Evil», en Hypatia, 23: 122-140.
Shakespeare, William (2007): The Tempest, Londres, Penguin Books.
Singer, Marcus G. (2004): «The Concept of Evil», en Philosophy, 79 (308): 185-214.
Stanley, Jason (2018): Facha. Cómo funciona el fascismo y cómo ha entrado en tu vida, Barcelona, Blakie Books.
Thomas, Hugh (2018): La Guerra Civil española, Barcelona, Debolsillo.
Trapiello, Andrés (2010): Las armas y las letras, Madrid, Destino.
Treloar, John L. (1988): «Tolkien and Christian Concepts of Evil: Apocalypse and Privation», en Mythlore, 56: 57-60.
Von Grunebaum, G. E. (1970): «Observations on the Muslim Concept of Evil», en Studia Islamica, 31: 117-134.
Wargo, Robert J.J. (1990): «Japanese Ethics: Beyond Good and Evil», en Philosophy East and West, 40: 499-509.