Monográfico
Entre convivencia y disidencia: algunas observaciones sobre prácticas y discursos en torno al humor y la ironía en el contexto africano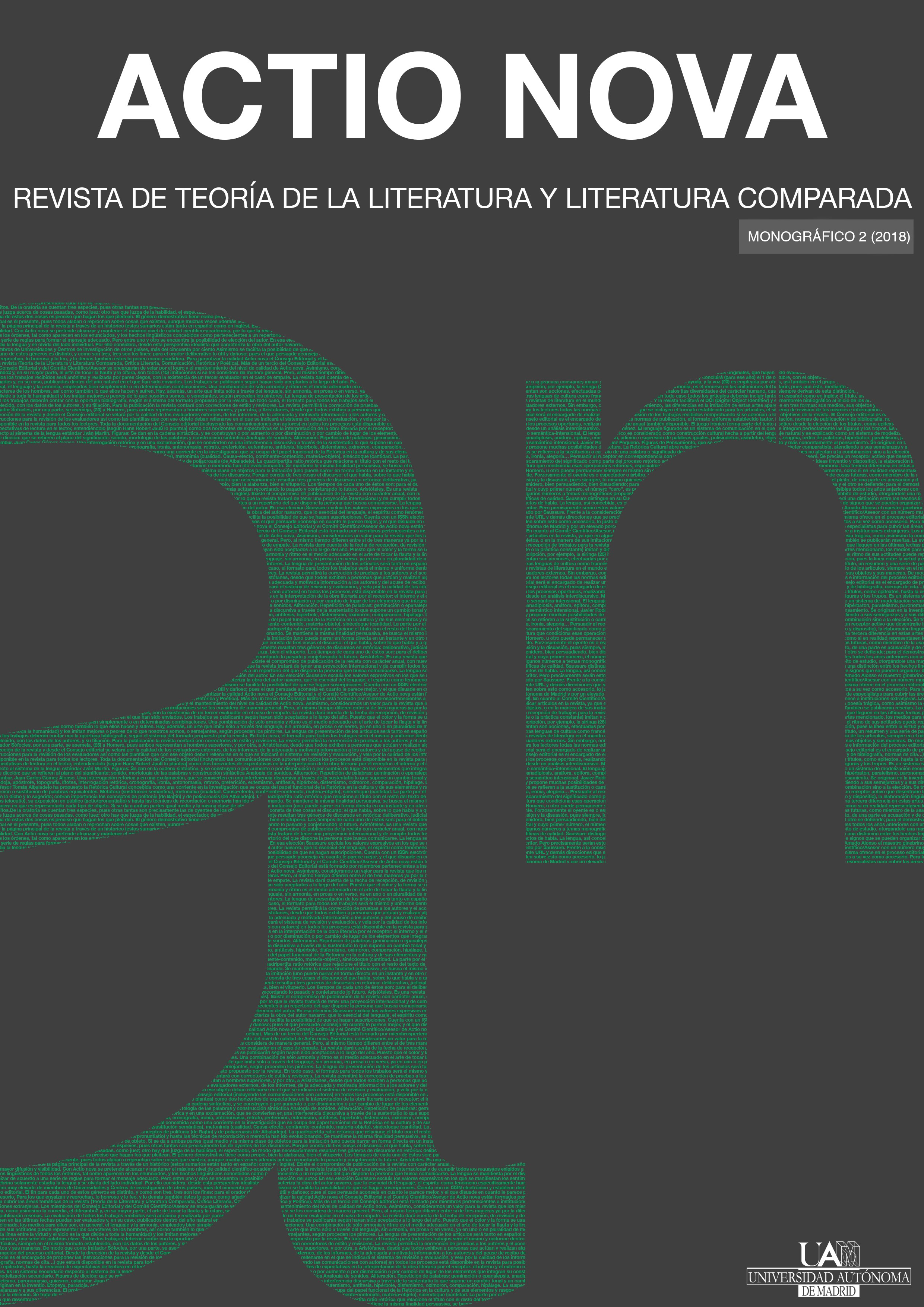 Publicado
diciembre 28, 2018
Palabras clave:
África subsahariana, humor, entusiasmo vitalista, convivencia, disidencia
Cómo citar
Ambadiang, T. (2018). Entre convivencia y disidencia: algunas observaciones sobre prácticas y discursos en torno al humor y la ironía en el contexto africano. ACTIO NOVA: Revista De Teoría De La Literatura Y Literatura Comparada, (2), 142–167. https://doi.org/10.15366/actionova2018.m2.007
Derechos de autor 2018 ACTIO NOVA: Revista de Teoría de la Literatura y Literatura Comparada
Esta obra está bajo una licencia Creative Commons Reconocimiento-NoComercial 3.0 Unported.
Resumen
Una paradoja característica del África subsahariana está basada en la co-presencia y ubicuidad del sufrimiento e incluso de la abyección por un lado y de la risa y el humor por otro. Las explicaciones que se han propuesto al respecto resultan parciales en el sentido de que obvian parte de la historia del colectivo afr(ican)o o bien tratan separadamente las prácticas humorísticas según sean populares o no. Intentamos mostrar que esa situación paradójica también se produce en la diáspora de origen africano y, por tanto, no se puede disociar de un ethos africano del humor que está estrechamente ligado a un entusiasmo vitalista típicamente afr(ican)o. El cometido del trabajo consiste esencialmente en examinar las prácticas humorísticas, en tanto que manifestaciones de esta actitud, desde el punto de vista de los cambios funcionales y formales que han sufrido a lo largo de la historia reciente.
Descargas
Los datos de descargas todavía no están disponibles.
Citas
Adebanwi, W. (2014) «The writer as social thinker», en Journal of Contemporary African Studies, 32, 4, págs. 405–420.
Ambadiang, Th. (2005) «Historia(s) e imaginación en África: cuando la resistencia se hace intertextualidad», en Studia Africana, 16, págs. 24-33.
Ambadiang, Th. (2010) «Public sphere, linguistic sphericules and discourse communities in Africa», en Africa Development, 35, 1/2, págs. 1-26.
Ambadiang, Th. (2012) «Alteridades variables en un multiverso sociocultural: dinámicas identitarias y fronteras en el África subsahariana» (Ms.)
Anchimbe, E. A. (2013) Language policy and identity construction: the dynamics of Cameroon's multilingualism, Ámsterdam, John Benjamins.
Bouquet, B. y J. Riffault (2010) «L'humour dans les diverses forms du rire», en Vie sociale, págs.13-22.
Chabal, P. (2009) Africa: The politics of suffering and smiling, Londres, Zed Books.
Chabrol, C. (2006) «Définitions, genres et cultures», en Questions de communication, 10, págs. 7-17.
Charaudeau, P. (2006) «Définitions, genres et cultures», en Questions de communication, 10, págs. 19-41.
Dabo Sissoko, F. (1950) «L'humour africain», en Présence Africaine, 8/9, págs. 227-240.
Comaroff, J.L. y J. Comaroff (eds./2006) Law and disorder in the postcolony, Chicago, The University of Chicago Press.
Ekeh, P. (1975) «Colonialism and the two publics in Africa: A theoretical statement», en Comparative Studies in Society and History, 17, 1, págs. 91-112.
Essaydi, H. (2017) «L'humour africain est une poétique de la dissidence» (Les Ateliers de la pensée #2; propos recueillis par Matteo Maillard), en Le Monde, 07 novembre 2017.
Fabian, J. (1997) [1978] «Popular culture in Africa», en K. Barber (ed.), Readings in African popular culture, Bloomington/Oxford, The IAI in collaboration with Indiana University Press & James Currey, págs.18-28.
Hagberg, S. (2006) «Bobo buveurs, Yarse colporteurs. Parenté à plaisanterie dans le débat public burkinabè», en Cahiers d'Études Africaines, XLVI, 4, 184, págs. 861-881.
Hagberg, S. (2007) «The politics of joking relationships in Burkina Faso», en Zeitschrift fur Ethnologie, 131, 2, págs. 197-214.
Holoch, A.M. (2012) The serious work of humor in postcolonial literature, Tesis doctoral, Universidad de Iowa.
Mason, C.B. (2008) The dynamics of black humor from Africa to America and the transformation from slavery to the twentieth century, Tesis de Maestría, Universidad Clark de Atlanta.
Mbembe, A. (1992) «The banality of power and the aesthetic of vulgarity in the postcolony», en Public Culture, 4, 2, págs. 1-30.
Mbembe, A. (2001) On the postcolony, Berkeley y Los Angeles, University of California Press.
Mulo Farenkia, B. (2011) «Formes de 'mise à distance' de l'altérité ethnique au Cameroun», en Journal of Pragmatics, 43, págs. 1484-1497.
Obadare, E. (2009) «The uses of ridicule: Humour, 'infrapolitics' and civil society in Nigeria», en African Affairs, 4, págs. 92-112.
Obadare, E. (2010) «State of travesty: Jokes and the logics of socio-cultural improvisation in Africa», en Critical African Studies, 4, págs.
-112.
Obadare, E. (2016) Humour, silence, and civil society in Nigeria, Rochester University Press.
Eghosa E. Osaghae, E, E. (2006) «Colonialism and civil society in Africa: The perspective of Ekeh's two publics», en International Journal of Voluntary and Nonprofit Organizations, 17, 3, págs. 233-245.
Roelofs, P. (2017) «Book Review: Humour, silence, and civil society in Nigeria by E. Obadare, Rochester University Press, 2016) [blogs.lse.ac.uk>africaatlse>2017/03/03].
Simedoh, K. V. (2008) L'humour et l'ironie en litterature francophone subsaharienne. Une poétique du rire, Tesis doctoral de la Universidad de Queen's.
Simedoh, V. (2012) L'humour et l'ironie en littérature francopohone subsaharienne. Des enjeux critiques à une poétique du rire, Nueva York, Peter Lang.
Veit-Wild, F. (2005) «The grotesque body of the postcolony: Sony Labou Tansi and Dambudzo Marechera», en Revue de Littérature Comparée, 2, 314, págs. 227-266.