Presentación del Monográfico
Aplicación del concepto experiencia crítica al análisis de innovaciones educativas.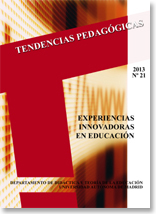 Publicado
octubre 23, 2015
Palabras clave:
Experiencia crítica, innovación educativa, etnografía histórica, escuela primaria, formación del profesorado.
Resumen
Peter Woods, en 1993, definió el concepto experiencia crítica para luego aplicarlo al análisis de realidades educativas dentro del campo de la etnografía histórica. En el presente estudio se plantea la utilidad que dicho concepto podría tener en la actualidad en el análisis de proyectos innovadores en el contexto educativo. Para ilustrar las posibilidades y alimentar la discusión, se analiza un proyecto concreto utilizando los elementos que definen una experiencia crítica según Woods.
Citas
Angelides, P. (2001). Using critical incidents to understand school cultures. Improving Schools, 4(1), 24-33.
Ayats, J. (2007). Les chants traditionnels des Pays Catalans. Toulouse: Centre Occitan des Musiques et Danses Traditionelles Toulouse Midi-Pyrénées. Baquero, R., Cimolai, S., Pérez, A., & Toscano, A. (2005). Las prácticas psicoeducativas y el problema de la educabilidad: La escuela como superficie de emergencia. Revista de Investigación en Psicología, 8(1),121-137.
Blanco, N. (2005). Innovar más allá de las reformas: Reconocer el saber de la escuela. Revista Iberoamericana sobre Calidad, Eficacia y Cambio en
Educación, 3(1), 372-381. Consulta (30/01/2011):
Boixader, A. (2006). Innovació en el currículum de Ciències Socials i formación del professorat. Una recerca-acció. Tesis doctoral, Universitat Autònoma de Barcelona. Consulta (01/03/2011): http://www.tdx.cat/TDX-0524106-111018
Carbonell, J. (2001). La aventura de innovar: El cambio en la escuela. Madrid: Morata.
Carrillo, C., & Baguley, M. (2011). From school teacher to university lecturer: Illuminating the journey from the classroom to the university for two arts educators. Teaching and Teacher Education, 27(1), 62-72.
Casals, A. (2009). La cançó amb text improvisat: Disseny i experimentació d'una proposta interdisciplinària per a primària. Tesis doctoral, Universitat Autònoma de Barcelona. Consulta (01/03/2011): http://www.tdx.cat/TDX-0324110-114328
Casals, A. (Ed.). (2010). Corrandescola: Proposta didàctica per treballar la glosa a primària. Cerdanyola del Vallès: Institut de Ciències de l'Educació de la Universitat Autònoma de Barcelona.
Casals, A., Vilar, M., & Ayats, J. (2008). La investigación-acción colaborativa: Reflexiones metodológicas a partir de su aplicación en un proyecto de música y lengua. Revista Electrónica Complutense de Investigación en Educación Musical, 5(4), 1-17. Consulta (28/02/2011):
http://www.ucm.es/info/reciem/
De la Calle, R. (2001). John Dewey: experiencia estética & experiencia crítica. Valencia: Edicions Alfons el Magnànim.
Dolz, J., Gagnon, R., & Mosquera, S. (2009). La didáctica de las lenguas: Una disciplina en proceso de construcción. Didáctica. Lengua y Literatura, 21,117-141.
Garzia, J. (2007). Bertsolaritza in the School Curriculum. Oral Tradition, 22(2), 69-76. Consulta (22/01/2011):
http://journal.oraltradition.org/issues/22ii/garzia2
Garzia, J., Sarasua, J., & Egaña, A. (2001). El arte del bertsolarismo. Realidades y claves para la improvisación oral vasca. Donostia: Bertsolari Liburuak.
Lebler, D. (2007). Student-as-master? reflections on a learning innovation in popular music pedagogy. International Journal of Music Education, 25(3),205-221.
Malagarriga, T., Gómez, I., & Viladot, L. (2008). Innovar e investigar en el aula de música. Cultura y Educación, 20(1), 63-78.
Malagarriga, T., & Martínez, M. (Eds.). (2010). Tot ho podem expressar amb música: Els nens de 4 a 7 anys pensen la música, parlen de música, fan música. Barcelona: Dinsic.
Martínez Bonafé, J. (2008). El olvido de la investigación-acción en el asesoramiento docente y la innovación educativa. Profesorado, Revista de Curriculum y Formación del Profesorado, 12(1), 1-10. Consulta
(01/03/2011): http://www.ugr.es/~recfpro/rev121ART3.pdf
Mertova, P. & Webster, L. (2009). The academic voice in English and Czech higher education quality. Quality Assurance in Education, 17 2), 140-155.
Monereo, C. (2010). La formación del profesorado: una pauta para el anàlisis e intervención a través de incidentes críticos. Revista Iberoamericana de
Educación, 52, 149-178. Consulta (01/03/2011):
http://www.rieoei.org/rie52a08.pdf
Nilsson, P. (2009). From lesson plan to new comprehension: Exploring student teachers' pedagogical reasoning in learning about teaching. European
Journal of Teacher Education, 32(3), 239-258.
Palou, J. (2008). L'ensenyament i l'aprenentatge del català com a primera llengua a l'escola: Creences i actuacions dels mestres amb relació a les
activitats de llengua oral a l'etapa primària. Barcelona: Institut d'Estudis Catalans.
Serrà, A. (2005). Funció del glosador en la societat preindustrial. En F. Munar (Ed.), Formes d'expressió oral (pp. 9-11). Manacor: Consell de Mallorca / Associació Cultural Es canonge de Santa Cirga.
Stenhouse, L. (1987). La investigación como base de la enseñanza. Madrid: Morata.
Tripp, D. (1993). Critical incidents in teaching: developing professional judgment. London: Routledge.
Vidal, J., Duran, D., & Vilar, M. (2010). Aprendizaje musical con métodos cooperativos. Cultura y Educación, 22(2), 363-373.
Woods, P. (1997). Experiencias críticas en la enseñanza y el aprendizaje (trad. de J. Bayo). Barcelona: Paidós. [V.O.: Critical events in teaching and learning. Londres: The Falmer Press, 1993].
Woods, P. (1998). Investigar el arte de la escuela: el uso de la etnografía en la educación (trad. D. Menezo). Barcelona: Paidós Ibérica. [V.O.: Researching the Art of Teaching Ethnography for Educational Use. Londres: Routledge,1996].