Artículos
El giro del Derecho Internacional a las Relaciones Internacionales en Hans J. Morgenthau: una transición mediada por la Historia | <em>Hans J. Morgenthau´s Turn from International Law to International Relations: a Transition Affected by History</em>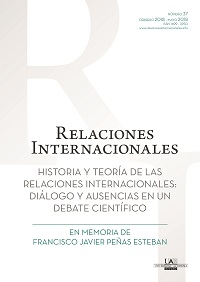 Publicado
febrero 22, 2018
Palabras clave:
Hans J. Morgenthau, Realismo político, Relaciones Internacionales, Filosofía del Derecho Internacional, Historia de las ideas políticas, Political Realism, International Relations, Philosophy of International Law, History of Political Thought
Cómo citar
GARCÍA SÁEZ, J. A. (2018). El giro del Derecho Internacional a las Relaciones Internacionales en Hans J. Morgenthau: una transición mediada por la Historia | <em>Hans J. Morgenthau´s Turn from International Law to International Relations: a Transition Affected by History</em>. Relaciones Internacionales, (37). https://doi.org/10.15366/relacionesinternacionales2018.37.002
Resumen
Este texto aborda el papel que las consideraciones históricas desempeñaron en un movimiento teórico sustancial: el paso que a partir de los años cuarenta se produce desde el Derecho Internacional a las Relaciones Internacionales en tanto que principal disciplina ordenadora del ámbito interestatal. Se tomará a Hans J. Morgenthau como el ejemplo más claro de este movimiento. Al igual que tantos otros intelectuales europeos exiliados en Estados Unidos, el cambio de continente y de contexto académico implicará para Morgenthau el salto del estudio del Derecho al estudio de la Política. Para explicar este movimiento y, en concreto, el peso que la Historia tiene en él, se estructurará el artículo en los siguientes apartados: 1) la formación de Morgenthau como un jurista siempre interesado en la Historia y en las relaciones de poder, fuertemente influido por las teorías de Simmel, Mannheim y Schütz y su determinación situacional del conocimiento; 2) el análisis de su poco conocida obra Scientific Man versus Power Politics (1946) como punto clave del historicismo de Morgenthau; y 3) la crítica a la jurisdicción internacional como punto de ruptura con la Ciencia jurídica.
This paper deals with the role that historical issues had in an outstanding theoretical movement: the turn that since the forties is performed from International Law to International Relations as main normative discipline in international field. Hans J. Morgenthau will be taken as the most representative author from this movement. Likewise many other European intellectuals exiled in the United States, changing their continent and scientific environment caused for Morgenthau the switch from Law Studies to Political Studies. In order to fully understand this transition and, specifically, the role that History has in it, this paper article is structured as follows: 1) the education of Morgenthau as a lawyer interested in History and in power politics, strongly influenced by the theories of Simmel, Mannheim and Schütz and the situational determination of knowledge; 2) the analysis of his not well known book Scientific Man versus Power Politics (1946) as a milestone of Morgenthau´s historicism; and 3) its criticism to international courts as breaking point with Legal Science.
Citas
AGUILÓ REGLA, Josep, "Positivismo y postpositivismo. Dos paradigmas jurídicos en pocas palabras", en Doxa. Cuadernos de Filosofía del Derecho, nº 30, 2007, pp. 665-675
AMSTRUP, Niels, "The "Early" Morgenthau. A Comment on the Intellectual Origins of Realism", en Co-operation and Conflict, 13, 1978, pp. 163-175
ANZILOTTI, Dionisio, Scritti di Diritto Internazionale Pubblico, CEDAM, Pádua, 1956
ARENDT, Hannah, Eichmann en Jerusalén, trad. de Carlos Ribalta, Debolsillo, Barcelona, 2010 [1963]
BARBÉ, Esther, "El papel del realismo en las relaciones internacionales (La teoría de la política interna-cional de Hans J. Morgenthau)", en Revista de Estudios Políticos (Nueva Época), nº 57, Julio-Septiembre, 1987, pp. 149-176
— "Estudio preliminar", en MORGENTHAU, Hans J., Escritos sobre política internacional, ed. y trad. de Esther Barbé, Tecnos, Madrid, 1990
BEHR, Hartmut y RÖSCH, Felix, "Introduction", en MORGENTHAU, Hans J., The Concept of the Political, Palgrave Macmillan, Basingstoke, 2012 [1933], pp. 1-79
von BERNSTORFF, Jochen, "Peace and Global Justice throught Prosecuting the Crime of Aggression? Kelsen and Morgenthau on the Nuremberg Trials and the International Judicial Function", en TEL-MAN, D. A. Jeremy (ed.), Hans Kelsen in America - Selective Affinities and the Mysteries of Academic Influence, Springer, 2016, pp. 85-99
BROWN, Cris, "The Twilight of International Morality'? Hans J. Morgenthau and Carl Schmitt on the end of the Jus Publicum Europaeum", en WILLIAMS, Michael C. (ed.), Realism Reconsidered: The Legacy of Hans J. Morgenthau in International Relations, Oxford University Press, 2008, pp. 42-61
CAMPI, Alessandro, "Hans J. Morgenthau e Carl Schmitt: un balancio critico-biografico", en MORGEN-THAU, Hans J., Il concetto del politico. "Contra" Schmitt, ed. a cargo de Alessandro Campi y Luigi Cimmino, Rubbettino, Soveria Mannelli, 2009, pp. LIX-CXII
CARR, Edward H., La crisis de los veinte años (1919-1939). Una introducción al estudio de las relaciones internacionales, prólogo de Esther Barbé, trad. de Emma Benzal, Catarata, Madrid, 2004 [1939]
CIMMINO, Luigi, "Il giovane Morgenthau e la metafisica del potere", en MORGENTHAU, Hans J., Il concetto del politico. "Contra" Schmitt, ed. a cargo de Alessandro Campi y Luigi Cimmino, Rubbettino, Soveria Mannelli, 2009, pp. IX-LVIII
DE LUCAS, Javier, Mediterráneo, el naufragio de Europa, Tirant Lo Blanch, Valencia, 2016
DYZENHAUS, David, Legality and Legitimacy. Carl Schmitt, Hans Kelsen and Hermann Heller in Weimar, Oxford University Press, 1997
FREI, Christoph, Hans J. Morgenthau. An Intellectual Biography, Baton Rouge, LA, Louisiana State Uni-versity Press, 2001
GARCÍA PASCUAL, Cristina, "Justicia y mal absoluto", en Anuario de Filosofía del Derecho, nº 28, 2012, pp. 55-77
GARCÍA SAEZ, Jose Antonio, "A propósito del paso de Hans J. Morgenthau por España: Positivismo mal entendido y teoría realista del derecho internacional", en Anuario de Filosofía del Derecho, nº 30, 2014, pp. 217-239
—Kelsen versus Morgenthau. Paz, política y derecho internacional, CEPC, Madrid, 2016
GRAEBNER, Norman A., "Morgenthau as Historian", en THOMPSON, Kenneth y MYERS, Robert J. (eds.), Truth and Tragedy. A Tribute to Hans J. Morgenthau, Transaction Books, New Brunswick, 1977, pp. 66-76
GROSS, Leo, "On the Justiciability of International disputes", en THOMPSON, Kenneth y MYERS, Robert J. (eds.), Truth and Tragedy. A Tribute to Hans J. Morgenthau, Transaction Books, New Brunswick, 1977, pp. 203-217
HART, Herbert L. A., El concepte de dret, trad. de Pau Luque, edicions de la Ela Geminada, Girona, 2012 [1961]
HIRSCH, Felix. E., "Hermann Oncken and the End of an Era", en The Journal of Modern History, vol. 18, nº 2, 1946, pp. 148-159
HONIG, Jan Willem, "Totalitarism and Realism. Hans Morgenthau´s German Years", en Securiy Studies, nº 5 (1995/6), pp. 283-313
HUBBARD-BROWN, Janet, Condoleezza Rice: Stateswoman, Chelsea House, Nueva York, 2008
JÜTERSONKE, Oliver, "Hans J. Morgenthau on the Limits of Justiciability in International Law: Tension and Dispute", en Journal of the History of International Law, 8, nº 1, 2006, p. 181-211
— "The image of law in Politics among Nations", en WILLIAMS, Michael C. (ed.), Realism Reconsidered: The Legacy of Hans J. Morgenthau in International Relations, Oxford University Press, 2008, pp. 93-117
— Morgenthau, Law and Realism, Cambridge University Press, 2010
— "Echoes of a Forgotten Past: Mid-Century Realism and the Legacy of International Law", en Ethics and International Affairs, 26, nº 3, 2012, pp. 373-386
KAUFMANN, Erich, Critica della filosofia neokantiana del diritto, ed. a cargo de Agostino Carrino, trad. Roberto Miccú y Agostino Carrino, Edizioni Scientifiche Italiane
KELSEN, Hans, "Compulsory Adjudication of International Disputes", en American Journal of Interna-tional Law, vol. 37, nº 3, 1943, pp. 397-406
— La paz por medio del derecho, estudio introductorio de Massimo La Torre y Cristina García Pascual, trad. de Luis Echávarri, Trotta, Madrid, 2003 [1944]
— Principles of International Law, Lawbook Exchange, New Jersey, 2003 [1952, 2ª ed. 1967]
KISSINGER, Henry, "A Gentle Analyst of Power: Hans Morgenthau", en The New Republic, vol. 14, nº 4, 1980, pp. 12-14
KOSKENNIEMI, Martti, From Apology to Utopia. The Structure of International Legal Argument, Cambridge University Press, 2005 [1989]
— The Gentle Civilizer of Nations. The Rise and Fall of International Law 1870-1960, Cambridge University Press, 2001
— "Between Impunity and Show Trials" [2006], en Id., The Politics of International Law, Hart, Oxford, 2011, pp. 171-197
KUNZ, Joseph L., "Compulsory International Adjudication and Maintenance of Peace", en American Journal of International Law, nº 38, 1944, pp. 673-678
LAUTERPACHT, Hersch, The Function of Law in the International Community, introducción de Martti Kos-kenniemi, Oxford University Press, 2011 [1933]
— "The Grotian Tradition in International Law", en XXIII British Year Book of International Law, 1946, pp. 1-53
MANNHEIM, Karl, Ideologia i utopia. Una introducció a la sociologia del coneixement, trad. de Joan Fontcuberta i Gel, ed. y prólogo de Salvador Cardús i Ros, Edicions 62, Barcelona, 1987 [1929]
MORGENTHAU, Hans J., Die internationale Rechtspflege, ihr Wesen und ihre Grenzen, Robert Noske, Leip-zig, 1929. Existe una traducción parcial al italiano en Il concetto del politico. "Contra" Schmitt, ed. a cargo de Alessandro Campi y Luigi Cimmino, Rubbettino, Soveria Mannelli, 2009
— La notion du "politique" et la théorie des différends internationaux, Sirey, París, 1933. Trad. inglesa: The Concept of the Political (ed. y prefacio Hartmut Behr y Felix Rösch), Palgrave Macmillan, Basingstoke, 2012
— La réalité des normes. En particulier des normes du droit international, Alcan, París, 1934
— "Théorie des sanctions internationales", en Revue de droit international et de législation comparée, vol. 16, no. 3º (1935), pp. 474-503 y nº 4 (1935), pp. 809-836
— "Positivism, Functionalism, and International Law", en American Journal of International Law, vol. 34, nº 2 (Abril 1940), pp. 260-284
— "The Evil of Politics and the Ethics of Evil", en Ethics, vol. 56, nº 1, 1945, pp. 1-18
— "The Machiavellian Utopia", en Ethics, vol. 55, nº 2, 1945, pp. 145-147
— Scientific Man vs. Power Politics, University of Chicago Press, 1946
— Politics among Nations. The Struggle for Power and Peace, (7ª ed., revisada por Kenneth W. Thomp-son y W. David Clinton), McGraw Hill, Nueva York, 2006 [1948]
— "Views of Nuremberg: Further Analysis of the Trial and Its Importance", en Id., Politics in the Twen-tieth Century (vol. 1), The University of Chicago Press, 1962, pp. 377-379
— "Fragment of an Intellectual Autobiography: 1904-1932", en THOMPSON, Kenneth y MEYERS, Robert J., (eds.), Truth and Tragedy: A Tribute to Hans J. Morgenthau, Transaction, New Brunswick, 1984, pp. 1-17
—"Bernard Johnson's Interview with Hans J. Morgenthau", en THOMPSON, Kenneth y MEYERS, Robert J., (eds.), Truth and Tragedy: A Tribute to Hans J. Morgenthau, Transaction, New Brunswick, 1984 [1968], pp. 333-386
— "Hannah Arendt, 1906-1975," Political Theory, vol. 4, no. 1 (February 1976), pp. 5-8
PETERSEN, Ulrik Enemark, "Breathing Nietzsche´s Air. New Reflections on Morgenthau´s Concepts of Power and Human Nature", en Alternatives, 24 (1999). pp. 83-119
PICHLER, Karl, "The Godfathers of 'Truth'. Max Weber and Carl Schmitt in Morgenthau´s Theory of Power Politics", en Review of International Studies, 24 (1998), pp. 185-200
PISARELLO, Gerardo, Un largo termidor, Trotta, Madrid, 2011
PORTINARO, Pier Paolo, I conti con il passato. Vendetta, amnistia, giustizia, Feltrinelli, Milán, 2011
POSNER, Eric A., The Perills of Legal Globalism, The University of Chicago University Press, 2009
RÖSCH, Felix, Hans J. Morgenthau and the Weimar Republic. On the Episemological Origins of Hans J. Mor-genthau´s Weltanschauung, VDM, Saarbrücken, 2008
— (ed.), Émigré Scholars and the Genesis of International Relations: A European Discipline in America?, Palgrave Macmillan, Basingstoke, 2014
ROUSSEAU, Jean-Jaques, Emilio, o la Educación, trad. de Francesc Lluis Cardona, RBA, Barcelona, 2002 [1762]
SCHEUERMAN, William E., Carl Schmitt. The End of Law, Rowman & Littefield, Lanham, 1999
— "Carl Schmitt and Hans Morgenthau: Realism and beyond", en WILLIAMS, Michael C. (ed.), Realism Reconsidered: The Legacy of Hans J. Morgenthau in International Relations, Oxford University Press, 2008
— Morgenthau. Realsim and Beyond, Polity, Cambridge, 2009
SCHUETT, Robert, "Freudian Roots of Political Realism. The Importance of Sigmund Freud to Hans J. Morgenthau´s Theory of International Power Politics", en History of the Human Sciences, 20 (2007), pp. 53-78
SCHUPMANN, Benjamin A., Morgenthau Mal Compris: Investigating the Philosophical Roots of Hans Mor-genthau's Political Realism, VDM, Saarbrücken, 2011
SHILLIAM, Robbie, "Morgenthau in Context: German Backwardness, German Intellectuals and Rise and Fall of a Liberal Project", en European Journal of International Relations, vol. 13, nº 3, 2007, pp. 299-327
SÖLLNER, Alfons, "From Public Law to Political Science? The Emigration of German Scholars after 1933 and Their Influence on the Transformations of a discipline" en SÖLLNER, Alfons y ASH, Mitchell G., Forced Migration and Scientific Change. Émigré German-Speaking Scientists and Scholars After 1933, Cambridge University Press, 1996, pp. 246-272
TRUYOL y SERRA, Antonio, "Presentación", en MORGENTHAU, Hans J., Escritos sobre política internacional, ed. y trad. de Esther Barbé, Tecnos, Madrid, 1990, pp. IX-XVIII
TSOU, Tang, "Scientific Man vs. Power Politics Revisited", en THOMPSON, Kenneth y MEYERS, Robert J., (eds.), Truth and Tragedy: A Tribute to Hans J. Morgenthau, Transaction, New Brunswick, 1984 [1968], pp. 41-52
WILLIAMS, Michael C., The Realist Tradition and the Limits of International Relations, Cambridge Universi-ty Press, 2005
— (ed.), Realism Reconsidered: The Legacy of Hans J. Morgenthau in International Relations, Oxford Uni-versity Press, 2008
ZOLO, Danilo, De Nuremberg a Bagdad, Trotta, Madrid, 2007