Artículos
Repensar la historia diplomática: diálogos, ausencias y retos para el entendimiento de la alteridad histórica mundial | <em>Rethinking diplomatic history: dialogues, absences and challenges to understand global historical otherness</em>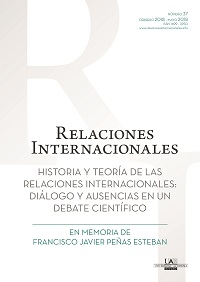 Publicado
febrero 22, 2018
Palabras clave:
Diplomacia, historia relaciones internacionales, sistema mundo, Diplomacy, history of international relations, world system
Cómo citar
ARÉVALO ROBLES, G. A. (2018). Repensar la historia diplomática: diálogos, ausencias y retos para el entendimiento de la alteridad histórica mundial | <em>Rethinking diplomatic history: dialogues, absences and challenges to understand global historical otherness</em>. Relaciones Internacionales, (37). https://doi.org/10.15366/relacionesinternacionales2018.37.005
Resumen
El presente artículo pretende señalar las limitaciones de las teorías dominantes de las Relaciones Internacionales sobre el entendimiento histórico de la diplomacia, y la normalización hecha de las bases categoriales sobre las que es interpretada la alteridad histórica mundial, la cual invisibilizó actores, saberes y prácticas diplomáticas que perviven en la exterioridad del sistema mundial. Para respaldar las afirmaciones del texto, se aportan hechos históricos de la actividad diplomática que dan cuenta tanto de la resistencia histórica como del entendimiento político y diplomático mundial. En su conjunto, se suma a la promoción de las agendas de investigación sobre diplomacia, interesadas en comprender mejor la alteridad planetaria y su preocupación por la transformación de la violencia y la dominación global.
This paper seeks to identify the limitations of mainstream International Relations theories about the historical understanding of diplomacy, and the normalization of the parameters used to interpret world historical otherness, which invisibilized actors, knowledge and diplomatic practices that survive outside the world system. For this purpose, the paper outlines historical facts of diplomatic activity that account for historical resistance as well as for global political and diplomatic understanding. Overall the paper aims to contribute to the research agendas on diplomacy, interested in better understanding planetary otherness and its concern for the transformation of violence and global domination.
Citas
AQUILA, Richard, The Iroquois Restoration: Iroquois Diplomacy on the Colonial Frontier, 1701-1754, University of Nebraska Press, Nebraska, 1983.
AREVALO ROBLES, Gabriel Andrés. La diplomacia indígena: un enfoque transdiplomático. Si Somos Americanos [online]. vol.17, nº 1, 2017, pp.141-169. http://dx.doi.org/10.4067/S0719-09482017000100141.
BECK, Ulrich, La sociedad del riesgo global, Siglo Veintiuno, Madrid, 2002.
BULL, Hedley La sociedad anárquica: Un estudio sobre el orden en la política mundial. Los Libros de la Catarata, Madrid, 2005.
CONSTANTINOU, Costas M. On the Way to Diplomacy, University of Minnesota Press, Minneapolis, 1996.
CONSTANTINOU, Costas M., "On homo-diplomacy" en Space and Culture 9, nº 4, 2006, pp. 351-364.
CONSTANTINOU, Costas y DER DERIAN, James, Sustainable Diplomacies, Palgrave MacMillan, New York: 2010.
CORNAGO, Noé "Diplomacia como heterología". Sobre éste artículo no se ha encontrado ninguna versión publicada en revista o capítulo de libro, en: https://www.academia.edu/4324372/La_diplomacia_como_heterolog%C3%ADa (Consultado 29 de octubre, 2013).
CORNAGO, Noé, "Diplomacia, paradiplomacia y redefinición de la seguridad mundial: dimensiones de conflicto y cooperación" en ALDECOA, Francisco y KEATING, Michael (ed.) Paradiplomacia: las relaciones internacionales de las regiones, Ediciones Pons. Madrid, 2000.
CORNAGO, Noé, Plural Diplomacies: Normative Predicaments and Functional Imperatives, Martinus Nijhoff Publishers, Boston, 2013.
COSTA, Ravi de. A Higher Authority: Indigenous Transnationalism and Australia, UNSW Press, Sydney, 2006.
DER DERIAN, James, On Diplomacy: A Genealogy of Western Estrangement, Blackwell, Oxford, 1987.
DIAMOND Louise y MCDONALD, John, Multi-track diplomacy: A systems approach to peace, Kumarian Press, West Hartford, CT: 1996.
DÍAZ, Karla "Diplomacia de los Pueblos, propuesta contra-hegemónica en las Relaciones Internacionales", en Revista Búsquedas Políticas · Vol 2, nº 1, 2013, pp. 213-237, http://hdl.handle.net/11242/5125 (Consultada el 29 de mayo de 2014)
DUSSEL, Enrique, 1492. El encubrimiento del otro: hacia el origen del mito de la modernidad, Plural editores, La Paz, 1994.
FOLEY, Gary, SCHAAP, Andrew y HOWELL, Edwina, The Aboriginal Tent Embassy: Sovereignty, Black Power, Land Rights and the State, Routledge, 2013.
FOLEY, Gary, SCHAAP, Andrew y HOWELL, Edwina, The Aboriginal Tent Embassy: Sovereignty, Black Power, Land Rights and the State, Routledge, 2013.
FOUCAULT, Michel, Seguridad, territorio, población, Fondo de Cultura Económico, Buenos Aires, 2006.
GUEVARA, Jean Paul, "Bolivia: procesos de cambio y política exterior" en Diplomacia, Estrategia, Política No. 08, oct.-dic. 2007, pp. 36-49.
HALLIDAY, Fred, Las relaciones internacionales en un mundo en transformación, Catarata, Madrid, 2002.
HAVARD, Gilles, The Great Peace of Montreal of 1701: French-Native Diplomacy in the Seventeenth Century, McGill-Queen's Press - MQUP, 2001.
HOLSTI, Kalevi, Taming the Sovereigns: Institutional Change in International Politics, Cambridge University Press, Cambridge, 2004.
HURRE, Andrew, "Prólogo a la Tercera Edición de 'La Sociedad Anarquica' 25 años después," en BULL, Hedley, La sociedad anárquica: Un estudio sobre el orden en la política mundial, Los Libros de la Catarata, Madrid, 2005.
JENNINGS, Francis, y FENTON, William N., The History and Culture of Iroquois Diplomacy: An Interdisciplinary Guide to the Treaties of the Six Nations and Their League. Syracuse University Press, 1995.
JONES, Branwen Gruffydd (ed), Decolonizing International Relations, Rowman & Littlefield, Maryland, 2006.
JONES, Raymond, The British Diplomatic Service, 1815-1914, Wilfrid Laurier Univ. Press, 1983.
JÖNSSON, Christer, "Theorising Diplomacy" en MCKERCHER Brian J. C. (ed.), Routledge Handbook of Diplomacy and Statecraft, Routledge, London, 2011.
KEOHANE, Robert, Después de la hegemonía: cooperación y discordia en la política económica mundial, Grupo Editor Latinoamericano, Buenos Aires, 1988.
LANGTON, Marcia, Honour among Nations: Treaties and Agreements with Indigenous People, Melbourne University Press, Melbourne, 2004.
LÁZARO, Carlos, "Conquista, control y convicción: el papel de los parlamentos indígenas en México, el Chaco y Norteamérica" en Revista de Indias Vol. 59, nº 217, 1999, pp. 645-673.
LÁZARO, Carlos, Las fronteras de América y los "Flandes Indianos", Editorial CSIC - CSIC Press, Madrid, 1997.
MIDTRØD, Tom Arne. The Memory of All Ancient Customs: Native American Diplomacy in the Colonial Hudson Valley, Cornell University Press, 2012.
NEUMANN, Iver B. "The English School on Diplomacy" en Theory of Diplomacy, JÖNSON, Christer y LANGHORNE Richard (Coords.), Sage Publicaciones, London, 2004, p. 96-116
O'GORMAN, Edmundo, El proceso de la invención de América. Fondo de Cultura Económica, México, D.F.: 1998.
OCHOA, Miguel, "La Diplomacia y el Descubrimiento de América" en CESPEDES, Guillermo, (Coord.), Colón en el mundo que le tocó vivir, Real Academia de la Historia, Madrid, 2007.
RODRÍGUEZ, César y SANTOS, Boaventura de Sousa, Derecho y globalización desde abajo, Anthropos, Barcelona, 2007.
ROSECRANCE, Richard, "Diplomacia" en Enciclopedia Internacional de Ciencias Sociales, Aguilar, Madrid, 1974.
RUIZ, Ethelia y KELLOGG, Susan (eds), Negotiation Within Domination: New Spain's Indian Pueblos Confront the Spanish State, University Press of Colorado, Colorado, 2010.
SANTOS, Boaventura de Sousa, Sociología jurídica crítica: Para un nuevo sentido común en el derecho. ILSA, Instituto Latinoamericano de Servicios Legales Alternativos, Bogotá, 2009.
SERBIN, Andrés, Entre la confrontación y el diálogo, integración regional y diplomacia ciudadana, Siglo XXI, Buenos Aires, 2012.
SHARP, Paul, "For Diplomacy: Representation and the Study of International Relations" en International Studies Review nº 1, 1999.
SHARP, Paul, Diplomatic Theory of International Relations, Cambridge University Press, Cambridge, 2009.
WATSON, Adam, Diplomacy: The Dialogue Between States, Psychology Press, Londres: 1982.
WIGHT, Martin, Power Politics. Continuum, London y New York: 2002.
WILD, Stefen A., Rom: An Aboriginal Ritual of Diplomacy, Aboriginal Studies Press, 1986.
YARROW, David The Great Law of Peace: New World Roots of American Democracy, Turtle EyeLand, The Unity of Biology and Ecology with Spirit 1987. http://www.kahonwes.com/iroquois/document1.html [Consultado el 13 de noviembre de 2014]