Artículos
De obstáculo a recurso: La alteridad en los procesos de consolidación de la paz | <em>Obstacle or Resource? Conceptualising Alterity in Processes of Peacebuilding</em>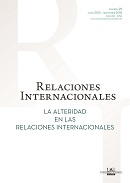 Palabras clave:
Alteridad, apropiación local, resiliencia, Gobernanza, consolidación de la paz, Alterity, local ownership, resilience, governance, peacebuilding
Cómo citar
BARGUÉS-PEDRENY, P. (2015). De obstáculo a recurso: La alteridad en los procesos de consolidación de la paz | <em>Obstacle or Resource? Conceptualising Alterity in Processes of Peacebuilding</em>. Relaciones Internacionales, (29). Recuperado a partir de https://revistas.uam.es/relacionesinternacionales/article/view/5271
Resumen
Este artículo quiere entender la evolución de los procesos de consolidación de la paz en los últimos años, a través del análisis de cómo la conceptualización de la alteridad por parte de los organismos internacionales está cambiando. El argumento es que en las intervenciones posbélicas de la década de los noventa y de los primeros años del siglo XXI, los procesos intersubjetivos de las sociedades que salían del conflicto se consideraban un problema a corregir con la creación de instituciones eficientes supervisadas por expertos internacionales.  Sin embargo, con la pérdida de confianza en la posibilidad de promover la democracia internacionalmente y con la voluntad de solventar los errores de unas intervenciones excesivamente intrusivas, la alteridad es cada vez más un recurso que puede utilizarse para desarrollar una paz respetuosa con el contexto de cada sociedad. Para analizar cómo la alteridad se ha entendido más positivamente en los últimos años, algo transcendental para explicar cómo organizaciones internacionales entienden la paz actualmente, el artículo se centra en los conceptos de "apropiación local" y "resiliencia". La conclusión es que este cambio positivo para respetar otras culturas también esconde dos potenciales problemas. El primero es que estamos perdiendo la capacidad para teorizar sobre la paz y el segundo es que la autonomía o soberanía nacional de las sociedades posbélicas continua en el limbo.
This article seeks to understand the evolution of the processes of peacebuilding in the past years by analysing how international organisations have recently conceptualised alterity in a different manner. It is argued that throughout the post-war interventions of the 1990s and early years of 2000s, the inter-subjective processes of post-conflict societies were considered a problem to be corrected by the means of creating efficient institutions supervised by international experts. However, the optimism in relation to the promotion of democracy abroad withered away and there was the need to solve the errors of highly intrusive interventions. On these assumptions, alterity is increasingly seen as a resource that can be used to develop a peace project respectful of the context of each society. In order to analyse how alterity is understood more positively in the past years —which is crucial to explain how international organisations currently practice peace— the article will focus on the concepts of "local ownership" and "resilience". The conclusion is that the positive shift to embrace other cultures also hides two potential problems. The first is that we are losing the capacity to theorise about peace and the second is that the autonomy or national sovereignty of post-war societies still remains in limbo.