Monográfico
Las subjetividades políticas de hoy en Túnez. La aparición de nuevos movimientos y actores locales.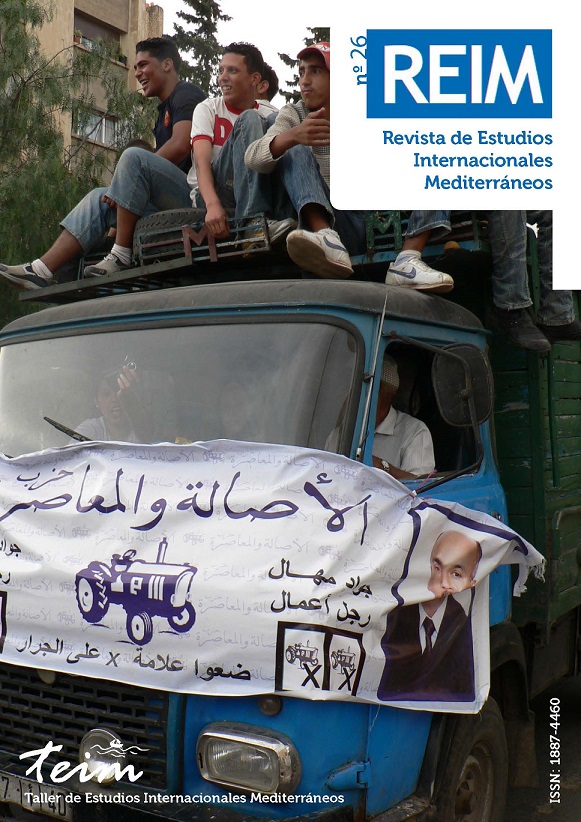 Palabras clave:
Túnez, sociedad civil, movimientos locales, juventud, subjetividad
Resumen
En este artículo, trataré de los movimientos políticos actores tunecinos en el ámbito local que han surgido después de 2011. Las características principales de estos son el arraigo en unos contextos locales específicos, como determinados barrios o municipios, y la reivindicación de la ciudadanía activa. El reciente empoderamiento de la sociedad civil tunecina está acompañado del surgimiento de comités locales y asociaciones en varios sectores y municipios. Esta dimensión innovadora constituye un laboratorio de democracia multi-situado, con base local, en el que se crean las condiciones para una nueva subjetividad política, que debe entenderse como un conjunto de percepciones, acciones, pensamientos, temores relacionados con la política y la sociedad. Los jóvenes tunecinos son los principales actores involucrados en esta dinámica. Buscan nuevos lenguajes políticos que sean originales, dotados de legitimidad social y cultural, con los que intentan involucrar a la gente común. A partir de los resultados parciales de una etnografía aún en curso, situada en el área urbana del Gran Túnez, se prestará especial atención a la experiencia individual de estos nuevos jóvenes activistas. La germinación de su compromiso político, la percepción de continuidad y transformación de su "Ser", como sujeto, las afinidades y las fracturas dentro del grupo de iguales y la familia, su adhesión a las normas y valores compartidos serán todos temas de reflexión en este estudio.
Citas
ALLAL, Amin et GEISSER, Vincent (2018) : 'Good bye Ben Ali !' , en ID. (dir.): Tunisie. Une démocratisation au-dessus de tout soupçon ?, Paris, CNRS éditions, pp. 9-40.
APPADURAI, Arjun (1996): Modernity At Large. Cultural Dimensions of Globalization, Minnesota, University of Minnesota Press.
APPADURAI, Arjun (2013), The Future as Cultural Fact. Essays on the Global Condition, Brooklyn-London, Verso.
BAYART, Jean-François (1985) : « L'énonciation du politique », Revue française de science politique, vol. 35, n° 3, pp. 343-373.
BENNANI-CHRAÏBI, Mounia (2007) : '«Jeunesses » marocaines et politique. Le clivage générationnel revisité', en BENNANI-CHRAÏBI, Mounia et FARAG Iman (dir.), Jeunesses de sociétés arabes. Par-delà les promesses et les menaces, Genève, Aux lieux d'être, pp. 137-162.
BENSLAMA, Fethi (2004) : La psychanalyse à l'épreuve de l'Islam, Paris, Flammarion.
BESLAMA, Fethi (2011) : Soudain la révolution! De la Tunisie au monde arabe: la signification d'un soulèvement, Paris, Denoël.
BIEHL, Joao, GOOD Byron & KLEINMAN Arthur (2007): Subjectivity: Ethnographic Investigations, Berkeley, University of California Press.
BRAS, Jean-Philippe et SIGNOLES, Aude (2017) : « Introduction: States and Political Territories. The Debate over Decentralization », L'Année du Maghreb, n° 16 [En ligne], disponible en http://journals.openedition.org/anneemaghreb/3793, consulta : 28 de febrero 2019.
BRÉSILLON, Thierry (2018) : « Tunisie. La révolution que viendra devra etre sociale », OrientXXI, 17 de diciembre de 2018, disponible en https://orientxxi.info/magazine/tunisie-la-revolution-a-venir-devra-etre-sociale,2821 consulta : 28 de febrero 2019.
BYRNE Bridget (2003): Reciting the Self: Narrative Representations of the Self in Qualitative Interviews, Acoustics, Speech, and Signal Processing Newsletter, IEEE, n. 4 (1), pp. 29-49.
CAMAU, Michel et GEISSER, Vincent (2003) : Le syndrome autoritaire. Politique en Tunisie de Bourguiba à Ben Ali, Paris, Presses de Sciences Po.
CAVATORTA, Francesco (2015): "No Democratic Change and yet no Authoritarian Continuity: The Inter-Paradigm Debate and North Africa After the Uprisings", British Journal of Middle-Eastern Studies, 42, n° 1, pp. 135-145.
CHANFRAULT-DUCHET, Marie-Françoise (1991): "Narrative Structures, Social Models and Symbolic Representation in the Life Story", en GLUCK, Sherna Berger & PATAI Daphne (eds.), Women's Words. The Feminist Practice of Oral History, London, Routledge, pp. 77–92.
CREHAN, Kate (2002): Gramsci: Culture and Anthropology, London, Pluto Press.
DUPRET, Baudouin, PIERRET, Thomas, PINTO, Paulo G. & SPELLMAN-POOTS, Kathryn (2012): 'Introduction', en IDEM (eds.): Ethnographies of Islam. Ritual Performances and Everyday Practices, Edinburgh, Edinburgh University Press, pp. 1-8.
FASSIN, Didier (2009) : "Les économies morales revisitées", Annales HSS, n°6, pp. 1237-1266.
FOUCAULT, Michel (1971) : L'ordre du discours, Paris, Gallimard.
GANA, Alia (2013) : « Aux origines rurales et agricoles de la Révolution tunisienne », Maghreb – Machrek, 215, n°. 1, pp. 57-80.
HANN, Chris & DUNN Elisabeth (eds.) (1996): Civil Society. Challenging Western Models, Abingdon-New Work, Routledge.
HÉNIA, Abdelhamid (2015) : Le frère, le sujet et le citoyen. Dynamique du statut politique de l'Individu en Tunisie, Tunis, L'Or du temps.
HIBOU, Béatrice (2006) : La force de l'obéissance. Économie politique de la répression en Tunisie, Paris, la Découverte.
HIBOU, Béatrice (2011) : « Économie politique et morale d'un mouvement social », Politique Africaine, n°121, pp. 5 à 22.
HMED, Choukri (2018): 'Les déçu-e-s de l'autoritarisme partisan. Engagement et désengagement dans les organisations de la gauche radicale après 2011' en ALLAL, Amin et GEISSER, Vincent (dir.), Tunisie. Une démocratisation au-dessus de tout supçon?, Paris, CNRS Éditions, pp. 123-137.
HOLSTON, James (1999): 'Spaces of insurgent citizenship', en APPADURAI, Arjun, HOLSTON, James (eds.): Cities and citizenship, Durham-NC, Duke University Press, pp. 155-173.
KERROU, Mohamed (2018) : L'autre révolution, Tunis, Cérès éditions.
KILANI, Mondher (2014) : Carnets d'une révolution, Paris, Editions Pétra.
LONGUENESS, Elisabeth (2017): 'Citoyenneté, citizenship, muwatana. Histoires de mots et enjeux de traduction', en KERROU, Mohamed (dir.), Abdelkader Zghal. L'homme des questions, Tunis, Cérès éditions, pp. 196-211.
MEDDEB, Hamza (2015) : 'L'attente comme mode de gouvernement en Tunisie', en BONO, Irene, HIBOU, Béatrice, MEDDEB, Hamza et TOZY, Mohamed : L'État d'injustice au Maghreb. Maroc et Tunisie, Paris, Karthala.
MOORE, Henrietta (2007): The Subject of Anthropology: Gender, Symbolism and Psychoanalysis, Cambridge, Polity Press.
NEVEU, Catherine (2004) : 'Les enjeux d'une approche anthropologique de la citoyenneté', Revue européenne des migrations internationales, vol. 20, n° 3, pp. 89-101.
ORTNER, Sherry (2005): 'Subjectivity and cultural critique', Anthropological Theory, vol. 5, n° 1, pp. 31-52.
POUESSEL, Stéphanie (dir.) (2012) : Noirs au Maghreb. Enjeux identitaires, Paris, IRMC-Karthala.
ROQUE, Marie-Àngels (2017) : 'L'intellectuel engagé dans la société civile tunisienne', en KERROU, Mohamed (dir.) : Abdelkader Zghal. L'homme des questions, Tunis, Cérès éditions, pp. 143-161.
SAIDI, Habib (2017) : Identité de façade et zones d'ombre. Tourisme, patrimoine et politique en Tunisie, Paris, Editions Pétra.
SEBAG, Paul (1998) : Tunis, Histoire d'une ville, Paris, L'Harmattan.
SEBASTIANI, Chiara et TURKI, Sami Yassine (2016) : 'Espace(s) public(s) en Tunisie. De l'évolution des politiques aux mutations des pratiques', Les Cahiers d'EMAM [en ligne], nº28, disponible en http://journals.openedition.org/emam/1247 (consulta: 28 de febrero 2019).
SMITH, Kylie (2010): 'Gramsci at the margins: subjectivity and subalternity in a theory of hegemony', International Gramsci Journal, n°1, pp. 39-50.
TORELLI, Stefano M., MERONE, Fabio & CAVATORTA, Francesco (2012): 'Salafism in Tunisia: Challenges and Opportunities for Democratization', Middle East Policy, Vol. XIX, n° 4, pp. 140-154.
ZGHAL, Abdelkader (1989) : 'Le concept de société civile et la transition vers le multipartisme', Annuaire de l'Afrique du Nord, XXVIII, CNRs Éditions, pp. 207-228.