Filosofía Moral, Política y del Derecho / Moral, Political and Legal Philosophy
Una historia filosófica de la identidad estadounidense: Balance de propuestas y su crisis actual // A philosophical history of American identity: balance of proposals & its current crisis.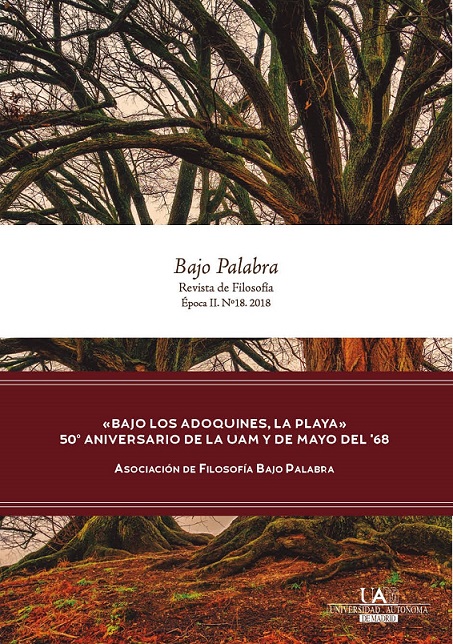 Publicado
noviembre 7, 2018
Resumen
Resumen
Este trabajo de síntesis crítica, realiza un balance de los principales aportes de pensamiento que han favorecido la configuración de la identidad estadounidense y su reformulación periódica. Se sistematizan las escuelas, según su transición de teólogos-políticos (como los puritanos, carismáticos y trascendentalistas, con aportes tipo pactismo bíblico, libre albedrío, caridad pietista, destino manifiesto, etc.), pasando por filósofos pragmáticos (como los constituyentes, democratizadores y reconstructores, con recursos como libre-pensamiento -free masonry & whigs-, federalismo, pragmatismo, etc.), hasta académicos socio culturales (sobre todo, de Estudios culturales, vía nociones de consenso, v.g. fronterismo, excepcionalismo y crisol cultural; así como artificios de hecho diferencial –a raíz de la fuga de cerebros de la Escuela de Frankfurt, Normale Annales, Birmingham, etc.-, con categorías de clase, status y conflicto social, metámeros etnoculturales, constructos de género, etc.). El estudio llega hasta la crisis actual, sin soluciones generalmente aceptadas y bajo la amenaza transoccidental.
Palabras clave: Historia filosófica, identidad, crisis, Estados Unidos de América
(EE.UU.), riesgo transoccidental.
Citas
Bellah, R. (1967): "Civil religion in America", Journal of the American Academy of Arts and Sciences (96, 1): 1-21.
Bellah, R. (1975): The Broken Covenant: American civil religion in time of trial, New York: Seabury Press.
Boorstin, D.J. (1966): An American Primer, Chicago: The University of Chicago Press.
Eco, U, et al. (1973): Documenti su il nuovo Medioevo, Milano: Casa Ed. Valentino Bompiani.
Fukuyama, F. (1989): "The End of History?", The National Interest (16): 3–18
Fukuyama, F. (1992): The end of History and the last man, New York: Free Press.
Galeano, E. (1971): Las venas abiertas de América Latina, New York: Monthly Review.
Huntington, S.P. (1993): "The Clash of Civilizations?", Foreign Affairs (72, 3): 22-49.
Huntington, S.P. (1996): The Clash of Civilizations and the Remaking of World Order, New York: Simon & Schuster.
Huntington, S.P. (2004): Who are we? The challenges to America´s national identity, New York: Simon & Schuster.
Joas, H. (1992): Pragmatismus und Gesellschaftstheorie, Frankfurt: Suhrkamp.
Lipset, S.M. (1963): The First New Nation, New York: Basic Books.
McLean, D. (1971): "American Pie", American Pie album, New York: United Artist Records.
Menand, L.: The metaphysical club: a store of ideas in America, New York: Straus and Giroux, 2001.
Parrington, V.L. (1927): Main Currents in American Thought (3 vols.). Norman: Univ. Oklahoma Press.
Petras, J. (2008): Rulers and Ruled in the U.S. Empire: Bankers, Zionists, Militants, Atlanta: Clarity Press.
—
Petras, J. (2006): Empire with Imperialism: The Globalizing Dynamics of Neoliberal Capitalism, London: Zed Books.
Sánchez-Bayón, A. (2008-13): La Modernidad sin prejuicios. La religión en la vida pública estadounidense (3 vols.), Madrid: Delta Publicaciones.
Sánchez-Bayón, A. (2015): Universidad, ciencia y religión en los EE.UU., Porto: Ed. Sindéresis.
Sánchez-Bayón, A. (2016): Religión civil estadounidense, Porto: Ed. Sindéresis.
Sánchez-Bayón, A. (2018): "Estudio de la idiosincrasia estadounidense desde su Teología política y Ciencias Eclesiásticas", Estudios Eclesiásticos (93, 364): 165-204.
Sánchez-Bayón, a., et al (2017a): "Historia cultural estadounidense desde el factor religioso: fallos de Americaness y sus velos", Cauriensia (vol. XII): 627-59.
Sánchez-Bayón, a., et al (2017b): "Vindicatio Historia Philosophiae: estudio de caso de los programas culturales estadounidenses", Bajo Palabra (17): 457-76.
Valero-Matas, J., Sánchez-Bayón, A. (2018): Balance de la globalización y teoría social de la posglobalización, Madrid: Dykinson.
VV.AA. (2008): Liberty, Equality, and Power: A History of the American People, Boston: Thomson.
VV.AA. (2018): "American philosophy", Internet Encyclopedia of Philosophy-IEP (ISSN 2161-0002, Univ. Tennessee, URL: http://www.iep.utm.edu/american/).
Wiener, P.: Evolution and the Founders of Pragmatism, Cambridge: Harvard Univ. Press, 1949.